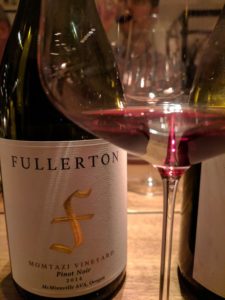 Admittedly, when I first received the invitation, I was hesitant. I had never heard of the winery before and the idea of schlepping out to Brooklyn on a cold winter's night was not very appealing…until I Googled the restaurant. With its two Michelin stars and stellar reviews, Aska was very intriguing and seemed well worth the trip to the outer borough.
As we would discover, this Scandinavian restaurant is run by Swedish chef Fredrik Berselius, who truly redefined our notions of a Swedish chef (especially if the Muppet Show is firmly ensconced in one's brains) and instilled a wonderful appreciation for this cuisine in us.
Getting off the M train at Marcy Street, we walked toward Manhattan, in the shadows of the Williamsburg bridge. After several blocks, we wondered if we were indeed walking all the way back to Manhattan, but finally we arrived at our destination and were ushered to a private room, which was immaculately set for our group.
Once we were all seated, our winery hosts immediately poured us a glass of their rosé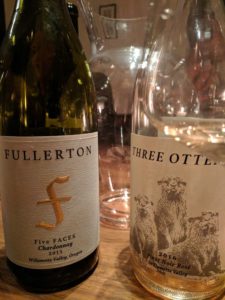 and then provided us with an introduction to themselves: The Fullerton's. It turned out that there was a method to the madness; the Fullerton's have a direct connection to Scandinavia, which was why they had chosen this vaunted restaurant for the event, coincident with the winery's debut in the New York and New Jersey markets.
Patriarch of the family, Eric Fullerton was raised in a Danish family and married a Swedish woman. The couple lived in Scandinavia with son, Alex, born in Denmark. A few years later, the Fullerton's returned to the U.S. and settled in Oregon. Eric held C-level positions within the communications and security industries, but always had a passion for quality wine.
As a young child, Alex watched his parents enjoying wine at home and carried these observations to school – swirling and spitting out his milk, much to the chagrin of his kindergarten teacher – eventually developing his own vinous interest, which was cemented on a father-son trip to Champagne and Burgundy when Alex graduated high school.
In 2010, Alex was graduating from college with a degree in economics, but with no specific plan for a career or his future. He and dad visited Penner-Ash Wine Cellars together and discussed the idea of Alex entering the wine industry. Alex was keen on the idea and before the day was out, he had secured a harvest intern position at Penner-Ash. Dad sweetened the deal, offering to back Alex's personal wine venture, if he pursued a degree in viticulture and enology, to which he readily agreed.
Alex followed his time at Penner-Ash with a harvest in New Zealand, before returning to the Willamette Valley and Penner-Ash and, later, a position at Bergstrom Wines. During this time, the two Fullerton men began making wine in the garage and scouting for vineyard blocks throughout the Valley. They also planted 400 vines in their backyard.
In 2012, Fullerton Wines was launched as a commercial venture with two separate lines: Three Otters and Fullerton. The Three Otters brand owes its origins to the three otters depicted in the Fullerton family coat of arms and a portion of the proceeds from each bottle helps to support the return of sea otters to the Oregon coast. The Fullerton brand includes its Five FACES line, named for all members of the Fullerton family: Filip, Alex, Caroline, Eric and Suzanne, as well as several single vineyard Pinot Noirs. To date, the winery produces 4,500 cases annually, but the goal is to reach 20,000 cases in the future.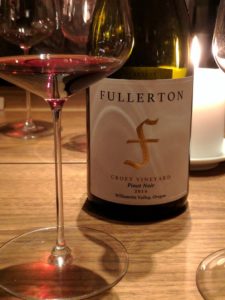 Alex currently sources Pinot Noir fruit from several vineyards in the Willamette Valley. Both the Three Otters and Five FACES Pinots are the products of blending grapes from various vineyards (and appellations) to craft a consistent wine that marries the favorable characteristics from throughout the region. However, he has also identified a number of distinct vineyards that appeal to him as single vineyard wines. These wines are more expressive of an individual terroir and provide nice diversity within the Fullerton portfolio. As the family seeks to expand its production, they will need to identify other vineyards. Looking ahead, Alex noted that he hopes to focus on Eola-Amity Hills in sourcing additional fruit as he is particularly enamored with this micro-climate and the quality of grapes it produces.
As the meal progressed, we got to know Eric and Alex better, both their histories and their philosophies. There was a genuine warmth to this father and son's relationship as they bantered back and forth, making jokes and good-naturedly teasing one another. In the end, it was clear that Eric has made a huge investment in his son, not just for their mutual love of wine, but because he is extremely proud of him.
While the wine was understandably the focal point of the evening, the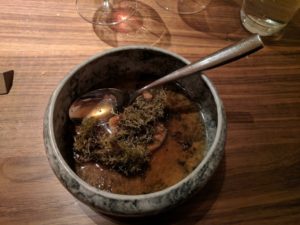 10-course meal was not to be overlooked. Each course was a stunning presentation of food, plate and flatware. Despite the lengthy evening, the food was engaging and not too heavy; only one course included meat and many were vegetarian. Among the more unique offerings were a crunchy snack of bladderwrack seaweed with a blue mussel emulsion; an earthy bowl of lichen served with chanterelles and a mushroom broth; and an intense pig's blood pancake with rose petals and rosehip jam.
With the wonderful selection of Willamette Valley wines and the expertise of Aska's kitchen, it was the perfect way to spend a New York night and definitely merited the journey to Brooklyn. It was certainly much easier to get to than Noma!
NB: Food images courtesy of Jared Skolnick.
TASTING NOTES
Three Otters Rosé 2015, Willamette Valley, OR, $18.00
First conceived in 2012, the Three Otters rosé began as a friendly competition between dad and son over which method to use to produce the wine. Afterward, they decided that a blend of the two methods was best and they have continued to follow this format ever since. The wine is refreshing and dry with bright strawberry aromas and flavors along with a hint of fresh herbs, culminating in long length.
Three Otters Chardonnay 2014, Willamette Valley, OR, $20.00
An all stainless-steel Chard, this wine lets the fruit shine through unimpeded by oak. The wine is high in acidity, with citrus and yellow apple notes, as well as a nice richness on the palate due to extended lees contact.
Fullerton Five FACES Chardonnay 2015, Willamette Valley, OR, $33.00
This barrel-fermented wine has only a small (9%) percentage of oak and thus the oak is very integrated, resulting in an elegant and beautiful Chardonnay with good acidity and long length.
Three Otters Pinot Noir 2014, Willamette Valley, OR, $20.00
A really nice entry-level Pinot Noir, this has no new oak, with the wine spending time in tanks and neutral barrels. Sourced and blended from eight different area vineyards, this wine offers up cherry and berry aromas and flavors with a slightly earthy undercurrent. Overall, it is light-bodied, fresh and approachable.
Fullerton Five FACES Pinot Noir 2014, Willamette Valley, OR, $33.00
This is the winery's flagship wine with fruit sourced from several key vineyards. A beautiful wine with an intense and concentrated fruit nose of dark cherry, which persists on the palate and is joined by a hint of herbaceousness. It is rich, yet elegant with long length. Among the diners at our table, this seemed to be a fan favorite given the complexity of the wine and its reasonable price point.
Fullerton Croft Vineyard Pinot Noir 2014, Willamette Valley, OR, $45.00
The organically certified Croft Vineyard generates less of a diurnal shift yielding ripe grapes, with slightly less acidity than cooler sites. The result is a plushy, sensual Pinot with good black cherry and spice notes as well as some wet leaves in the long finish.
Fullerton Croft Vineyard Pinot Noir 2013, Willamette Valley, OR, $45.00
While sourced from the same grapes as the 2014 wine, 2013 was a more challenging vintage, marked with rains during harvest. Consequently, this wine has higher acidity than usual and more herbal character than the 2014.
Fullerton Momtazi Vineyard Pinot Noir 2014, Willamette Valley, OR, $60.00
The Momtazi Vineyard is situated within the McMinnville AVA. With its bright acidity, ripe red cherry fruit, lush herbs and spice, and lovely long length, this was my favorite single vineyard wine of the evening.
Fullerton Fir Crest Vineyard Pinot Noir 2012, Yamhill-Carlton, OR, $75.00
Hailing from the old vines in the Fir Crest Vineyard, this wine possesses an extremely intense, heavy and concentrated nose and palate. It displayed some volatile acidity, along with dark red fruit and firm tannins; a steak-eater's Pinot Noir. This wine provoked an interesting discussion among Alex and Eric since it is a style that Alex doesn't enjoy, but that Eric would like to replicate for market purposes.