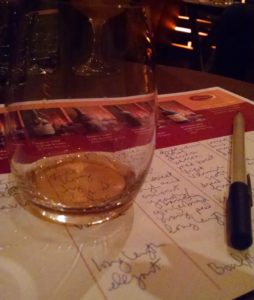 If we are lucky, we live in the present moment, enjoying and savoring the here and now, rather than constantly worrying about the future still to come. Yet, the opportunity to virtually travel back in time, uniting us with the past, can be a special experience. It is why, at least in part, we visit historic places and hold onto souvenirs imbued with memories from time gone by. Most mementos are a tangible, but fleeting glimpse, crumbling with the passage of years. For most things, we rely on museums to carefully preserve the past under lock and key and precise storage conditions.
While a stroll through an ancient site or viewing an antique document can bring the past to life, there is something inherently unique in partaking in a gustatory experience asynchronously shared with those who lived long ago. Much more than simply opening up a bottle of wine from a previous vacation destination (which momentarily brings us back to that seaside table in sleepy coastal town), older wines and spirits from decades — even centuries ago — can transport us to another era. In this way, an extremely rare tasting of 19th century Cognac, Armagnac, Port and Madeira provided the sensory time machine to visit the more distant past.
Held in connection with an auction at Christie's featuring 39 bottles of Cognac and Armagnac, each dating to a presidential term of office, from 1789 to 1977, the tasting was presented by Old Liquors, a wine shop specializing in vintage wines and spirits.
The tasting event was hosted by Old Liquors' CEO, Bart Laming at New York's Brandy Library. Interestingly, Brandy Library owner, Flavien Desoblin, a specialist in Cognac, noted that, "The U.S. palate has matured to appreciate older brandies, but is still whisky focused."
Also present that evening was Christie's Head of Wine, Edwin Vos, who painstakingly opened each bottle and shared tips for cellaring such treasures such as the admonition to store Madeira upright due to its high alcohol and high acidity content, which would damage the cork if left horizontally.
Admittedly, indulging in such wines is an expensive and limited proposition – there are scant bottles remaining. However, it was truly a once-in-a-lifetime experience to taste these rare wines and recall the world as it once was even if none of us had been there ourselves.
For those with the means and interest in pursuing their own sensory experiences, Old Liquors bills itself as the "World's largest Old Liquors Store," with a robust website that accepts orders from around the world.
By Phone: +31 76 5416227
By Email: info@oldliquors.com
TASTING NOTES
Madeira 1865 Café Anglais Madere Vieux, Bual
Aromas of candied ginger, honey and spice; medium sweet palate with high acidity, flavors of coconut, yeast, rancio, ginger bread and orange peel; long length.
Port 1887 Brand unknown, Unknown shipper
A slight rancio note gives way to floral, cherries and bacon on the nose; medium sweet palate, with dried red fruit dominating; much fruitier than the Madeira; long length.
Cognac 1928 Croizet B. Léon Grande Réserve
Greeted by orange peel, spice and slight honey aromas; dry palate with high alcohol, displaying spices, oak and vanilla with elegance and long length.
Cognac 1914 Maxim's, Caves du Restaurant, Fine Champagne, Réserve
This has an intense nose with woody and vanilla aromas and flavors; it is fuller-bodied on the palate than the above Cognac.
Armagnac 1893 Jacques Marou, Vieil, Handwritten label
This spirit offers concentrated dried fruit, most notably prunes and dates, along with oak and vanilla; simply lovely.
Cognac 1811 Napoléon, Grand Réserve, Imperial glass shoulder, button 'N'
Aromas of bruised banana, vanilla, dried fruit and orange rind; dry on the palate with high alcohol, offering up spice and floral notes.