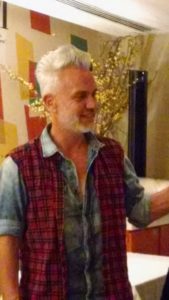 They wear plaid and are forced to check their pint-sized chainsaws in their luggage when they travel. They are the SVU – Special Vine Unit – not the investigators of crimes, but rather the investigators and proponents of healthy grapevines.
The Friuli-born Marco Simonit and Pierpaolo Sirch met in high school, having spent their childhoods running around their respective village farms, both clearly at home in the outdoors. After attending viticultural school, they worked at the Istituto Agrario, went on to other posts and then renewed their acquaintance several years later when they noted that what they had been taught in school wasn't actually working in the vineyard.
The duo spent considerable time researching and observing what was going on and ultimately developed their trademarked Simonit & Sirch pruning strategies, which seek to promote sap flow and reduce pruning wounds (which are susceptible to disease).
Interestingly, in an age when the words "natural" and "organic" are bandied about as being superior, we tend to forget about the importance of the role of humans in the vineyard. Vineyard pruning practices have not been a major focus; however, as Simonit and Sirch discovered, these practices can limit the health and life expectancy of a vine.
Accordingly, their intervention techniques improve the overall health of the vine, eliminate potential weakness and, when necessary, they eradicate disease with the aforementioned mini-chainsaws. Further, their approach concentrates on saving prized, older vines, which have the capacity to extract the characteristics of the soil, as opposed to the more common alternative of grubbing up diseased vines and replacing them with new plants that will take years to develop quality grapes.
Now they have become celebrity pruners, traveling the globe to save the world's greatest vineyards and preserve their longevity. As a result, they have a robust client roster that reads like a wine list at a Michelin-starred restaurant. Sometimes they can't believe it themselves. When famed Sauternes producer, Chateau d'Yquem, came calling, they initially thought it was a prank call!
Several years ago, the pair were introduced to Bill Terlato through a mutual friend, kicking off what was to become a fruitful partnership. At the time, Terlato was ready to write the next chapter of his company's Pinot Grigio story and was looking for great grapes.
Terlato's father, Anthony Terlato, was responsible for launching the Santa Margherita brand in the U.S. back in the 1970s, but, despite the profitability of the lengthy Terlato-Santa Margherita partnership (now dissolved), Terlato had become disillusioned with the product. A victim of its own success, Terlato felt that the wine's quality had diminished over time as quantity was increased to accommodate growing demand. He believes that a product becomes commercial, rather than artisanal, when you make hundreds of thousands of cases.
While the original intent was for Simonit & Sirch to simply supply the contacts for Terlato's project, they saw the opportunity for their hometown region – Friuli's Colli Orientali – to gain the global exposure they felt it deserved. Colli Orientali is known for crafting some of the best Pinot Grigio in the world, but, since the region is made up of many, small growers who produce many wines with limited production, it is very difficult for them to get traction in the market.
Thus, the viticulturists decided to participate as full collaborators with Terlato. They underscore that what makes this particular wine project different from others is that not only is the quality of the wine evident, but it is scalable. a situation which Terlato describes as "1 + 1 = 3; We [Terlato] bring the marketability on a global basis."
Overall, the goal is to produce "Grand Cru quality" Pinot Grigio that is evocative of its place, with both character and ageability. Speaking highly of this much-maligned grape – thanks to the glut of insipid Pinot Grigio on lists and shelves – Simonit stresses that, as a relative of Pinot Noir, Pinot Grigio has good genetics and has the capacity to produce excellent wines.
In general, the fruit is sourced and hand harvested at low yields from 20-to-40-year-old vines grown on marl and schist soils on hillside plots. Recognizing the subtle differences among various soil types and microclimates, grapes from different plots are vinified separately and then blended together to produce a balanced and complex wine. As Terlato explains, "We want something distinctive, with complexity, salinity, minerality and length."
Vintage variation is evident and, while they hope Mother Nature will be kind to them each year, such variation is not discouraged or covered up. The first vintage of the project was 2014 (although they produced Friulano in 2013), which proved to be a challenging harvest. The 2015 vintage was more bountiful, permitting them to expand their reach, which they are growing cautiously, primarily targeting on-premise accounts.
Present production stands at 40,000 cases and Terlato believes that a maximum output of 150,000 cases is feasible before the quality is compromised – a far cry from the current Santa Margherita case production of 700,000 annually.
Time will tell how this newest Pinot Grigio chapter will end, but so far the wine has been well received in the market.