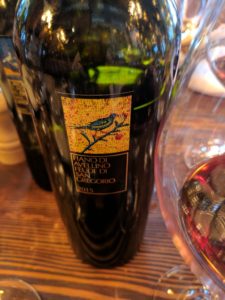 Southern Italy beckons tourists to its rocky beaches and winding coast line. Just south of Naples, the famed Amalfi Coast runs from Sorrento in the north to Salento in the south, encompassing tony towns in between such as Positano and Ravello. But, the local wines crafted further inland are less familiar, which is an unfortunate oversight.
About an hour's drive from the coast, Campania's wine growing is centered in the north-central area of the region, near the towns of Avellino and Benevento. Here, the climate is vastly different from the Mediterranean feel of the coast, receiving over 200 days of rain, due to its location in the mountains. Home to Pompeii and Vesuvius, the region offers up volcanic soils.
The emphasis is on indigenous varieties with the main white grapes being the floral Falanghina; the structured Greco; and Fiano, which displays a little of each of the characteristics of the two. Fiano and Greco are both long ripening grapes, usually not picked until October, that keep their freshness despite the long hang time. The best examples of the Greco grape are those from the Greco di Tufo DOCG, so named for being grown in volcanic, chalk soil called tufo. Interestingly, the Greco vines were traditionally planted in separate vineyards (and consequently, on different soil types) from the Fiano vines, with early recognition of their unique terroir affinities, rather than being planted within the same field as was often done in the past.
Among the red varieties, the most prized grape is the indigenous Aglianico, which is best known for the Taurasi DOCG wines produced in the region. By law, Taurasi wines must be aged for a minimum of three years, including one year in barrel (and 4 years with 18 months in barrel for the Riserva wines). While this wine was frequently aged in small barriques, the more recent trend has been toward the use of larger-sized oak vessels.
With its reputation for producing full-bodied, powerful, concentrated, tannic wines, it is said that Taurasi is often called the Barolo of the South. But, when asked about this point when I met him several years ago, Antonio Capaldo, whose family owns Feudi di San Gregorio, suggested that, "Perhaps Barolo is the Taurasi of the North."
More recently, I had the chance to catch up with Feudi's young chairman and commercial head. One of the better-known names in the region, the winery just celebrated its 30th anniversary. Established in 1986 in Sorbo Serpico, within the Irpina region, Feudi di San Gregorio is named for Gregory the Great, reflecting the Roman, Greek and papal history of the area.
Among Feudi's most highly acclaimed wines is its Serpico, crafted solely with Aglianico grapes and produced in limited quantities (only 10,000-12,000 bottles produced annually). Rather than use the Taurasi Riserva DOCG, in a nod to the Supertuscan movement, which saw the birth of fantasy names for many wineries' top wines, Serpico, takes its name from the town in which Feudi di San Gregorio is situated. The grapes for the wine, harvested over a period of 20 days, come from a single, three-hectare vineyard of pre-phylloxera vines that range in age from 120 to 180 years. Antonio stresses that the pre-phylloxera nature of the vines is as important to the quality of the wine as is the vines' old age. There are 80 to 90 different clones within this vineyard and the winery has selected 40 of these clones to use in propagating other vineyards.
Now that Feudi has built a strong reputation for its Campanian wines, the company has begun to look elsewhere for expansion. As a staunch proponent of Italy's southern wine regions, the winery has recently made investments in Basilicata (having purchased Basilisco in 2010), Puglia (with two properties here) and Sicily, with five hectares planted on Mount Etna.
While Antonio is focused on building the business and promoting its wines, the agricultural aspects of Feudi are handled by Marco Simonit and Pierpaolo Sirch. Pierpaolo has been actively involved with the company since 2003 and became managing director in 2009, a post he still holds today.
Having first visited Feudi in 2010, it was a pleasure to reconnect with Antonio and his wines on the first summery day of the season in New York. The two stainless-steel whites and rosé are perfect summer sippers that offer up freshness, complexity and the opportunity to savor some lesser-known varieties, although they work well all-year round. And, while the reds can be enjoyed now, I would suggest you hold them for the fall and winter seasons, since they need time in the cellar anyway.
TASTING NOTES
Feudi di San Gregorio Greco di Tufo 2015, Greco di Tufo DOCG, Italy, SRP $25.00
This is an angular wine, with excellent structure and lots of complexity. It offers up good acidity, a full body and concentrated flavors of apricots, peaches, a hint of nuttiness and a lovely salinity that remains in the long finish.
Feudi di San Gregorio Fiano di Avellino 2015, Fiano di Avellino DOCG, Italy, SRP $25.00 The more feminine of the two, this wine is richer and rounder on the palate, with floral, pear and ripe melon aromas and flavors, culminating in long length. Antonio remarked that it is the more flexible wine with regard to pairing options.
Feudi di San Gregorio Ros'Aura 2016 Rosato, Irpina IGT, Italy, $14.00
Produced from Aglianico grapes, this is a medium-deep hued rose. It is very fresh with aromas and flavors of apricot and citrus, with long length.
Feudi di San Gregorio Taurasi 2011, Taurasi DOCG, Italy, SRP $48.00
This wine is released five years after harvest, having spent at least 24 months in bottle before release. It is quite powerful, with red and black fruit notes, joined by oak, toast and minerality. The palate is structural with good acidity and dusty, yet ripe tannins and long length.
Feudi di San Gregorio Serpico 2011, Irpinia IGT, Italy, SRP $99.00
Complex aromas of smoke, oak, meatiness, red fruits and black fruits greet the nose. On the palate, the wine is powerful with lots of ripe, red fruit, and notes of smoke, toast, oak and minerality. It also manages to be quite elegant and pretty despite its power and firm tannins. Needs time to develop; Hold.