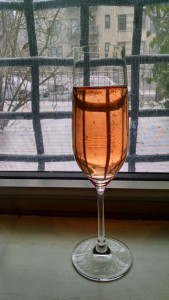 Certainly, a bottle of bubbly makes any occasion special – an instant upgrade from blah to ta-dah! It can brighten days and elevate moods as evidenced on a recent vacation.
Specifically, on said vacation, we were asked to wait in the restaurant's lounge while they found us a table for dinner. About 15 minutes later, the manager brought over two complimentary glasses of Cava for us, immediately ensuring happy guests, made even happier when we were ushered to the best table in the house only a short while later.
And, every evening at 6:00 PM, the St. Regis Bahia Beach continues the tradition of sabering a bottle of sparkling wine to mark the transition from day to night, as the sun sinks below the horizon and the coqui frogs begin their song.
Moreover, if looking at the world through rose-colored glasses brings a change in attitude, just imagine what a glass of pink-hued, sparkling wine can do for you in the middle of a dreary winter!
Thinking pink, a recent tasting brought together a beautiful range of salmons, pinks and pale reds, all bursting with bubbles and imbuing the day with beauty and brightness.
Thankfully, while a winter vacation might be just a dream, enjoying a glass of sparkling rosé wine just requires an easy trip to your local retailer. Here are a few options to get you in the mood.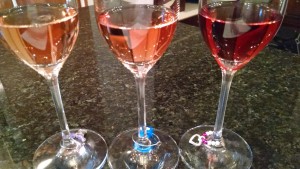 Mionetto Prestige Gran Rosé (SRP: $14.00)
While not technically a Prosecco, since it is both a rosé and a blend of Raboso and Lagrein, this wine hails from the same area where Prosecco is produced. Medium salmon in color, this fresh and fruity wine offered up berry, floral and cotton candy aromas, with a slightly off-dry palate (fittingly, since it is labeled Extra Dry).
Mionetto Luxury Cuvée Sergio Rosé (SRP: $19.00)
Much darker hued than its fellow rosé from Mionetto, this deep pink wine displayed aromas of roses, cherries and strawberries on the nose, all of which persisted on the off-dry palate.
Ruffino Sparkling Rosé (SRP: $15.00)
Ruffino is a well known Tuscan producer, but they have begun to branch out to other Italian regions and recently released this sparkling wine made from the Glera grape of Prosecco fame. It has a pronounced nose of floral and red fruit (raspberry and strawberry) notes, joined by a hint of cotton candy on the slightly off-dry palate.
Cavas Hill 1877 Rosado Cava (SRP: $13.00)
A blend of Garnacha and Monastrell, this Traditional Method sparkler hails from Spain and was deep salmon in color.  Notes of ripe, dark berries and a hint of earthiness dominate both the nose and palate.
Alfred Gratien Brut Classique Rosé Champagne (SRP: $65.00)
Light and ethereal, this pale hued rosé Champagne presented classic yeasty, bready/brioche notes with a touch of strawberry and minerality on the brightly acidic palate, culminating in long length.