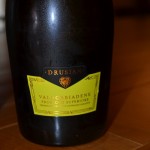 About to embark on my fifth trip to Italy in three years, I felt it was imperative to be able to say more than the five words I had previously memorized to be polite. So, I enrolled in a language class appropriately called the Traveler's Survival Kit, which focused on important vocabulary such as that needed to ask directions and check into a hotel.
Of course, the most crucial phrase I taught myself was "Sorry, but I have studied to speak Italian for only four weeks," and practiced it numerous times before I headed out of town. Not surprisingly, I used it in nearly every conversation I had upon my arrival in Italy. With its multiple repetition came fluidity and ease and soon I was sounding very Italian, earning repeated compliments…at least for that one minute.
My survival kit kept me in good stead for most of the trip, especially when coupled with an abbreviated game of charades in an attempt to be understood. Yet, while the majority of folks spoke at least some English, I found myself in a few situations where this was not the case. I generally grasped most of the conversation, but admittedly missed a few phrases and simply nodded along. It's possible that I may have inadvertently said yes to something I didn't mean to, but, I am confident that I didn't receive any marriage proposals along my journey.
My trip was nearly complete when I had the opportunity to meet with Francesco Drusian, a Prosecco Superiore producer. Francesco met me at the Castello di San Salvatore (the "villa" of the Vino in Villa event) in order to bring me to his winery in Valdobbiadene. We waited for the tram to take us from the castle courtyard to the parking lot and quickly exhausted the few relevant phrases I knew since I was not about to ask Francesco for a hotel room or an order of pasta. Unfortunately, Francesco didn't speak English at all, so he asked me if I spoke French to which I replied "oui. "
Shortly thereafter, we were in his car headed to the winery—a full 30 minutes away. Possibly the longest 30 minutes of my life. Did I mention that I studied French in junior high and high school (both of which were very far away from the minutes I spent sitting in Francesco's car)? Shifting gears, my beautiful Italian phrases were replaced with rusty French, jumbled with the occasional Italian word and I now sounded like Sgt. Deux-Deux of the Pink Panther and Friends' The Inspector cartoons…"Si, I mean, 'Oui.'"
We finally arrived at the Drusian estate and I (inwardly) breathed a sigh of relief. It wouldn't be too much longer until we'd be occupied with tasting through the wines and his colleague, Anna Maria, who did speak English, was due to show at any moment.
Pulling the wines from the refrigerator, Francesco apologized for the wines being too cold and so we waited a bit to let them warm up. We eventually began with Prosecco Superiore Brut, which had a very floral nose and is fresh on the palate with ripe peach flavors. His Prosecco Superiore Extra Dry displayed a heady aroma of white flowers and just a hint of sweetness with floral and mineral notes.
By now, Anna Maria had appeared and we made each other's acquaintance, while continuing with the tasting. The Millisimato 2011 was similarly floral and mineral on both the nose and palate, along with pear. Labeled as Dry, the wine was quite clean and very balanced despite its 20 g/l of residual sugar.
Although among the mid-level tier of Prosecco Superiore producers in terms of overall production size, Drusian is among the largest landholders in the vaunted Cartizze area – Prosecco Superiore's cru vineyard. As expected, Drusian's top wine was extremely elegant showing with mineral and pear drop characteristics dominating the palate before culminating in long length.
With the tasting completed, I was given a quick tour of the winery and then we were off to dinner. It turned out that Anna Maria used to work at the winery, but now manages Althe'a, an agriturismo property owned by Francesco. I rode with Anna Maria, which was a much more relaxing trip than the earlier one (simply due to the lack of a language barrier), as we sped toward Colline di Soligo.
The farm is home to a beautifully restored stone house with farm country décor throughout the guest rooms and restaurant. We entered the dining room and were seated immediately (it certainly helps to arrive with the owner). As good hosts, Francesco and Anna Maria were keen to ensure that I enjoyed every course even when they chose to skip it themselves; I was the sole eater of both the pasta course and dessert. And, since they were unwilling to provide guidance on one appetizer over another, I was strong-armed into trying two.
For the main course, Anna Maria and I split a steak courtesy of one of the cattle raised on the farm, which we paired with one of Francesco's non-Prosecco wines – a red blend from the newly promoted Colli di Conegliano DOCG. I chose Italian cheesecake for the aforementioned dessert, which was served warm on a bed of chocolate sauce and with which Francesco insisted that I try one of the local passito (dried grape) dessert wines.
As the evening faded into night, Francesco excused himself and bid me au revoir and Ciao! as he headed home to his family. I finished my cake, had a few more sips of the Torchiato di Fregona and saw the finish line looming in the distance. But, just then, Anna Maria remembered that they had experimented with making a limoncello flavored with herbs and another glass was brought to the table and filled. I took a few obligatory sips and, at last, it was time to go.
By this point, I was quite tired, but very satiated and, had been reminded that while we may speak different languages, whether English, Italian, French or otherwise, the language of food and wine is universal!