Onc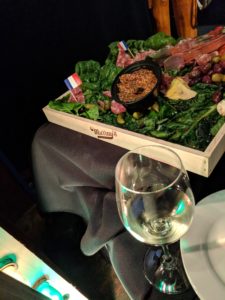 e, at a trade event, a woman advised me that the wine I was tasting went well with food. Well, duh! Wine has always been a beverage meant to be enjoyed with a meal and is among the only ones where both are enhanced by one another. In some cultures, drinking wine without food is anathema.
More recently the trend has been to look well beyond the axiom, "What grows together goes together," in favor of showcasing the flexibility of a given wine by pairing it with less expected culinary options. Think Alsatian Ge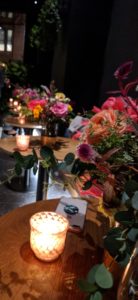 würztraminer with Indian curries or Prosecco with sushi.
At Atla, Michelin-starred Cosme's younger, more casual sibling, Mexican inspired food was served alongside a selection of New Zealand wines from Kim Crawford. This NZ producer has always been one of my go-tos for Sauvignon Blanc, but it was nice to see that the range seems to have been expanded stateside, as we also had the opportunity to taste the Chardonnay, Pinot Gris, Rosé and Pinot Noir. Adding a further twist to the evening, dessert was a Mexican Hot Chocolate (recipe below), featuring the Pinot Noir. This was served after I left, so I didn't get a chance to taste it, but with the cold rain pouring down that evening, I am sure it was a welcome treat.
A few blocks away, I was introduced to the wines of Lugana, a small Italian wine region, which spans both Lombardy and the Veneto. These wines, primarily produced from the Trebbiano di Soave grape variety, may be dry, sparkling or, in the case of late harvest, sweet, dessert style wines. During the dinner at La Pizza Fresca, these beautiful white wines were more traditionally matched with a traditional Italian meal of arugula salad, beets, pizzas and a selection of fish, chicken and meat.
Among the less traditional decisions was choosing to pair these white wines with short ribs, but it worked well due to the richness, depth and full-bodied nature of many of the wines. My tasting notes are a bit spotty, but I was particularly impressed with the light, freshness of the Olivini Lugana DOC 2016, the complexity and richness of the Selva Capuzza Lugana Riserva DOC Menasso 2013 and the beautiful balance of the Margona Lugana DOC Vendemmia Tardiva dessert wine.
Both the Kim Crawford and Lugana events worked well primarily due to the basic pairing principle of ensuring that the wines had sufficient acidity to go well with the various dishes. Accordingly, their crisp, clean nature meant that one's palate was cleansed between bites and ready for more, while simultaneously they highlighted the flavors in the accompanying food; an overall reminder that simple rules can serve us well even when we think we are breaking them.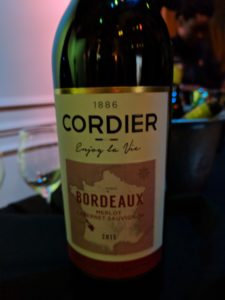 The next night found us in Williamsburg at an unusual venue for the launch of Enjoy la Vie from Bordeaux negociant, Cordier. Entering through a loading dock, we were immediately struck by the quirky, high-ceilinged, warehouse-style space of ACME Studios. The space appears to be more regularly used for photo shoots, but it was a fun place to explore these new, entry-level wines.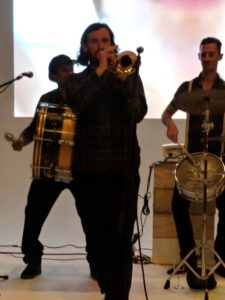 The focus was on decidedly on France, with the classic pairing of cheeses and charcuterie. Similarly, attendees were invited to don a beret, grab a baguette and pose for a photo, instantly transformed (and immortalized) into cute, French clichés. But, despite the expected match, the event was far from boring and not all things were classically French. Namely, the brass band with its bold and boisterous jazz music meant that this was not a typical Bordeaux tasting.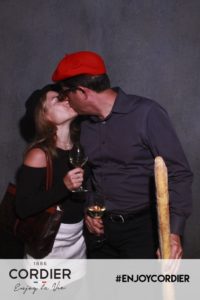 With regard to the wines themselves, I was more impressed with the Bordeaux Blanc and Bordeaux Rouge wines than the varietally-labeled Chardonnay, Pinot Noir and Cabernet Sauvignon. Regardless, I had a great time at the event. Most likely because I was paired with my wonderful husband. Which just underscores that context and company are is often just as important as the cuisine.
MEXICAN HOT CHOCOLATE
INGREDIENTS: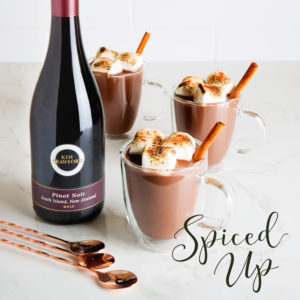 4 oz Kim Crawford Pinot Noir
2 oz dairy milk or non-dairy milk (almond is a good option)
3 Tbsp powdered baking cocoa
1 oz coffee liqueur
1 Tbsp brown sugar
1/2 tsp vanilla extract
1/4 tsp ground cinnamon
Pinch chili powder
DIRECTIONS:
Pre-warm an 8-10 oz coffee mug. In a saucepan, combine chocolate powder and brown sugar with milk to make into a rich syrup. Add coffee liqueur and Kim Crawford Pinot Noir. Stir until ingredients are hot. Remove from heat and stir in vanilla extract and ground cinnamon. Pour into pre-warmed mug and garnish with whole cinnamon stick and pinch of chili powder.