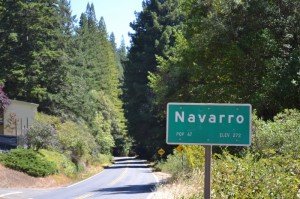 Nestled above the Sonoma County border, Mendocino County is a world unto its own. Much less developed than Napa or Sonoma, the county is home to sandy beaches, towering redwood forests, and other natural landscapes, but little else. The picturesque town of Mendocino itself sits along the Pacific Ocean, offering breath-taking views, weather permitting. On a clear day, you can watch waves crash on the rocks below; however, when the fog rolls in, you're lucky if you can see the ocean at all.
Beyond swimming and hiking, beer and wine tasting figure prominently on tourists' "to do" lists. Even though grapes are grown throughout the county, with a total of ten American Viticultural Areas (and two pending approval), it is the Anderson Valley that is the most densely populated – with wineries, not people. Arriving from the north, visitors are greeted by the Navarro town limit sign, which announces a whopping population of 67; this is not the place to annoy your neighbor. To the south, the "much bigger" Boonville is home to 700 residents. But, what the area lacks in people, it more than makes up for in hospitality and a stay at the Boonville Hotel is strongly recommended.
Within the valley, the elevation, coupled with the coastal maritime influence, creates ideal conditions for cool climate grape varieties including Pinot Noir, Chardonnay, Gewürztraminer and Riesling. Although Tony Husch is credited with planting the valley's first Pinot Noir vines in 1971, the Alsatian varieties got their start in 1974, thanks to Ted Bennett and Deborah Cahn of Navarro Vineyards. And, while aromatic whites do well, Pinot Noir is especially prized, with many producers coming from outside the valley to source fruit, such as Copain, Fulcrum and Littorai. Aside from producing highly regarded still wines, Pinot Noir and Chardonnay also find themselves used in the production of Traditional Method sparkling wines. In this regard, Scharffenberger Cellars was founded by John Scharffenberger in 1981, while Roederer Estate, affiliated with Champagne house Louis Roederer, was established in 1982.
Today, the Anderson Valley remains quite small with a scant 2,244 acres planted on 85 properties and a median vineyard size of 12 acres. To put that in perspective, the Napa Valley, which accounts for only 4% of California's total wine production, has over 45,000 acres of vineyards. Yet, despite the Anderson Valley's diminutive size, it has developed a big reputation for producing quality wines.
Roederer Estate L'Ermitage 2003, Anderson Valley, CA, $44.00
The top sparker of the estate, also known as a tête de cuvée, L'Ermitage made its debut in 1989 and is only made in the best years. This wine is a blend of 52% Chardonnay and 48% Pinot Noir and spent five years on the lees. It showed floral, yeast and citrus notes on both the nose and palate, culminating in a very long length. 8,332 cases produced 
Navarro Vineyards Pinot Gris 2010, Anderson Valley, CA, $19.00
With a strong emphasis on sustainable farming, the family farm supports a flock of Babydoll sheep, which graze between the vines to keep
down the weed, but are too short to reach the grapes. The wine shows floral, almond and tangerine notes on the nose, all of which persisted on the lush palate. 1,500 cases produced
Handley Cellars Pinot Noir 2009, Anderson Valley, CA, $32.00
Owned by Milla Handley, Handley Cellars celebrates its 30th vintage this year, and while Milla is still the primary winemaker, co-winemaker, Kristen Barnhisel, joined the staff in 2004. This Pinot Noir was redolent of fresh berries and cherries, with earth, slight spice and dried herbs joining on the palate. 1,505 cases produced 
Phillips Hill Estates Pinot Noir Wiley Vineyard 2009, Anderson Valley, CA, $38.00
Phillips Hill Estates was founded by Toby Hill in 2002 when the professionally-trained artist shifted his attention away from the label and into the bottle (although he does design his own labels). Crafting several different vineyard designate Pinot Noirs, the Wiley Vineyard was our favorite with its lighter body, yet still intense cherry aromas and flavors. 380 cases produced
Lula Cellars Zinfandel 2009, Mendocino, CA, $28.00
This relatively new direct to consumer brand – the first wines were launched with the 2008 vintage – is the brainchild of winemaker and owner, Jeff Hansen. With grapes sourced from just south of Ukiah, this wine displayed blueberry, cocoa and raspberry aromas with rich and ripe fruit on the dry palate. 500 cases produced