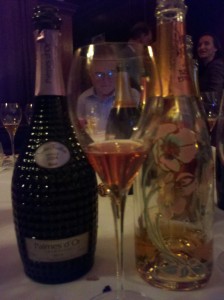 In keeping with an optimistic spirit, Rosé Champagne is the perfect wine to kick off the new year! As Ed McCarthy exclaimed at the Wine Media Guild's annual Champagne luncheon in December, "Rosé Champagne is 'in'!" Its success has been a bit surprising to everyone, including the Champenois, given that Rosé Champagne was considered an afterthought only 12 years ago. Now, it makes up 8% of the market and is on the rise. This continued trajectory is equally surprising considering that it is more expensive than regular (non-rosé) Champagne. But, it is also more intensive and, at least according to Ed, "Everybody loves it!" Whether this latter statement is fact or hyperbole, what is true is that Rosé Champagne has a fuller body than regular Champagne, due to the increased ratio of Pinot Noir grapes and is extremely food friendly.
As Champagne, Rosé Champagnes are produced using the Méthode Champenoise, referred to as the Traditional Method for similar wines produced elsewhere. These wines spend considerable time aging in contact with dead yeast cells that give the wines their yeasty, leesy, bready aromas and flavors. In addition, Rosé Champagnes also have fruitier aromas and flavors that are derived from the heavier reliance on Pinot Noir and the deliberate creation of color. While Pinot Noir is a component of most Champagnes —the obvious exception being the blanc de blancs (white from whites) style—Champagne producers are careful to avoid extracting color from the grapes' skins. However, when creating a Rosé Champagne, the focus shifts and some color attainment is permitted. Such color may be produced through the saignée method (as is often used for still rosé wines), or by creating a cuvée that includes red wine in the blend to produce a pinkish base wine. However, red wine may be blended in at the end with the dosage instead to avoid potential browning during the lees aging period. Regardless of when it occurs, sparkling wine production is the only time that adding red wine to a white wine is acceptable in creating a rosé-style wine.
The wines featured in this month's newsletter are some of my favorites from the December lunch at which we tasted a total of 15 wines. As noted, these are pricey wines, but, thankfully, many of my preferred wines were on the lower end of the spectrum. 
TASTING NOTES
Ayala Brut Rosé NV, $48-54.00
We've featured Ayala, the sister brand of Bollinger, before, but as it is always continues to perform well in comparative tastings it is worth featuring again. With rich fruit aromas of floral and ripe strawberry and slight yeasty notes, this wine was elegant on the palate with a delicate mousse.
Alfred Gratien Brut Rosé NV, $62-75.00
At the luncheon, Ed noted that he was very impressed with this wine, as was I. It displayed a very yeasty character on the nose with melon aromas and flavors. It was dry with very high acidity, finishing quite cleanly on the palate.
Bruno Paillard Brut Rosé Premier Cuvée NV, $70-75.00
As a rosé, this wine is very pale, dislaying an onion skin color. On the nose, it has yeast, slight floral and strawberry aromas, similar to, but more subtle than those found on the Ayala. Its palate was very pretty with extremely dry palate, high acidity and floral and strawberry flavors.
Henriot Brut Rosé NV, $58-62.00
Henriot has a long history as a Champagne house, but has been less known in the U.S. Offering a light and elegant style, this wine has raspberry, yeasty and slight toast aromas giving way to riper fruit on the front palate, with the toasty notes lingering in the finish.
Moët & Chandon Brut Rosé 2002, $80.00
From the highly regarded 2002 vintage, this is a big, yet austere wine that still needs some time to evolve to truly shine, although it was showing beautifully already. Toast and biscuit aromas dominate the nose, along with a slightly oxidative note. The dry palate is lean with yeast, toast and fresh berry flavors.
Perrier-Jouët Cuvée Belle Epoque Rosé 2004, $300.00
Admittedly a big splurge, this is a wine I frequently drawn to even in blind tastings and, in Ed's words, it is the "epitome of elegance," likely due to high proportion of Chardonnay. Yeast and strawberries greet the nose and persist on the dry palate where they are rich and concentrated, culminating in long length.