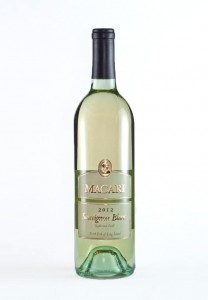 New York wine producer, Macari Vineyards, recently released the newest vintage of its Katherine's Field Sauvignon Blanc – 2012. Produced from 100% Sauvignon Blanc fruit sourced from the winery's estate in Mattituck on the North Fork of Long Island, the wine is made entirely in stainless steel tanks to preserve the fresh fruit character of this grape.
Since I had a bottle of the 2011 remaining in our cellar, I decided to taste the two wines (2012 and 2011) side by side to see how vintage variation and extra aging (for the older wine) might impact what I tasted in the glass.
Not surprisingly, the 2012 had a more pronounced nose given its (relative) youth, but the 2011 was still quite fresh despite its additional year in bottle. Instead, I attributed most of the difference between the two wines to their respective vintage conditions.
The 2011 growing year was among the wettest and rainiest in Long Island's history, making it challenging to combat mold and mildew in the vineyard as well as to coax the grapes to full ripeness. Likely given these conditions, the citrus and herbaceous aromas, which are typically inherent in cool climate Sauvignon Blanc, were more prevalent in the 2011 vintage wine. With its slight age, the acidity in this wine seemed to have rounded out and a hint of earthiness was evident on the palate.
Conversely, during the 2012 season, Long Island was blessed with warm, dry days, which meant that grape maturity was achieved more easily. Thus, while the 2012 wine displayed notes of white grapefruit, it also offered some floral aromas and tropical fruit on the nose and palate. In spite of the warmer weather, this wine appeared to be more tart, likely due to its more recent bottling, and also offered some minerality.
I enjoyed the opportunity to evaluate these two wines together, closely comparing and contrasting their individual characteristics. And, although I slightly preferred the 2012 to the 2011, I certainly did not feel that the 2011 was over the hill, and, in fact, might have preferred the 2011 instead, if I had tasted the wines with food.
While it is more difficult to find previous vintages in the market, Union Square Wines & Spirits does appear to have the 2011 in stock. The newest release should be more readily available at retail (SRP $23.00) and is also available for purchase at the winery.