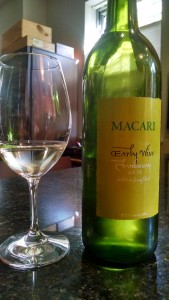 The third Thursday of November is Beaujolais Day – the day on which the new vintage of Beaujolais Nouveau is released. Georges Duboeuf, the largest producer, generally hosts a festive affair heralding the wine's arrival on America's shores with a bang; from chefs on motorcycles to trapeze artists to graffiti artists. This year, there wasn't even a whimper. Instead, I received only a single email from retailer, Sherry-Lehmann to mark the occasion. I thought perhaps I had fallen off that invite list, but, in speaking with a colleague, learned that there was no party this year.
While many decry the quality (or rather the lack thereof) of Beaujolais Nouveau, I have always enjoyed the quasi-holiday and, if not the wine itself (which, in fact, I generally do), then what it stood for: a celebration of the arrival and completion of yet another harvest. Another year of toil in the soil and effort in the winery.
We can easily see the bounty of the year's harvest in the cornucopia of fruits and vegetables in the farmer's market. But, unlike fresh grapes (and other produce), which provide immediate gratification from vine to vendor, wine takes time to make.
Wines like Beaujolais Nouveau are the exception, going from grape to glass in just a few weeks. It may not be complex and age-worthy, nor is it meant to, rather, it is fresh and fruity and a reminder of what is to come with more time and effort… other wines from this vintage. A time to celebrate the season and give thanks for what Mother Nature has once again provided.
Without the usual Beaujolais Day hoopla, something seemed missing. But, the arrival of Macari's Early Wine 2015 gave me my much-needed fix. The grapes for this Chardonnay wine were harvested in early September, making their way to bottle by the end of October and released during the first week of November.
On the evening before Thanksgiving, I took a moment to open up this wine and pause and reflect on my deep gratitude in anticipation of the following day's holiday. I also took time to reflect on what was in the glass – white floral and peach aromas; slightly off-dry palate with vibrant acidity; citrus, peach and floral flavors; and a long finish.
And, more importantly, I took time to notice what the wine reflected back: the remembrance of the freshness of summer as we head into winter; the long days of toil and effort in the vineyard; the gentle care taken by Kelly Urbanik in the winery; and the promise of what is to come from the other fruits of 2015's labor.