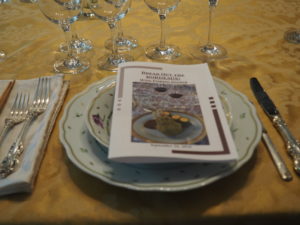 It was time. The older Bordeaux wines we had collected were coming into their own and it was time to taste them.
We selected ten wines from the cellar and assembled an equally stellar group of friends for a multi-course dinner at our home in September.
The line-up was impressive, but perhaps the piece de resistance was the Carruades de Lafite 2000, Château Lafite Rothschild's second wine. Purchased through Sherry-Lehmann back in 2001 through a Future's campaign*, the wine represented our first major foray into the wine world and marked the occasion of our fifth year of marriage.
The traditional gift for a fifth wedding anniversary is wood and I racked my brain for months on what to get hubby. Finally, I discovered the concept of wine futures: buying wine before it has been bottled and released (and, generally, still aging in oak barrels at the time). Consequently, it was an appropriate gift and one that we would both appreciate as we were just getting our bearings in wine.
We had visited Bordeaux on our belated honeymoon trip in 1999 and very much enjoyed these wines, but still didn't know a lot about wine in general. Accordingly, we associated much of our love of wine with Bordeaux.
As luck would have it, the object of the Futures were the much vaunted 2000s, which meant high praise and high prices. Getting over my initial sticker shock, I pulled out my copy of Kevin Zraly's Windows on the World Complete Wine Course (who incidentally teaches his 40th and last class this fall) and read up on the Bordeaux Classification of 1855. I couldn't afford the top growths; instead, I selected seven different bottles of wine, choosing third growths, a fifth growth, several second wines from top producers and a St. Emilion Grand Cru for a total expenditure of $236.00 – quite pricey for us at the time.
With only a single bottle of each, we had been reluctant to open any of these special wines previously, but with over 40 bottles of Bordeaux in our cellar, the impending arrival of our 20th wedding anniversary was as good as an excuse as any to justify their consumption.
We carefully crafted a menu to highlight the wines and chose pairings from the Left and Right Banks to provide the opportunity to compare Cabernet-dominant and Merlot-dominant wines, respectively.
And, of course, we ended the meal with a lovely aged Sauternes, giving guests the option of finishing off on a sweet or savory note, or both!
Overall, the dinner was a perfect marriage of good food, good wines and good company as well as a wonderful celebration of our continued partnership both in the kitchen and out.
Dinner
Hamachi Crudo
Marinated Yellowtail Tuna with Jicama & Greens
Château La Louvière Blanc 2011, Pessac-Léognan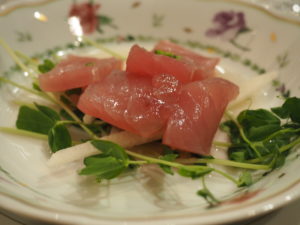 Rack of Lamb
Herb & Mustard-Crusted Islandic Lamb with Zucchini and Carrot Purée
Château La Fleur Peyrabon 2010, Pauillac
Château La Tour Figeac 2008, St. Emilion Grand Cru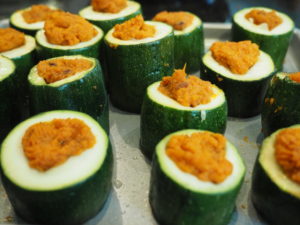 Magret de Canard
Roasted Duck Breast with Blackberries and a side of Duck Fat Potatoes
Château d'Armailhac 2005, Pauillac
Château Les Hauts-Conseillants 2005, Lalande de Pomerol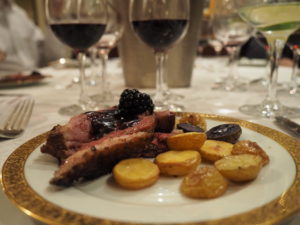 Cheese Course
Fort Saint Antoine Comté (Aged 36 mos), Burgundy, France
~and~
Mrs. Quicke's Cheddar (Aged 24 mos), Devonshire, England
Château Giscours 2001, Margaux
Château Beau-Séjour Bécot 2001, St. Emilion Grand Cru
Carruades de Lafite 2000, Pauillac
Château Certan de May 1998, Pomerol
Dessert
Bloc de Foie Gras
Served with Roasted Figs and Toast Points
~and~
Crème Brûlée
Caramel Custard with Burnt Sugar Crust
Château Doisy-Védrines 1998, Sauternes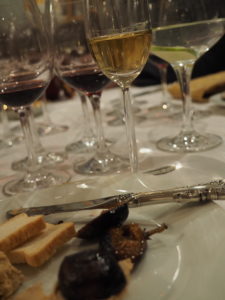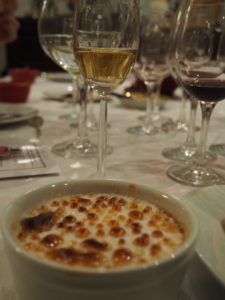 *NB: When buying wine futures, it is imperative that you work with a trusted agent or retailer since the company will take your money now, but you won't receive the wines for two years.