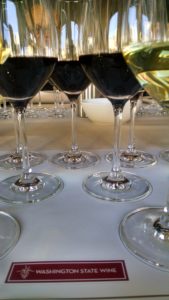 Bob Betz, MW of Betz Family Winery has been a fixture in Washington State wine for 40 years. He recalls a time when people would ask him where in the DC Metro area he made his Washington wine and is gratified that times have since changed. Yet, while Washington State has gained significant recognition for its wines, there is still much work to do in increasing awareness for them for both industry members and consumers alike.
With an aim toward positioning Washington wine within the global industry, Betz led a comparative seminar for members of the press and trade, which included a blind tasting along with participation from a panel of winemakers: Thomas Pastuszak (Empire Estate wines*), Michael Savage (Savage Grace) and Peter Devison (EFESTE).
Betz framed the conversation with the assertion that every global appellation is based on a cause and effect stemming from its respective growing conditions and physical reality that ultimately result in sensory consequences in the glass.
As Betz explained, Washington – or rather, more specifically – the Columbia Valley's physical reality is impacted by the collision between the mountain ranges and Pacific air; poor soils that are deeply fractured with low fertility and a low moisture capacity; and a modified continental climate with hot, dry summers and very cold winters. Such existence at the margin of ripeness, combined with the ability to control water — thanks to deep aquifers and mountain snow pack — influences the resulting wines.
Looking at what he called the "chameleon-esque varieties" of Riesling, Syrah and Cabernet Sauvignon, each flight within the tasting started with a known Washington wine example, followed by three or four other blind examples of the same grape. Collectively, the participants made guesses as to the origin of each blind wine (and were correct on a few occasions), but such guessing games were beside the point.
Rather, we began to see how Washington wines fit within the context of a given grape variety and how their sensory consequences compared and contrasted with their global peers. Thus, while one's palate might prefer the Mosel Riesling to the Columbia Gorge Riesling (or the reverse), it was evident that the quality of the two were equivalent.
Furthermore, the tasting underscored the overarching characteristics of Washington wines: their purity of fruit and their structural integrity, this latter element translating into tension and freshness in the wines.
Admittedly, most consumers' experience with Washington wines has been limited to large brands because 10% of the 900 wineries are responsible for producing 70% of the state's volume. However, wines produced by the smaller wineries are available direct-to-consumer and may also be found at higher-end restaurants, if you look for them. Yes, finding them may pose a challenge, but, after tasting the range of wines presented during this seminar, I would highly recommend that you seek them out.
My favorite Washington Wines from this tasting were:
Savage Grace Riesling 2015, Columbia Gorge AVA $22
EFESTE Evergreen Riesling 2014, Ancient Lakes AVA  $20
Betz Family Winery La Serenne Syrah 2014, Yakima Valley AVA $57
EFESTE Big Papa Old Block Cabernet Sauvignon 2012, Columbia Valley AVA $60
*NB: Mr. Pastuszak is also the sommelier at The NoMad and a big proponent of Washington wines, although his Empire Estate wines are made in New York State.