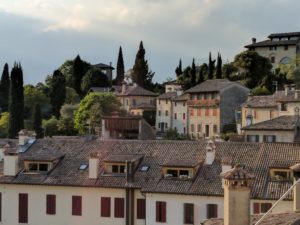 In an era of fast food and living life in the fast lane, we truncate words and distill whole phrases into three letters. With such high velocity living, we often lose sight of the good life and forget to slow down and take time to savor and enjoy.
Back in the day we were not always in such a hurry. In this vein, the upper class would take the Grand Tour and travel the world in search of new vistas and adventures. Among their various stops was the town of Asolo, which fittingly takes its name from the verb asolare, which translates as "to enjoy on the open air." Upon my own arrival in Asolo, I was advised by the consorzio president that this was a precise state of mind in which to appreciate life.
In perfect harmony with this philosophy, we kicked off our visit with a welcome dinner featuring local Slow Food products. The Slow Food movement, founded in 1989, seeks to not only preserve local food cultures and traditions, but also to combat our fast food society, emphasizing food that is "Good, Clean and Fair".
Situated in the Veneto's Treviso province, Asolo has a lengthy history of savoring the good life. This picturesque town sits atop a hill with beautiful vistas in every direction. In fact, poet Giosue Carducci dubbed it, "The city of 100 horizons."
Originally built in the fifth century BCE, the city was initially Roman, but it was during the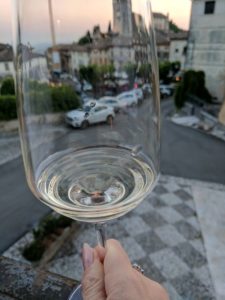 Middle Ages that Asolo really made its mark. Whereas wealthy New Yorkers flock to the Hamptons and Bostonians head to the Cape, during this period, Venetians decamped to Asolo in which to enjoy the lazy, hazy days of summer. Here, the renowned architect Palladio and his contemporaries were employed to build grand palaces such as the remaining Villa Barbaro, which now serves as a museum.
As the saying goes, Asolo is Venice and Venice is Asolo, with a strong link forged between the two for centuries. Not only did they share a similar architecture, but the oak forests of Asolo supplied the wood to build the homes of Venice and to craft boats to protect the region.
These woods offer great biodiversity and are home to wild boars and deer. They are presently protected and now belong to the people of Asolo instead of being solely for the use of the Venetians as they were in the past. Today, local residents enjoy hunting, foraging and nature walks within this natural preserve.
Moreover, while Venice certainly maintains its prestige, Asolo built a reputation in its own right, thanks to Queen Caterina Cornaro. Forced to marry the King of Cyprus for political reasons, Caterina was eventually exiled to Asolo in 1489 and took the opportunity to transform the city on a hill into a center for art. She established a humanist, renaissance court of writers and painters within the city, attracting the top artisans of the time.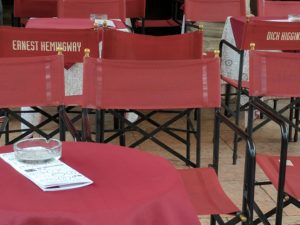 With Asolo firmly recognized as a destination for culture, as noted, the town became a much beloved stop on the European Grand Tour, with many staying on instead of returning home. In more recent history, artists and musicians continued to find their way to the town such as Robert Browning, Igor Stravinsky and Ernest Hemingway.
Presently, the town's population has dwindled to 8,000 –with only 400 of them living within the city walls –thanks to high rents and a lack of modern amenities. But, it still remains a top tourist destination due to its heritage and beauty.
As elsewhere in the Veneto or anywhere in Italy for that matter, Asolo has a long history of grape growing and winemaking. The most historic accounts date to the Middle Ages when such activities were in the hands of the Benedictine monks. During the second half of the 14th century, the wines were highly prized, commanding a higher tax than others due to their perceived quality.
Despite this early fame, wine production languished for decades and it wasn't until 1985 that the Consortium Vini Asolo Montello was founded. Today, this single consorzio protects three separate quality wine denominations: the initial DOC of Montello e Colli Asolani, which has existed since 1977; Asolo Prosecco Superiore DOCG, created in 2009; and Montello Rosso DOCG, added in 2011. Within these three appellations, local producers can make a wide range of still, sparkling, white and red wines.
The consorzio's 35 members (representing 85% of producers in the region) oversee a small territory comprising 20,000 hectares, of which less than 2,000 hectares (less than 5,000 acres) are planted to grapes. The majority of plantings, approximately 1,350 hectares, are given over to Glera, which is grown for Prosecco Superiore production. The Montello Rosso DOCG has a much smaller land allocation with only 250 hectares planted.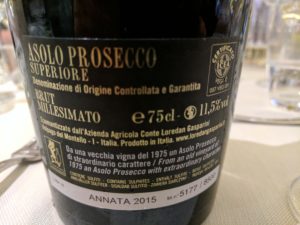 As its name suggests, the territory can be split into two distinct areas: Asolo hills and Montello plains. Between the two, there are soil differences, with more stones found in Asolo and a higher clay content existing in Montello. Yet, similar wind conditions exist on both hills and the same unique microclimate prevails, permitting olive trees to survive here, but not a mere 20 km away.
The area boasts of tremendous biodiversity, with varied flora and fauna abounding. In an effort to preserve this diversity, the consorzio has begun to focus on sustainable agriculture with an eye toward reducing the use of chemicals in the area and lowering the impact of farming on nature and on the workers, all while also conserving the wineries' economies.
To this end, they have instituted new regulations that come into effect with the 2017 vintage that forbid the use of 18 dangerous chemicals that are actually still permitted under Italian and/or EU law. The consorzio has also developed a secondary list of  substances that are allowed, but not recommended as a further inducement to minimize chemical use.
This nascent region is slowly finding its footing as it not only focuses on its sparkling wines, but also works to develop a reputation for Bordeaux-style reds and reclaims several local grapes. Given its youth and size, it is not surprising that there is a lot of cooperation among members as they experiment with old techniques and collaborate on new ideas.
Meanwhile, Consorzio President, Armando Serena, is supposed to be slowing down, having handed the reigns of his winery to the next generation. His wife is eager to have him home, but instead he violates his own rules, eschewing the injunction Asola! (Slow down!) and choosing instead to devote his time and energy to promoting Asolo.