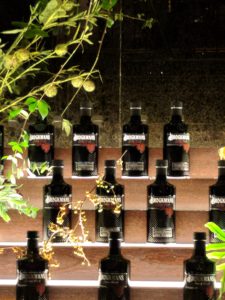 While it was a week dedicated to communing with the dearly departed (Dia de los Muertos), a party promoting spirits of a different kind celebrated Brockmans Gin with mixology, music and general merriment.
Gin has a long and storied history. Initially created as an inexpensive medicinal oil, by Franciscus de la Boe (aka Doctor Sylvius), a physician at Holland's University of Leyden, the elixir was developed to relieve bladder and kidney ailments. Dr. Sylvius referred to his medicine as "Genièvre", the French name for the juniper berry, which was the primary ingredient for his concoction.
English soldiers developed a taste for the local spirit, gin, while fighting alongside the Dutch and brought back the production method to England with them. As taxes on imported beverages were raised, and taxes on English spirits were lowered, gin received a further push and soon became extremely popular, particularly by the poorest classes. So much so that crudely made (and often unsafe) spirits were being sold in thousands of gin shops throughout London and led to many social problems in the city, including increased drunkenness and death.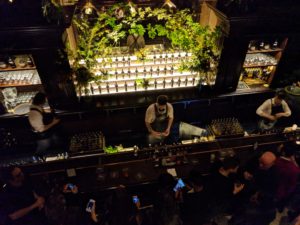 Eventually, the ills associated with gin were dramatically reduced and the emphasis shifted from a cheap, alcoholic beverage to a high-quality gin. These latter gins were no longer overly sweet and focused on the inherent flavors of the spirit, namely juniper. This new kind of gin became known as the "London Dry Style".
While less flagrantly conspicuous in society, gin's appeal continued when it was discovered that it paired well with quinine (used to control malaria) on voyages to the tropics, inventing the now well-known gin and tonic. In fact, during the 19th and early 20th centuries, it was gin and not vodka that was the go to for mixing into various cocktails.
Today, vodka dominates the spirits market as the most internationally traded spirit, with worldwide vodka sales reaching nearly 500 million nine-liter cases. By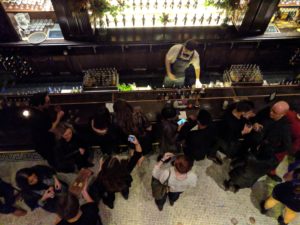 comparison, gin sales account for roughly only 50 million nine-liter cases. Yet, gin continues to be an important spirits staple and is gaining momentum in the marketplace, particularly at the high end.
This resurgence in the category has not gone unnoticed as new brands are entering the fray, capitalizing on craft beverages and craft cocktails. This renaissance provided inspiration for four friends to produce a super-premium gin with a trendy, night-life vibe aimed at the Millennial market. Thus, in 2008, Brockmans Gin was launched by Kevan Crosthwaite, David Crosthwaite, Bob Fowkes and Neil Everitt.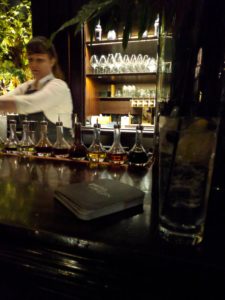 Thursday's festivities offered up the opportunity to taste Brockmans Gin in all of its glory.
Produced at the oldest existing gin distillery in Birmingham, England (in a copper still that is over 100 year old), the gin includes the requisite juniper, but this flavor is much less dominant on the palate. As Fowkes explained, market research indicated that many people were not big fans of juniper and complained of drinking beverages reminiscent of a Christmas tree. Consequently, the botanicals in Brockmans Gin lean more heavily on the citrus and fruit components, namely lemon peel, orange peel, blueberries and blackberries. As a high-end product, is it exceptionally smooth and very enjoyable to drink neat.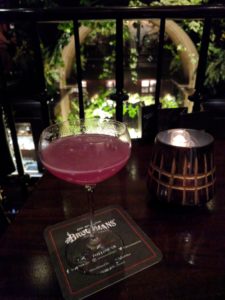 There were also five different cocktails available. Of the three I tasted, my favorite was the Brockmans English Heat, which was developed especially for the event by Nomad's mixologists. The beautifully balanced addition of heat was thanks to the inclusion of Jalapeno-infused agave, which was combined with Brockmans Gin, Chambery Dry Vermouth, Tuaca and lemon. This beat out the more citrus-centic Brockmans Nod to Nothing (Brockmans Gin, Cocchi Americano, Jasmine Pearl Green Tea, Apricot, Sale Yuzu and Lemon) by just a little bit, but both showed off the gin to its advantage.