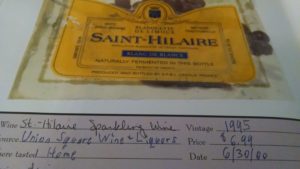 The Languedoc-based Limoux region claims the distinction of being the first to produce a sparkling wine back in 1531. In fact, famed monk Dom Perignon is credited with visiting the area and bringing back the knowledge to Champagne. Unfortunately for Limoux, the Champenoise have been more assertive in their public relations campaign over the past several centuries, which is why Méthode Champenoise is much more familiar to the average consumer than Limoux's Méthode Ancestrale.
However, despite Champagne's better brand recognition, Limoux is now dialing up the volume on its message to market its wines. In this regard, a rooftop tasting held this month provided an opportunity to renew old acquaintances and make new friends.
The event kicked off with Limoux's bubbles. For centuries, it was the Blanquette de Limoux and its Blanquette de Limoux Méthode Ancestrale that dominated local production. These two wines earned appellation status in 1938 and harness the Mauzac grape's floral and apple aromas. The Méthode Ancestrale wines undergo only partial fermentation and thus retain some sweetness on the palate.
Much more recently (1990s), the region added a Crémant de Limoux to its sparkling line up, which favors Chardonnay and Chenin Blanc over the indigenous Mauzac and requires a minimum of nine months of lees aging. In spite of its late arrival to the scene, this newer sparkler accounts for 40% of sparkling wine production in Limoux.
Priced below $20.00, the Limoux sparklers offer up great value for every day drinking with several different styles from which to choose, including drier, sweeter and rosé options.
Even more au courant, Limoux has diversified its portfolio with still whites and reds. While the whites focus on oaked versions of the same varieties as those employed for sparkling wines, the reds (which must include at least three different grapes) bring together an unusual mix of Bordeaux (Merlot, Malbec, Cabernet Franc and/or Cabernet Sauvignon) and the Rhone Valley (Syrah and Grenache). The still wines are a relatively small percentage of total production and are priced accordingly.
TASTING NOTES
Delmas Blanquette de Limoux Cuvée Memoire Brut Nature 2010, $16.00
This wine is vinified in old oak barrels and sees 8 months of aging on the lees, with fresh citrus and apple aromas and flavors.
Saint Hilaire Blanquette de Limoux Brut 2014, $13.00
Thanks to a chance discovery many years ago, St. Hilaire was our house sparkler for a long time, providing us with affordable bubbles on a regular basis. Notes of Apple and apple peel greet the nose; fresh and lively with medium+ length on the palate.
Côté Mas Crémant de Limoux Rosé NV, $15.00
This wine spends 12 months on the lees, showing aromas of berries and herbs. It is dry, yet slightly fruity and slightly yeasty on the palate with long length.
Antech Crémant de Limoux 'Heritage 1860' 2013, $19.00
A more serious sparkler, this wine is dry with citrus and yeast aromas and flavors; fresh and clean on the palate.
Sieur d'Arques Toques et Clochers Limoux Blanc Terroir Autan 2014, $17.00
This 100% Chardonnay offers up floral aromas with a rich palate of pear, apple and a balanced use of oak; long length.
Château-Rives Blanques Dédicace Limoux Blanc 2012, $21.00
Produced from 100% Chenin Blanc, this wine displays yeast and floral notes on the nose with a lovely richness and roundness on the palate.
Domaine de Baron'arques Limoux Rouge 2012, $39.00
Barrel aged in a combination of 50% new barrels and 50% first and second use, this Merlot-dominant wine blend provides berries, black fruit and herbal notes joined by earthy and oaky flavors on the palate.
Michel Capdepon Limoux Méthode Ancestrale Fruité NV, $16.00
Even though the wine's residual sugar level is at 95 g/l, this wine is beautifully balanced with floral and apple notes on the off-dry palate and finishes cleanly.