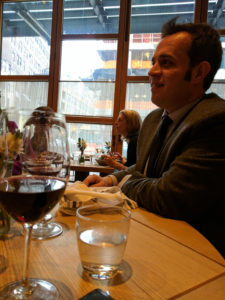 Synonymous with quality, both Il Poggione and Brunello di Montalcino are well known names in wine, the first a highly-regarded producer of the second, a wine often cited as Italy's best expressions of the Sangiovese grape.
Hailing from the region of Tuscany, production of these long-lived wines center near the hilltop (monte) town of Montalcino, which takes its name from the oak trees (leccio) found growing there. Brunello's roots date back to 1869 when Clemente Santi defined the wine as being one produced from 100% Sangiovese and aged for a long period of time in oak. His grandson, Ferruccio Biondi Santi, built upon Clemente's initial work, establishing strict production standards and isolating a particular clone of Sangiovese, known locally as Brunello.
Initially established in 1966 (and promoted to DOCG status in 1980), today, the Brunello denomination is home to 250 producers and, while the delimited area itself comprises 60,000 acres, only about 5,200 acres are planted to Brunello vineyards. Other wines produced within this same delimited area, but from younger vines and without the lengthy aging requirements, are made under the appellation of Rosso di Montalcino, often referred to as a "Baby Brunello."
With an even lengthier history, Il Poggione predates Brunello and was founded by the Francesci family in the 1800s, when Lavinio Francesci, a wealthy Florentine landowner, purchased property near Montalcino after hearing of the land's potential from a local shepherd. Today, the fifth generation of the Francesci family is currently at the company's helm.
In an unusual symbiotic relationship, the Bindocci family has been instrumental in the winery's recent history. Fabrizio Bindocci took over as winemaker at Il Poggione in the late 1970s and was later joined in his endeavors by his son, Alessandro. The duo presently work side by side in crafting Il Poggione's wines.
I first became acquainted with Il Poggione when I visited Montalcino in 2011. More recently, I had the opportunity to taste a selection of current Il Poggione wines with Alessandro at L'Amico in New York. We kicked off the tasting with the Il Poggione Rosso di Montalcino.
Such wines offer a win-win scenario since their shorter production process (there is no aging requirement) permits the wineries to get these wines into the market earlier than their Brunellos and at a much lower cost. In contrast, Brunellos are required to have five years of aging by law (two of which must be in oak) and, while this time and effort results in more complex wines, such complexity and elegance come at a price.
During lunch, Alesandro called his Rosso, a younger brother and was quick to point out that it is a wine with its own identity and not a poor cousin. Produced from vineyards that are less than 15 years in age, the hallmark of Rosso di Montalcinos is their bright red fruit.
"Rosso's are always about the fruit and the freshness. We make them very clean," he said. Alessandro added that such wines are still capable of bottle aging 15 years resulting in leather and floral notes with time and occasionally sneaks in an older vintage Rosso wine in vertical tastings with the more vaunted Brunellos to illustrate their quality and aging potential.
Despite the lack of aging requirement, Il Poggione's Rosso di Montalcino 2014 (SRP $29.99) spent 12 months in oak barrels and barriques, along with an additional 8 months in bottle, before its release. This beautiful wine showed good depth of cherry fruit, with bright, vibrant acidity and a slight woody undercurrent, with long length.
The Rosso wines are also a barometer of the vintage. In 2014, climatic conditions forced producers to cut their Brunello production since it was an okay, not great, vintage. Accordingly, many Brunello grapes were declassified and found their way into Rosso production instead, thereby improving the quality of such wines.
Il Poggione also exceeds the aging requirements for its Brunellos. Their current vintage Brunello 2011 was produced from vines 25 years of age or older and spent three years in oak. However, this longer aging period does not result in an overly oaked wine because their use of oak is actually quite limited given their reliance on larger oak vessels (5000 L in size).
Aged in French oak barrels for 36 months, the Il Poggione Brunello di Montalcino 2011 (SRP $84.99) displayed dark cherry notes, with some dried fruit character and spiciness. In spite of the wine's full body, it still offered an elegance and finesse along with long length.
At the top of the pyramid, Brunello Riserva wines must be aged for a total of six years. The single-vineyard Il Poggione Brunello di Montalcino Riserva Vigna Paganelli 2010 (SRP $125.00) comes from the oldest vineyard on the Il Poggione estate (planted in 1964) and spent four years aging in large oak vessels, resulting in a powerful wine with cherry, leather and woodiness on the nose and palate, culminating in long length.
The winery's careful oak management extends to its decision to season its own oak and then assemble the barrels themselves, rather than sourcing them directly from a cooper. Further, in an effort in be sustainable, the barrels are kept for 20 years and shaved every five years. After that, the wood is recycled into floor boards and other non-wine uses. Moreover, the winery has been fully solar-powered for the past three years.
Green efforts also apply outside the winery as Il Poggione propagates its own vines with its own unique clones of Sangiovese and practices sustainable agriculture. Beyond its 300 acres of vineyards, Il Poggione's 1300-acre property also boasts extensive olive groves, grain fields and livestock, all of which are tended to by hand.
Such attention to detail is labor-intensive and costly, but certainly befitting a jewel in Brunello's crown.