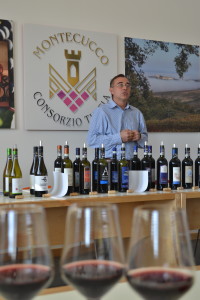 It could be the start of a bad joke: six journalists walk into a Consorzio office… wondering what in the world is Montecucco? But, instead, it was a pleasant journey that revealed another side of Sangiovese, a coterie of winemakers dedicated to their land and people passionate about wine.
Situated within Italy's Tuscany region, just south of Sienna, Montecucco abuts Morellino di Scansano and looks across the river to Brunello di Montalcino. Here, seven towns sheltered by Mt. Amiata, an extinct volcano, are making wine under the Montecucco designation.
While wine has historically been produced in the region, the denomination is quite young, having obtained recognition in 1998, thanks to the enterprising efforts of six producers. Previously, the area was known more for its polycultural approach to agriculture, with farmers growing not only grapes, but also olive groves and cereals and raising livestock, a practice which continues to this day.
But, despite its relatively recent arrival on the wine scene, Montecucco has seen significant growth in both numbers and quality and has been rewarded for its efforts. Since 2011, the denomination also sports a DOCG level wine and can boast that its yields are among the lowest in Italy at 7 tons per hectare for these top wines.
The DOC rules account for white, rosato and red wines. White wines are produced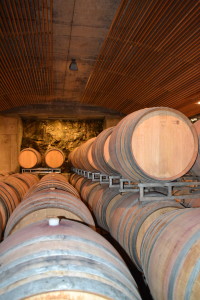 predominantly from Vermentino, with a minimum of 40% required for Montecucco Bianco DOC[1] and at least 85% of this variety for Montecucco Vermentino DOC.
As elsewhere in Tuscany, Sangiovese is the grape of choice for reds. The Montecucco Rosso DOC requires a minimum of 60% Sangiovese, while the Montecucco Sangiovese DOCG must be produced with at least 90% Sangiovese. This latter wine and the Riserva also require 12 months and 24 months in wood, respectively, plus several months in bottle before release.
Given the area's proximity to Morellino and Brunello, the wines almost beg to be compared and contrasted, in their description — more tannic than Morellino; less intense than Brunello. But, in reality, such an approach is much too limited and doesn't provide the full picture.
Rather, the wines are truly capable of standing on their own merit and have their own distinct voice. This point was abundantly clear after we tasted through a selection of 24 wines at the consorzio office – our introduction to Montecucco. The wines were robust expressions of Sangiovese with firm tannins, notes of dried red fruit, spice and cherries with structure, complexity and power.
Moreover, as we quickly learned, as a region made up of many small producers (there are presently 70), the stories behind these wines were equally revealing. While there were differences in individual wine styles from producer to producer, a unifying declaration of a fierce devotion to quality and love for the territory was evident during our visits. To wit, 55% of the producers subscribe to organic farming.
Colle Massari: A Gentle Giant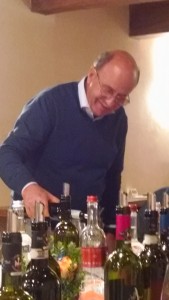 Perhaps the leading voice of the region is that of Claudio Tipa, President of the Montecucco Consorzio and owner of Colle Massari. Named for the hill on which it stands, Colle Massari is by far the largest producer in the region at 500,000 bottles per annum (of the region's total annual production of 1.8 million bottles).
Tipa, a Tunisian-born Swiss who entered the wine industry after a successful career in telecommunications has built a portfolio of wine properties with his sister, Maria Iris, beginning with the purchase of Colle Massari in 1998.
Now also the owner of Grattamarco (in Bolgheri) and Poggio di Sotto (in Montalcino), Claudio admits that he entered the industry in a backwards manner by starting with a wine that was unknown in the market. Yet, despite this obstacle, and the allure of his other properties, his heart seems wedded to Montecucco.
Further, his commitment to Montecucco appears motivated by passion and not profit; Claudio proclaimed that, "We want to do something else – something smaller; something real. [Montecucco] is little and hidden. If you have Brunello, you can sell it. Montecucco is much harder [to sell]." In spite of Colle Massari's relatively large size, his maintains a philosophy of staying small while keeping the quality high. His hard work and dedication have paid off, with Colle Massari earning Gambero Rosso's Winery of the Year distinction in 2014.
Not surprisingly given his tenure and stature in the region, Claudio has served as president of the consorzio three times, but says that he won't serve in that position again. Instead, he prefers to get the younger generation involved. In fact, he mentioned that he plans to retire at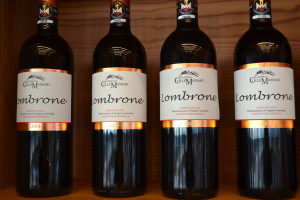 age 70. While I enjoyed the full collection of Colle Massari wines, I was particularly impressed with the Montecucco Riserva 2012, which displayed an impressive array of spice, cinnamon, black cherry, wet leaves, earth and olive notes.

Perazzeta: Preserving the Past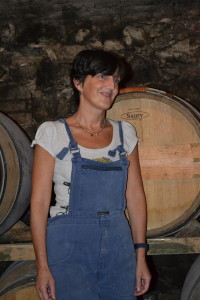 Another of the region's early pioneers is Perazzeta.  One of the founding members of the DOC, this small family business operates from a building that dates to 1400. The historic cellar was bombed during WWII because the Allies through the Germans were hiding there (they weren't, but others were).
Similarly, the vineyard had been in the family for generations, providing wines for daily use. But, in 1994, the family was asked to bottle their wine by a Livorno restaurant, encouraging them to pursue a more commercial course for their wines. Today, their annual production runs 60-70,000 bottles.
In another nod to the past, the Bocci family has been working with a professor from Padua to research and identify old vines that have survived. As a result of this work, the winery's Emma is produced from an extinct Sangiovese clone.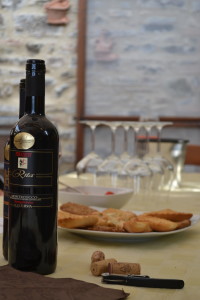 We were greeted at Perazzeta by Rita Bocci, wife of winemaker, Alessandro, who welcomed us dressed in denim overalls, underscoring the hands-on, down-to-earth nature of the people we met. More recently, they have been joined by their daughter, Sara, in the family business. Their Rita Riserva 2009 – named for both Alessandro's wife and mother – was stunning with its beautiful development of spice, oak and cherry.
Prato al Pozzo: Yielding a Dream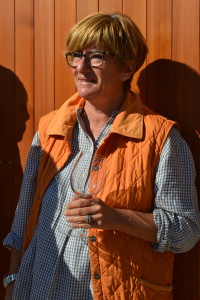 At Prato al Pozzo, we met Francesca Quiriconi, who owns the small estate with her husband, Fabio. The duo purchased the property in 2003 and have been slowly growing the estate. Fabio has served as director of two Antinori estates for many years and has always had a dream to produce his own wine.
After ten years of waiting, they are finally building a real cellar, with construction appearing almost completed during the time of our visit. But, this dream has not come without its costs. Francesca manages the property in Fabio's absence (he is only home on weekends) and is also responsible for taking care of their two daughters on her own.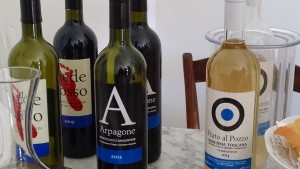 Named for a Molière character who was reluctant to spend money, their flagship wine is sourced from the initial Arpagone vineyard (1.5 hectares), which doesn't yield very much. Although Francesca referred to this wine as a "poor cousin of Brunello," it was really quite lovely with fresh cherries, earth, olive and mineral character. As they continue to establish themselves, they plan to grow to a maximum of 2.5 hectares and are in the process of converting to biodynamics.
Poggio Mandorlo: Bringing Friends Together
Another realization of a dream, Poggio Mandorlo brought together four friends – Roberto, Felice, Giuseppe and Fabio – who wished to make their own wine. Accordingly, they came to the region in 2001, planting 30 acres of land under the direction of Consultant viticulturist, Maurizio Saettini, and initially hiring Brunello producer, Roberto Cipresso (of La Fiorita), as their consultant winemaker.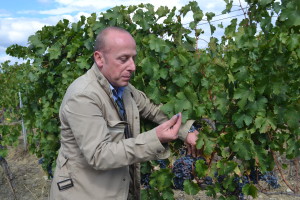 The estate sits 250 meters above sea level. Here, the mountains protect the vineyard from the Sirocco winds and stop the rain, while the good wind from the sea is able to penetrate and benefits the vines. With Sangiovese, Merlot and Cabernet Franc, the vineyard was carefully planted based on soil and exposure. Unlike Montalcino, which has no calcium in its soils, the Poggio Mandorlo estate is home to calcareous Albezza soils, similar to those found in Chianti Ruffina. The first vintage was in 2004.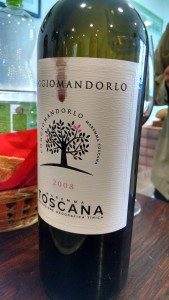 Their top wine, bearing the same name as the estate, is a blend of 70% Merlot and 30% Cabernet Franc, taking its cue from St. Emilion, despite its IGT Maremma Toscana designation. Given their north-facing exposure, the Cabernet Franc vines maintain good acidity and provide elegance to this wine, with its ripe fruit of red and black berries along with wet leaves and spice. Il Guardiano, their entry-level wine, previously qualified for Montecucco Sangiovese status, but with its 85% Sangiovese/15% Merlot blend, as of 2011 (the year of the new DOCG regulations), this wine is now labeled as IGT Toscana.
Poggio al Gello: A Labor of Love
With four hectares of grapes and five hectares of olives, Poggio al Gello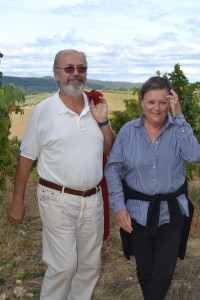 is a labor of love for a retired teacher (Alda) and engineer (Giorgio) who claim that they are continuing to work, but without the stress. The two are happy with their small size of 20,000 bottles annually and are proponents of organic agriculture.
Recognizing that they needed schooling in the ways of wine, the couple hired the director of Col d'Orcia as their "teacher." They note that he never tells them to do this or do that, but rather, is careful to explain to them why they should or shouldn't do something. "He is our doctor of wine," Alda says. Their Rosso del Gello Riserva 2011 spent two years in large oak, resulting in depth and complexity in the balanced and elegant wine.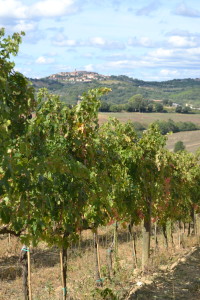 In addition to producing Montecucco wines, the estate makes two wines from ancient varieties – Pugnitello and Fogliatonda  —  as much as to preserve these nearly extinct varieties as because they don't wish to be boring. Beyond wine, they also make their own olive oil. In fact, Alda seems to come alive in the olive grove, as she stops to admire the budding olives on the tree. In their spare time, he is writing a novel, while she plays the piano and recently wrote a song for their grandson.
Tenuta l'Impostino: A Place to Stop and Rest
On a larger scale, Tenuta l'Impostino takes its name from the impostini — places where couriers would stop and change horses before heading on to their next destination during Medieval times. But, instead of moving on to the next location, the current owners fell in love with the area and decided to stay.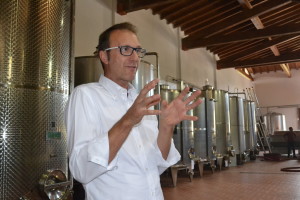 The 52 hectare property has 25 planted to vines, where a natural amphitheater provides excellent exposure. The old homestead's restored farmhouse and stable presently serve as a restaurant and inn, respectively, providing a wonderful place for tourists to relax and recharge, while enjoying the estate's wines.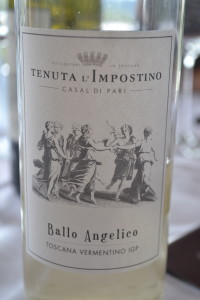 The first harvest was in 2006 and, in spite of the property's size, the grapes continue to be hand harvested. Tenuta I'Impostino's Vermentino, Ballo Angelico, was one of my favorite whites, with freshness, minerality and a touch of salinity. Their Montecucco Rosso 2011 was also really lovely, with cherries, earth and spice.
Parmoleto: The Family that Farms Together
As Leonardo Sodi meets us in his parking lot, he glances wistfully across the valley at Castello Banfi and Brunello territory, seemingly only a whisper away. Yet, he is resigned to his Montecucco fate and in keeping the family farm in the family.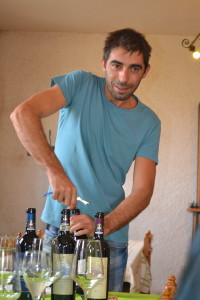 The 72 hectare estate consists of five hectares of vineyards, three hectares of olive groves and 65 hectares of cereals, along with 300 pigs and a bed-and-breakfast. The vines were mostly planted in 2000 and include just over 1 acre of Riesling.
The Sodi family's historic cellar is 100 years old, but his parents only starting bottling wine in 1990 and were among the six founders of the DOC. Today, they produce seven different wines, with a total annual production of 23,000 bottles. The intention is to maintain the current size of production because Leonardo is determined to keep it a family farm. If it becomes too large, it will not be a family farm.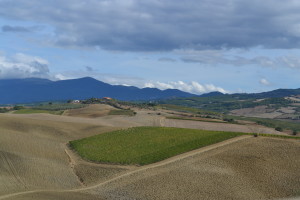 A sparkling wine and full-bodied white round out the predominantly red portfolio, but a rosato is noticeably absent because as Leonardo explains, he doesn't like rosé. Although it needed more time to resolve its tannins, the Montecucco Sangiovese Riserva 2010 was balanced and elegant with tart cherry, spice and wood. His Sormonno, a blend of 75% Sangiovese and 25% Cabernet Sauvignon, displayed power and structure along with minerality and spice and was fondly dubbed a "Super Cucco" by fellow journalist, Dave Eckert.
Campo Nuovi: Breathing New Life into New Lands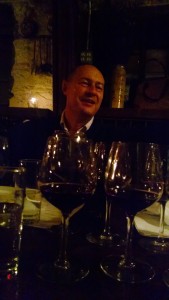 I first met Daniele Rosellini when I visited Chianti Classico in 2011; the agronomist had been instrumental in the Chianti Classico 2000 research in which the best grape varieties, clones and rootstocks were identified as part of Chianti Classico's commitment to improving quality. During this time, Daniele and his wife, Nadia Riguccini, wished to craft their own wines, but they needed to stay outside the Chianti Classico territory to avoid a conflict of interest with his job.
After much consideration, they purchased property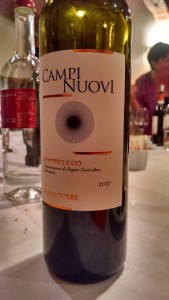 within the budding Montecucco denomination in 2000 with the goal of creating their own venture. Their land was previously referred to in historic documents as "Campi Nuovi" (New Fields), a name they kept as they thought is fitting to begin their "new life." Today, their property is Certified organic and they are also practicing biodynamics. I didn't have the opportunity to visit his estate during this trip, but it was a lovely surprise and pleasure to become reacquainted with him and to taste his wonderful wine. His Montecucco Rosso 2012 was powerful, concentrated and full of intense, dark red fruit, with slight notes of spice and vanilla.
In Montecucco, Sangiovese speaks loudly and proudly; those tasting these wines will be rewarded with beautifully balanced, well-made wines. But, it is the voices of the people I met that linger with me still.
[1] Alternately, the Montecucco Bianco can contain a minimum of 40% Trebbiano Toscano.