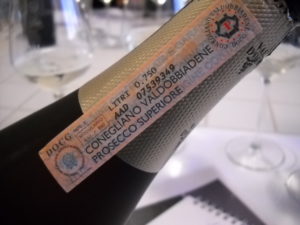 While sparkling wine is chiefly associated with New Year's Eve, I think it is an equally lovely accompaniment to Valentine's Day! A glass of effervescent bubbles always elevates the occasion and, while it might be a so-called "Hallmark holiday," there's no reason not to celebrate love in all of its many forms.
There certainly is no specific sparkler for the holiday, but Prosecco Superiore is a great place to start for several reasons (For more details on what makes Prosecco Superiore so superior, please check out this previous article.) In particular, these Italian bubbles are becoming more well known and thus, easy to find on restaurants' wine lists and retailers' shelves. In addition, these wines carry the higher quality designation – DOCG – which signals to your date that you care about them to invest in the good stuff.
But, even better, this isn't a major investment. These wines are generally priced under $25.00, so your upgrade in quality doesn't break the bank. Plus, their popularity is well deserved – they are beautifully balanced, with a lovely mousse and floral and fresh fruit flavors such as pear, peach, apple and citrus.
Their lively acidity makes them very food friendly. Hence, they marry well at the table, but are easily well suited as an aperitif to kickoff the dining experience. Or, perhaps to toast an engagement at the end of a meal!
Happy Valentine's Day!
Tasting Notes

BiancaVigna Conegliano Valdobbiadene DOCG Brut Prosecco Superiore 2015, Veneto, Italy, $23.00
This winery was established in 2004 by the brother and sister team of Elena and Enrico Moschetta. This wine is very floral on the nose with a slight note of spiced pear. It is dry and crisp on the palate, with white flowers, nectarine, pear and long length. It pairs especially well with food due to its vibrant acidity and clean finish.
Ruggeri Vecchie Viti Valdobbiadene DOCG Brut Prosecco Superiore NV, Veneto, Italy, $22.00


Produced from vines that average 80 to 100 years old, this wine has been given the designation "Vecchie Viti" (old vines). The nose is redolent of flowers and pears. The slightly off-dry palate displays medium to high acidity, with peach, pear and floral notes, along with long length. With its hint of sweetness, this wine would pair well with spicy foods or with rich, fatty meats.
Le Colture Fag

her Valdobbiadene DOCG Brut Prosecco Superiore NV, Veneto, Italy, $16.00
The "Fagher" is the most modern in style of Le Colture's Prosecco Superiore offerings, putting it at a
It offers up an intense nose of flowers, pear and slight citrus aromas. On the palate, it is dry with a creamy mousse, along with crisp acidity and citrus and green apple flavors, culminating in long length. Another food friendly option.