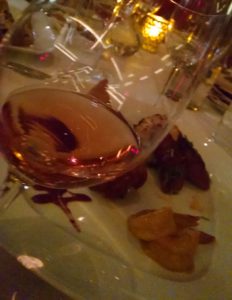 Régis Camus, Piper-Heidsieck's award-winning (he has been named Sparkling Winemaker of the Year eight times) Chef de Caves, likes a challenge and apparently has the patience of a saint.
His latest accomplishment? Crafting a high quality tête de cuvée from the tricky 2007 season.
Camus kicked off his Heidsieck career on the Charles-Heidsieck side of the business before migrating to Piper-Heidsieck in 1994. Once there, he devoted himself to ensuring that the Cuvée Brut NV (non-vintage) – the mainstay of the Champagne house – consistently delivered year in and year out.
Then, in 2000, he expanded his purview to include the company's prestige cuvée: Rare. His first foray was the beautiful Rare Millésime 2002, adding to the previous seven vintages of this wine. But, in spite of all of this success under his vinous belt, he was anxious to create a rosé counterpart, waiting around for the right opportunity to do so.
In 2007, he decided it was time to pursue this dream. Given its name, it should come as no surprise that part of the concept of Rare is to produce a vintage wine when it is difficult. Only a few Champagne houses crafted a vintage wine in 2007. As Regis quips, "You need guts to do it."
Yet, he was resolved and, thus, brought together three key elements to guide the creation of his new wine: color, nose and palate. For the wine's color, he envisioned the pink hues in stained glass; for its nose, he sought the subtleness of red fruit; and for its palate, he wanted the exotic nature, minerality, freshness and purity of the Rare Brut.
Once the potential wine had been assembled and sent off to age on its lees, he waited nine years to release it, but, it was worth the wait.
Bringing together an almost equal blend of Chardonnay and Pinot Noir (56% and 44%, respectively), the wine is delicate and elegant, yet exotic with spice and tea along with red fruit notes of strawberries and raspberries. The spice components linger on the palate throughout the wine's long length.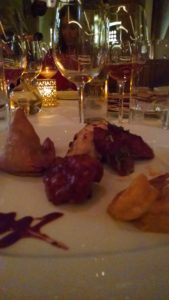 While not the most commonly connected food pairing, the Rare Rosé showed beautifully against a backdrop of Tamarind's high-end Indian cuisine; its exotic elements holding their own with the complex flavors and seasonings of the food.
At $450 per bottle, and with fewer than 800 bottles in the U.S., this is sadly not a wine that I (nor many others) will get to enjoy with any frequency, but, it is a remarkable (and tasty) testament to one man's perseverance and patience. Santé, Regis!