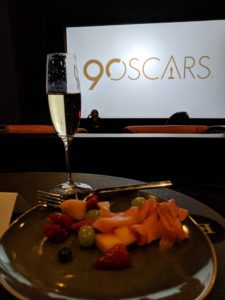 Admittedly, I only saw one movie in an actual movie theater in all of 2017 and possibly only a handful of films via Netflix. Yet, there is still something magic about the movie business.
Thus, I roused myself out of bed at an ungodly hour (at least compared to my usual 8:00 AM alarm) to head downtown to the iPic Theaters in South Street Seaport to watch the presentation of the Oscar nominations for this year's Academy Awards.
OK, it wasn't just the glamour of Hollywood singing her siren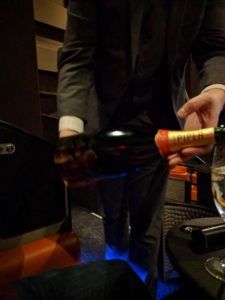 song. A Champagne breakfast, courtesy of Piper-Heidsieck, was the more alluring bait. And, the breakfast didn't disappoint; there are a lot of worse ways to start the day than with a fabulous glass of Champagne, smoked salmon and Eggs Benedict topped with caviar!
Piper-Heidsieck h

as long been associated with the movie industry, having first appeared on the scene (and screen) in Laurel and Hardy's debut film, Sons of the Desert in 1933. In addition to serving as the official Champagne of the International Cannes Film Festival, the Champagne house continues to be the official Champagne of the Oscars, now in its fourth year of its partnership with the Academy of Motion Picture Arts and Sciences.
In keeping with its tradition, Piper-Heidsieck has designed a special,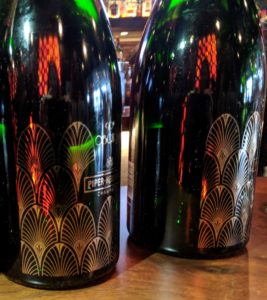 limited-edition Magnum to mark the occasion. With the first Academy Awards held in 1929, this year heralds the 90th award season and the "label" (in fact, a gold foil appliqué that required a special process to adhere the graphic to the bottle) takes its cue from this "Golden Age" of Hollywood with an Art Deco design, created by a young, French designer.
While only a handful of these limited-edition bottles have been made (such is the definition of limited), the bubbles inside are not so limited and are available in Piper-Heidsieck's regularly bottled, signature Cuvée Brut. So, although you may not win an Oscar yourself, you can simply pretend you did or raise a glass in honor of your own achievements, even if that only includes bingeing on the Oscar nominations in the lead up to the televised award ceremony on March 4, 2018.