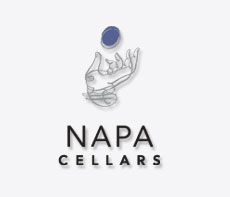 A venture from the folks at Folie à Deux, Napa Cellars produces a full range of the usual suspects and prides itself on producing consistent wines from vintage to vintage, by sourcing fruit from quality vineyards throughout the Napa Valley. The winemaker is Joe Shirley.
Napa Cellars, Cabernet Sauvignon 2007, $26.00
Winemaking: 18 months of aging, predominantly in French oak, 55% of which was new.
Aromas: Red and black fruit, pepper, oak and mint
Flavors: Juicy fruit notes of blackberry, oak and eucalyptus
Structure: Medium acidity; medium, ripe tannins; medium+ length
Napa Cellars Sauvignon Blanc 2009, Napa Valley, CA, $18.00
Aromas: Pronounced herbal and citrus
Flavors: Lemon, lemon meringue, slight herbal
Structure: High acidity, medium+ length
A very nice wine.
Napa Cellars Chardonnay 2009, Napa Valley, CA, $22.00
Aromas: Apple, toast, smoke, slight melon
Flavors: Toast, apple, melon, smoke, caramel in finish
Structure: Medium+ acidity, medium+ body, medium+ alchohol, medium length
Napa Cellars Mount Veeder Chardonnay 2009, Napa Valley, CA, $32.00
Aromas: Oak, nuts, bruised apple
Flavors: Oak, apple, nuts
Structure: Medium+ acidity, full-bodied, medium- alcohol, long length
The Mt. Veeder wine was tasted with the regular Chardonnay. It was deeper in color and I found it to be more balanced in its use of oak. It also had a longer length.

Napa Cellars Dyer Vineyard Syrah 2007, Napa Valley, CA, $28.00
Aromas: Smokey, blackcherry, vanilla, hint of leather
Flavors: Blackcherry, vanilla, smoke and leather
Structure: Medium+ acidity, full-bodied, high alcohol, medium length
Powerful wine with concentrated fruit and nice acidity, but a bit hot.
Napa Cellars Zinfandel 2007, Napa Valley, CA, $22.00
Winemaking: 88% Zinfandel, 12% Petite Sirah; Aged 18 months in French & American oak (40% new)
Formal notes not taken, but the wine was very balanced and concentrated with bramble fruit and spice. It paired well with an Ecuadorian chocolate with banana and cayenne pepper.