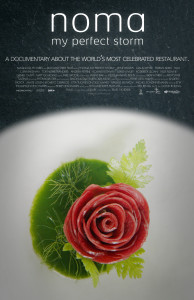 René Redzepi is not a household name, but for those in the culinary know, he is the bright star behind Copenhagen's Noma restaurant. A new documentary from Magnolia Pictures, Noma: My Perfect Storm, inspired by Redzepi's own books on the subject, charts his rise, fall and rise again.
Scoring a reservation at Noma is a feat. Most of us won't have the opportunity to dine at San Pellegrino's Best Restaurant in the World (2010, 2011, 2012, 2014), but through this film, we can catch a glimpse of what it might be like to taste through the multi-course meal as imagined and conceived by this food fanatic.
In this regard, Redzepi is credited with creating a new concept — the Nordic kitchen – using Nordic ingredients almost exclusively, an especially daunting task considering that Scandinavia is blanketed by snow five months a year.
As part of developing this concept, he was determined to tell a story with each dish: the story of a place (where the food came from) and time (the season in which it was grown). In essence, the here and now of what is on the plate. With the use of time lapse photography, we are drawn through the seasons of the beautiful Danish landscape, further illustrating Redzepi's pursuit.
To accomplish his ground-breaking approach (sometime quite literally), Redzepi combed the land for foragers, farmers and fishermen in search of local products, produce and people, many of whom we meet in the film. He claims that ingredients are an alphabet by which to share a new language; the more ingredients one has, the more beautiful the prose.
Beyond taste, Redzepi also explores new techniques such as his experiments with fermentation; fights about thyme vs lemon thyme; and inclusion of live ants in a particular dish. Aided by a head-mounted camera, we watch Redzepi's creations come to life, accomplished with such tools as paint brush and tweezers to ensure that his vision is realized in its precise level of detail.
But, more than just a pretty picture of food, the film is refreshingly candid, permitting us to see not only the less than glamorous side of five-star dining, but also the darker side of Redzepi. Achieving such a lofty goal at a young age, Redzepi discusses the dangerous side of success. Moreover, it is evident that he takes things very personally and you can feel his frustration as he pushes himself and his team to be even more creative and constantly driven to be the best.
It is also an immigrant story. Born and raised in Macedonia on the family farm, Redzepi comes to Denmark as an outsider, who must overcome racism. Yet, as he advances his new Nordic menu, he is "more Danish than the Danes" as one of the film's interviewees describes him. He must also overcome the derision of his peers who are less than enthusiastic about his novel menus and taunt him accordingly.
The film is a bit slow at times, but, ultimately, the story pulls you through, as you eagerly await the outcome of the various obstacles that Redzepi faces in his struggle to succeed.
Film from Magnolia Pictures
http://www.magpictures.com/noma/
Available in theaters, on demand, Amazon video and iTunes December 18, 2015.