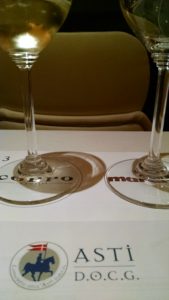 Back in the day (1966), Dionne Warwick sang that, "What the world needs now, is love, sweet love." Such words are particularly true today. While not quite love in a bottle, Moscato d'Asti isn't too far from it with its floral and fruit notes, effervescence and beautifully balanced sweetness. Plus, the Moscato grape has high levels of terpenes, including linalool, a naturally occurring chemical, which is widely used in aromatherapy to reduce stress.
The Moscato (aka Muscat) grape has become quite popular recently, but the denomination of Moscato d'Asti is more than just a grape name and has a history that significantly precedes the current craze. Produced exclusively from the Moscato Bianco de Canelli variety, this grape arrived in the region over 800 years ago. Here, in Piedmont, the same region known for Barolo, Barbaresco and Barbera, 52 municipalities are granted the right to craft these special wines.
First designated in 1932, the denomination is carefully controlled with only the best sites planted; planting on damp or shaded slopes is forbidden. Specifically, this means that the vines are grown on steep vineyards and picked by hand. Moreover, the area itself has been awarded UNESCO World Heritage status.
High in terpenes, the Moscato Bianco grape results in wines with distinct floral and fruit aromas and flavors of apricot, peach and white flowers, tasting nearly the same on the vine as it does in the glass. Thanks to its low alcohol (~5% abv) and softer pressure (2 bars of pressure compared to 5 to 6 atmospheres of many other sparklers), its frothy creaminess lends itself to food pairing and second (and third) glasses.
Lightly sweet, these are the perfect companion to a wedding toast, especially when wedding cake is involved. Yet, due to the diurnal shift and fog, the grapes keep their acidity and freshness, resulting in balanced wines that pair equally well with savory and salty foods.
A recent seminar and tasting included representation from Michele Chiarlo, Saracco, Coppo, Marenco, Ceretto and Caudrina to highlight the characteristics of these wines. At retail, consumers should expect to pay $13.00-$25.00 per bottle for high quality Moscato d'Asti.
While all of the wines showed well, my favorite were:
Marenco Scrapona Moscato d'Asti 2015, Piedmont, Italy
Pronounced apricot on the nose, with pear, apricot and slightly candied note on the palate, yet finishing cleanly
Coppo, Moncalvina Moscato d'Asti 2015, Piedmont, Italy
With distinct floral aromas, this wine displays great acidity, a creamy mousse and lovely flavors of apricot and white flowers. It culminates with a zingy sweetness throughout its long length.
Michele Chiarlo Nivole Moscato d'Asti 2015, Piedmont, Italy Intense floral, pear and cotton candy aromas greet the nose, giving way to citrus and lemon candy on the medium sweet palate. Good acidity and a nice mousse, with long length.