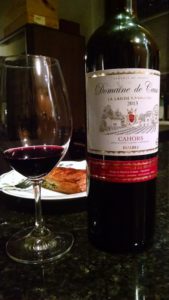 Malbec is a grape variety better known for its time spent in Argentina, but the variety got its start in Southwest France, where it continues to not only survive, but also thrive. In fact, it presently accounts for nearly 9,000 acres in the southwest, making it one of the most planted grapes in the region.
Given the grape's popularity in the market, these wines are making their way to the U.S. under the varietally-labeled option as well as its more traditional appellation of Cahors. Here are two wines to try.
Château Lagrézette Malbec 2010, France, $30.00
Château Lagrézette was built by Adhémar de Massaut in the 15th century on a hill overlooking the Lot River. Purchased by Alain Dominique Perrin in 1979, by 1982 the chateau was classified as a historical monument and a full restoration was completed. The property now boasts 90 hectares of vines. Deep purple in color, this wine offers up smoke, black and blueberry fruit with oak notes. Its dry, medium+ acid palate is full bodied with medium, fully ripe tannins, black and blue fruit, plum, smoke, oak, light heat, powerful yet balanced. Still young and fresh. Long length.
Domaine de Cause La Lande Cavagnac 2013 Cahors, France, $17.00
Owned by the Durou-Costes family, the care and management of Domaine de Cause was resumed by Serge and Martine Costes in 1994 in order to maintain Martine's family's legacy. Today, they utilize sustainable farming practices to craft the Malbec-based wines of Cahors. The La Lande Cavagnac is produced from a selection of the oldest vines on the estate. Aromas of plum, blueberry and blackberry greet the nose and persist on the palate, along with vibrant acidity and firm tannins.