>Discovering SICILY: A Mediterranean Jewel in Italy's Crown 
>OREGON, but Not Forgotten: A Visit to the Willamette Valley
>SONOMA Travelogue: Wining & Dining in Wine Country
>SANTA BARBARA County: A gorgeous getaway to Burgundy- and Rhone-style wines
Situated roughly two hours north from downtown Los Angeles, the city of Santa Barbara boasts beautiful beaches, good shopping and a myriad of dining options. It is also known for excellent wine. Launched onto the world-wide wine scene in the movie Sideways, referred to by locals as "that movie," the Santa Barbara County wine region has garnered international recognition of late.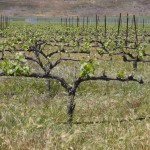 While there are numerous tasting rooms and even a few wineries within the city itself, for the real action, one has to get out of town as most of the vineyards are located outside of Santa Barbara proper. The recognized AVAs include Santa Maria to the northwest, Santa Ynez Valley to the west, with the sub-AVA Santa Rita Hills situated within Santa Ynez.
Our visit serendipitously coincided with the Santa Barbara Vintner's Festival, which meant that several wineries not usually open to the public were in fact hosting events at their properties. Au Bon Climat and Qupé,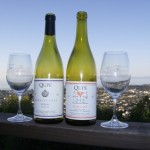 which share facilities, hold a joint Open House event twice a year. Due to various other relationships, the Open House also included wines from Verdad, Clendenen Family Vineyards, Vita Nova, Barham Mendelsohn, ICI/LA-BAS and Il Podere Dell'Olivos. Located on the famed Bien Nacido vineyard in Santa Maria, Au Bon Climat is a long drive (nearly 2 hours) from Santa Barbara, but worth the trip. Proprietor and winemaker Jim Clendenen was on-hand greeting guests and welcoming them to his winery. For $15.00/person, visitors are given a logo'd Riedel stem, buffet lunch and the opportunity to taste a vast number of wines (I think there were about 10 different tasting tables, each with at least 2 wines, some with as many as 6). Au Bon Climat is known for its cool climate Pinot Noirs and Chardonnays, while Qupé specializes in white and red Rhone varieties. Tasting through a flight of Pinots, our favorite was the Isabelle Morgan, a cellar selection of the best barrels named for Jim's daughter. Qupé's Marsanne was very enjoyable as were its single-vineyard Syrahs. In addition to being able to purchase wine at a discount at the event, special bargains were also available. For example, a Qupé Syrah privately labeled for a restaurant who then chose to reneg on the deal, was being sold for $6.00/bottle – quite a bargain given the quality of the wine.  If you are in town during one of the two Open House weekends, this is truly a great opportunity to taste these wines (range $17.00-$55.00) and a steal at only $15.00.
After the Open House, we ventured to Cambria and tasted through its line-up primarily of Chardonnays and Pinot Noirs, and particularly liked the Julia's Vineyard Pinot Noir. We were also enamored with its Viognier. Cambria's wines are nicely priced ($16.00-$30.00) and its tasting room is welcoming, with knowledgeable staff. The $7.00 tasting fee gets you a taste of eight wines, which include both whites and reds.
We next headed to the town of Los Olivos. Located midway within the region, Los Olivos is home to numerous tasting rooms, restaurants, galleries and quaint boutiques.  Tasting wine in Los Olivos is easy – park once, taste at a multitude of places. Arriving close to 4:00 PM, we had just enough time to taste at Daniel Gehrs and at the Los Olivos Tasting Room. Daniel Gehrs has a beautiful backyard where visitors can taste through the line-up of wines, surrounded by foliage and flowers. The Daniel Gehrs wines range from $15.00-$36.00, excluding the Port-style wines, which top out at $46.00. The $10.00 tasting fee permits guests to taste eight wines, with the tasting of a beautiful, Port-style wine paired with chocolate.
Just next door, the Los Olivos Tasting Room is a communal tasting space where visitors can taste wine from different producers, many of which, like Ojai, don't have their own tasting rooms. Consequently, it is a good destination to find the smaller, boutique producers. Each day, the selection of wines available for tasting varies; on the day of our visit, we tasted Jaffurs, Happy Canyon and Herman Story, among others ($10.00 for 9 tastes, with prices ranging from $20.00-$40.00). Venues like this are a great way to taste a broad range of wines without having to visit as many separate wineries.
A second trip to Los Olivos later in the week yielded visits to Coquelicot and Longoria. Longoria is known for its Pinot Noirs, which were recently praised by NYT wine critic, Eric Asimov. Unfortunately, most of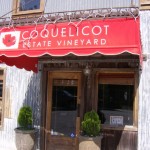 these are limited to purchases only and are not available for tasting. The narrow tasting room is brightly lit given its corner location. If you buy three bottles of their wine, your $10.00 tasting fee ($15.00 for the reserve list, when available) will be refunded. The Sanford & Bendict Pinot Noir 2006 ($45.00) was on the tasting lineup and showed minerality and earthiness along with cherry and raspberry notes. The other five wines tasted ranged from $19.00-$36.00. Coquelicot's tasting room is dark and minimalist in design, but the wines we tasted were quite lovely and are priced $22.00-$28.00 for the whites and $30.00-$40.00 for the reds. It was among the only winery in the area to have a Cabernet Franc. Visitors can choose from one of two tastings, both at $12.00: Standard (4 white and 2 red wines) or Reserve (3 red and 1 dessert wine).
Just outside the town itself, Beckman Vineyards has a spacious tasting room, located on the 365-acre property that houses the winery and is home to the hillside Purisma Mountain Vineyard. The tasting room offers two different options – one with their estate-level offerings ($10.00/person for 5 wines) and another with their single-vineyard wines ($15.00/person). The estate wines range from $15.00-$30.00. We chose to taste the five single-vineyard wines, which ranged from $25.00 (whites) to $55.00 (reds). While all of the wines showed excellent quality, we especially enjoyed the Purisma Mountain Vineyard Syrah ($48.00), which was complex with red and black fruits joined by spice, pepper and bacon fat.
Also close to Los Olivos is Rideau, owned by New Orleans native, Iris Rideau, who purchased the farm and historic former inn in 1995 and has restored it to its former glory. Given her heritage, the tasting room provides visitors with Mardi Gras beads and a similar theme is infused throughout the space. The wines are primarily focused on Rhone varieties, but the portfolio also includes the Italian grape, Sangiovese. The $10.00 tasting fee includes a tasting of five wines, which range $20.00-$50.00.
Heading west toward Lompoc, there are a number of vineyards nestled in the Santa Rita Hills. Foley Estates is among the larger tasting rooms, housed within a new, airy, 3,500 square foot building. A small picnic area is available on the grounds. The tasting ($10.00 fee) permits guests to taste five wines, several of which are exclusive to the tasting room. Wines range from $20.00-$40.00, with discounts given to Wine Club members.
Further west, Babcock has beautifully landscaped grounds. Its tasting room is small, but the staff was very helpful and made us feel extremely welcome. We even had the opportunity to meet winemaker, Bryan Babcock, who took us into the vineyard and shared the special pruning system that he developed with us. Babcock produces both Burgundy and Rhone variety wines and we tasted nine wines ($10.00 fee), which range in price from $14.00-$55.00. The Identity Crisis Syrah ($15.00), a white wine made from this red grape variety, was particularly interesting.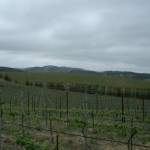 Also in the vicinity is Clos Pepe, home to winemaker Wes Hagen, Central Coast Winegrower's Association Grower of the Year 2001-2002. Wes limits his production to Chardonnay and Pinot Noir and is careful to craft wines of elegance and finesse, with 75% of his grapes sold to highly respected wineries. With a focus on the land, Wes and his wife maintain a herd of sheep which helps to manage the weeds. Visits to Clos Pepe are limited and by appointment only, but include a visit to the sheep paddock,  a vineyard tour and a tasting in owner Steve Pepe's private home, all guided by Wes himself. There is no fee and the number of wines tasted will vary from two to five depending upon what is available. The tasting was accompanied by bread and cheeses, estate-produced olive oil and French press coffee. Clos Pepe wines include a rosé ($18.00), Chardonnay (sold out) and several Pinot Noirs ($54.00-$59.00). As you can imagine, this is not a quick visit, but it does provide a very special and intimate experience to taste fantastic wines and learn about the property.
Back in Santa Barbara, the Jaffurs winery and tasting room is located in the heart of downtown. Not surprisingly, it has a warehouse/industrial vibe, but the wines are the real stars here, not the décor. The winery excels in Rhone-style wines including Viognier, Mourvedre, and multiple, single-vineyard Syrahs, which is a great opportunity to compare and contrast how climate really influences the finished wine. Its late harvest Syrah dessert wine was recently sold out given the wine's inclusion in a dinner held by President Obama. Jaffurs is generally only open on weekends, but they were very willing to make an appointment when I thought our schedule would clash with their usual hours. The tasting fee of $8.00 permits one to taste five wines, which range in price from $25.00-$38.00.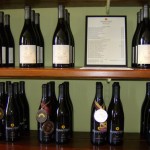 Finally, traveling south, one finds the beachside town of Summerland, along with its antique shops and art galleries. The synonymously-named Summerland Winery has its tasting room right in town, which has a large collection of gifts and wine accessories available for sale, in addition to the wines themselves. The $15.00 tasting fee includes six wines, which range in price from $17.00-$42.00, with the line-up changing weekly. The winery produces several different wines from Santa Barbara County as well as from Paso Robles. The Trio ($42.00), a blend of Syrah, Grenache and Mourvedre, showed lots of complexity and long length. While the wines were quite nice, there is no need to make a special trip to the tasting room unless you plan to visit Summerland for other reasons.