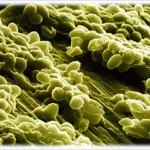 The tiny, single-celled fungi (I'll spare you the bad joke) known as yeast are responsible for creating wine; without them, it would merely be grape juice. Simply put, the yeast consumes glucose and fructose in grapes, converting the sugars into alcohol and carbon dioxide. The resulting product is much more complex and interesting than if the yeast had not intervened (thanks yeast!). These organisms exist throughout nature and are found on the skins of grapes (not a bad place to hang out if you're looking for a free lunch), among other places.
Brought together in this manner, the initial discovery of fermented beverages was most likely an accident, but yeast are one of the oldest domesticated organisms (although admittedly not as cute as dogs) with humankind having used it for thousands of years. More recently, the commercial production of yeast has a 100 year old history with today's winemakers having the luxury of ordering any number of cultured yeast strains from a catalog to achieve their desired effect. In fact, a chart on Winemaker magazine's website suggests which yeast products are best for which styles of wine.
Yet, despite these modern conveniences, many winemakers are going native. In Canada's Niagara-on-the-Lake region, Hillebrand Winery gifted us with yellow t-shirts emblazoned in green with the slogan "Take a Walk on the Wild Side" on the front and hailing their Wild Ferment Showcase Chardonnay 2009 and Showcase Sauvignon Blanc 2010 wines on the back. Stateside, the Hamptons-based Channing Daughters has produced its L'Enfant Sauvage Chardonnay, made entirely with native yeast, since 2001, while Janet Myers of Napa's Franciscan Estate makes the similarly produced Cuvée Sauvage Chardonnay.
Why the emphasis on these minute details? Does it make a difference or is all about the hype? Not only is Myers adamant that it matters, but she continues to make various batches of Chardonnay using both cultured and non-cultured yeast each year, which are then blind-tasted to determine which one is the best. And, every year, she finds that the wine produced with natural yeast wins out. For Shane C. Welch, President and Founder of Sixpoint Craft Ales, the use of natural vs. cultured yeast is the difference between a live performance and a studio album.
But, using wild yeast may not always be the best course of action. Myers admits that in some cases, especially with red wines, the result is less pronounced while further explaining that she finds it produces a different (unwanted) style with Sauvignon Blanc. Accordingly, the extra time and attention necessary to use wild yeast fermentation is limited to her Cuvée Sauvage Chardonnay; all other Franciscan wines are made with cultured yeast. Myers is also quick to point out that she has the benefit of having a microbiologist on staff that can observe, smell and analyze what's going on and make adjustments as needed. Tracy's tales of producing L'Enfant Sauvage sound dicier, with some ferments taking almost a full year to complete.
Whether brought on by ambient populations of yeast or those of the cultured variety, the finished products of fermentation – wine, beer, bread – are made all the better for their actions. Accordingly, we have much for which to thank the yeast. If the yeast could talk, they might be heard to respond, "It's the yeast we can do."
Channing Daughters L'Enfant Sauvage, The Hamptons, NY, $35.00
Although we have not tasted the recent release of this wine (2009), we hosted a wine dinner featuring the L'Enfant Sauvage from vintages 2001 through 2008. While the older wines did display some oxidative characteristics, this added richness and complexity and confirmed the ageability of these wines. Citrus and apple were the most common aroma and flavor descriptors in my various notes, accompanied by some slight oak and spice, along with good acidity.
Chateau Dereszla Tokaji Dry 2010, Hungary, $15.00
While likely more famous for its sweet and luscious botrytized wines, Tokaji (pronounced to-keye) winemakers also make dry whites. This one is a blend of 85% Furmint, 10% Harslevelu and 5% Muscat, 20% of which has been aged in oak barrels for six months. Notes of apple and canned peaches greet the nose and persist on the medium-bodied palate.
Franciscan Estate Cuvée Sauvage 2009, Carneros, Napa Valley, CA, $40.00
The result of using wild yeast for this wine is worth the effort, with its complexity of aromas of yeast, apple, and wet stone. On the palate, it has vibrant acidity, full body, flavors of yeast, toothpick, apple, and lemon, culminating in long length. Crisp and complex.
Lucien Albrecht Blanc de Blancs Crémant d'Alsace Brut NV, Alsace, France, $20.00
Traditional method sparklers such as France's Champagne and crémants owe their charm to not just one, but two fermentations, along with lengthy contact between the wine and the dead yeast (aka autolysis). As a blanc de blancs (white from whites), this wine is a blend of 80% Pinot Auxerrois, 10% Pinot Blanc and 10% Chardonnay and shows aromas of yeast and toast, joined by apple peel and ripe citrus on the fresh and elegant palate.
Masi Agricola Bonacosta Valpolicella Classico 2010, Veneto, Italy, $14.00
If you're craving red wine despite the heat, this light-bodied, low tannin blend of Corvina, Rondinella and Molinara from the foot of the hillside vineyards in the Classico zone just might do the trick. Bursting with vibrant, fresh cherries, it can be enjoyed with a slight chill and paired nicely with oven-roasted Portabella mushrooms and eggplant.