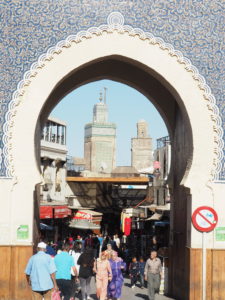 After years of waiting, we were finally visiting Morocco, a dream destination. The trip coincided with the final weeks of the U.S. election, against the backdrop of a pussy-grabbing, wannabe politician making headlines at home and the publication of Regena Thomashauer's new book, Pussy.
As a part of Regina's Sister Goddess community, I was proud and excited as we, together, took back this word and reclaimed it for ourselves. Hers was a daring title choice: provocative, decisive and divisive, but so necessary for this moment.
Yet, despite my awakened state, my husband and I also believe strongly in respecting other people and other cultures – the idea of being the ugly Americans is anathema to us – so I struggled about what to wear in a patriarchal, Muslim country.
A friend recommended covering my blond head to limit unwanted attention from locals while blogs and other online articles warned that Western women were presumed to be unchaste (and thus available) by Moroccan men merely due to their skimpy attire.
While still at home, mentally packing my suitcase, I began to notice other women on the subway and was able to spot a handful of women who I deemed to be ideally dressed for the occasion. They were here among us, but so, too, was everyone else; on New York City transit, nearly anything goes. But, I was certain that my preferred clothing choices – body conscious, sleeveless, knee-length dresses – would be unwelcome abroad.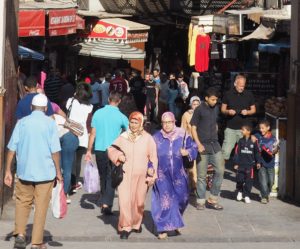 Initially, I had grand visions of chic caftans or stylish palazzo pants and tunics, but I had neither the time nor the money to source such garments. Instead, I shopped online; shopped in person; then shopped again – unsure how to implement what I learned or how I wanted to dress. It became an unhealthy obsession as I focused on fashion instead of researching sight-seeing options. I returned some items and kept others until I thought I had a "respectable" wardrobe, but I didn't love what I packed.
I arrived at our first hotel in my usual flight uniform (black dress, black leggings and a long black sweater), but, surprisingly, we were greeted by a woman in a sleeveless blouse and mid-length skirt. Had I been wrong to worry?
As it turned out, she was more the exception rather than the rule, although I did see women – particularly younger women – wearing skinny jeans with a long-sleeved blouse and a head scarf. It was only when we got to the desert that I saw the burka obliterating a woman's presence – covering her head and face; we saw only her eyes.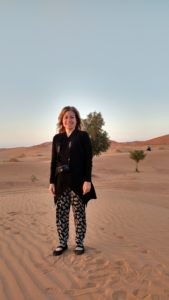 Dressing on day one of our journey, I donned a newly purchased outfit: baggy, printed pants; an unstructured, black blouse; and a long, black cardigan, which hid my body and, ultimately, hid my true personality. I didn't feel good in the unflattering clothes; I didn't feel like me. They were bulky, ill-fitting swathes of fabric that hung on me rather than hugged my body. And, with the warm weather, I was further made uncomfortable.
In Morocco to celebrate our 20th wedding anniversary, we had made reservations at several top restaurants. Such vacation evenings are usually a time to get dressed up "fancy" and look good (read sexy). Instead, I wore an outdated, full-length dress with flats and a black scarf to cover my upper body.
Walking home after dinner, my shawl slipped from my shoulders. They were bare and exposed; my décolletage now obviously on display. I panicked, feeling the overwhelming need to cover up – all at once, I felt it… shame!
But, whereas American women have body shame for being too fat, too flat-chested, too busty or for having big thighs [or are otherwise too something], this was a different kind of shame. This was a sense of feeling that my body was impure and inherently dirty. The feeling was visceral and powerful, taking me completely by surprise as I am certainly not ashamed of my body.
Yet, as I was uncovered, I was wrapped up in the collective consciousness. Perhaps when we immerse ourselves in the culture, it becomes both a physical and metaphysical immersion.
As the journey continued, I was assailed by other latent cultural messages about the feminine…We toured a synagogue in Fez' Jewish quarter and saw a mikveh, the ritual bath in which women must immerse themselves monthly to restore themselves to a clean state. Meanwhile, at the hammam, I was asked to strip down to nothing other than paper panties as a female attendant pawed my chest with a rough mitt, scrubbing my skin raw.  I stood before her naked and unashamed.
Upon taking the throne, the current King of Morocco, Mohammed 6, ruled that women were not required to cover their head. Other reforms for women have been enacted such as raising the minimum age for marriage to 18 and compelling a man to pay child support when divorcing his wife. But, admittedly, there is work to do (the literacy rate for women is still under 50%) and, as we were reminded by at least one Moroccan man, the country needs to focus on basic human rights – food, clothing, shelter – for people, before they can focus on broader rights. Moreover, it seems that fully emancipating women takes a back seat to sustaining religious beliefs with a backlash from men and women alike as they grapple with changes to the ingrained patriarchal system.
Once again stateside, I was eager to move my body again – to be feminine and fluid and to celebrate my curves – bringing myself to my home away from home, the S Factor NY studio. Afterward, a quick post on Facebook, expressing my pleasure at feeling uncovered and freed, was quickly shut down by a male "friend" with his comment asking to see photos of my "uncovered and free to move feminine body."
But, upon reading his words, there was no shame; only righteous anger at the pervasive patriarchy that lingers in my own culture – all the more reason (and need) to continue to reclaim ourselves and our bodies.
This feeling has persisted in the weeks following the election – the world is in dire need of the feminine voice. A conversation with my friend IRL confirmed that he is generally a good person, but still doesn't get how his words can be hurtful or why there should be any antipathy to what he wrote. I was at a loss as to how to more fully respond, but perhaps he is too immersed in our patriarchal culture to see it. Such misogyny both here and abroad should not and can not be tolerated. This is not an indictment of the masculine, but rather a call to sing in harmony with one another. The world has waited too long and the time is now to lift our voices.
As Sheila Kelley, founder of S Factor, wrote on FB in the wake of the election, "…We cannot let this hurt keep us from our shine. We cannot stop daring. We must dare every day. Dare to reach further. Dare to live deeper. Dare to shine brighter. Dare to run for the highest office in this nation. Because when we all dare together the collective energy of feminine hope will make change happen. Let's use this unraveling to unite even tighter, to unite into such a force of nature that nothing and no one will be able to keep us down. Let's use the hate that comes flying at us to fuel our love. The feminine has always been resilient. We bend and not break. When we go down. We dare to rise again. I am fired up. Fiercely emboldened. For this I am grateful. United we thrive and will rise."