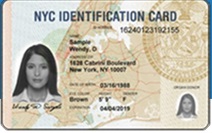 I have always maintained that everything is better that sparkles — wine, water, diamonds and personalities. So, George Balanchine's Jewels ballet is no exception.
Inspired by a visit to Van Cleef and Arpels, Jewels is a work in three parts: Emeralds, Rubies and Diamonds. The Emerald set included slivers of malachite draped on the sides, while the sky dripped with glittering gems suspended above the dancers who were adorned with faux stones that sparkled brightly from the stage. It was magnificent to watch the glitter and glamour as the ballerinas took the stage to practice their pirouettes one last time before curtain.
This chance to attend the working dress rehearsal of such an iconic ballet was thanks to my membership in the New York City Ballet. And, the membership, at least for this year, is courtesy of IDNYC.
Don't have your card yet? What are you waiting for?
IDNYC was launched by the mayor in 2014 as a way to provide a government-issued photo identification card for all city residents, particularly those who may have difficulty getting other government-issued IDs. But, even if you don't need another government-issued ID, the benefits for all card holders include a one-time membership in many of New York City's finest cultural institutions such as the ballet.
Since getting my IDNYC in January, I have been blessed to visit the Museum of Modern Art gratis; obtain advanced ticket sales opportunities for NY City Center; receive a flurry of event invites from BRIC; and purchase discount tickets to The Book of Mormon. The benefits of being a member of the New York City Ballet have been my favorite and, most importantly, a reminder of how much I love the ballet. I will be sure to support the ballet after my complimentary membership expires as a result of this experience.