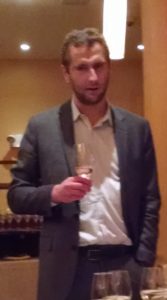 In an interesting twist to the typical press lunch, wine brand Vinadeis presented a subset of its portfolio alongside Indian cuisine at New York City's Junoon restaurant.  Named for the Hindi word for passion, the Michelin-starred, fine dining establishment fuses together India's culinary history and the Chef's modern sensibility. Wine Director, Michael Dolinski carefully curated the restaurant's existing menu to identify the best pairings to show off the selection of whites, rosés and reds.
Formerly known as Val d'Orbieu, Vinadeis was founded in Corbières back in 1967. The company has now expanded its purview beyond the borders of Languedoc and includes activities in the Rhone Valley as well as in Bordeaux. Today, there are approximately 20,000 hectares of vineyards under its management.
While many of its projects involve bulk wine, large brands and cooperatives, Vinadeis is especially proud of the estates and chateaux under its umbrella. Benoit Roussillon, Head of North America for Vinadeis (pictured above), was quick to point out that behind each estate, there is a family and a story. And, moreover, their aim is to respect the story of those families in pursuit of crafting the highest quality wines.
Held just the week before the Thanksgiving holiday, a time when many consumers panic about the best wine(s) to serve with the cacophony of food on the bountiful table, the Vinadeis event was a unique illustration of how well the French wines lent themselves to an unlikely pairing of the diverse flavors and textures of Indian food. Presented family-style, attendees had the opportunity to sample several dishes with each course, matched with two or three wines.
The luncheon first kicked off with Butter Garlic Shrimp and Saloni Macchi, a salmon dish, served with pickled cucumber, onion relish. These two dishes were paired with the rosé and white.
The dry and fresh Château de Jonquières Rosé Cuvée Cersius 2015 AOP Languedoc, a blend of 60% Grenache and 40% Cinsault, matched nicely with the shrimp with its cherry and herb aromas and flavors. Situated near Narbonne, the Château de Jonquières property was previously a Cistercian granary, which belonged to the Abbey of Fontfroide.
The 100% Chardonnay Domaine de Cazelles Verdier, Les pierres qui chantent 2015 IGP Pays d'Oc, was unusually aged in Acacia wood, given it a woody and spicy, yet not oaky, flavor with lots of cloves, and married beautifully with the salmon. Owned by the Verdier family since 1713, Domaine de Cazelle Verdier is known for its chalky soils.
The Murg Roulade Korma – minced chicken with a purée of nuts – was served with two reds: Château Notre Dame du Quatourze Rouge Nautica 2014, AOP Languedoc and Domaine de Cazelles Verdier, Les pierres qui chantent 2014, AOP Minervois. Both wines are Rhone-style blends with Syrah, Grenache, Mourvedre and Carignan.
Presently owned by Georges and Suzanne Ortola, the name Chateau Notre Dame du Quatourze refers to a tax paid to the castle (formerly owned by the archdiocese) by the local farmers. This unoaked red is organic and biodynamic, with nice, bright red fruit.
From the same producer as the Chardonnay, the Domaine de Cazelles Verdier Minervois offers up intense, concentrated red and black fruit.
The third course consisted of Awadhi Raan, a leg of lamb with saffron and nuts; Nadru Matar Makhana with lotus root, English peas, and roasted tomato sauce; and Daal Makhni, black lentils, kidney beans, chickpeas in a tomato cream sauce, as well as sides of Pulao Rice and Butter Naan.
With this last set of savory dishes, we headed to Bordeaux for a trio of reds: Château Valade "Cuvée Renaissance" 2012, AOP Saint-Émilion Grand Cru; Château Brown 2012, AOP Pessac-Léognan; and Prieuré des Couleys de Meyney 2010, AOP Saint-Estèphe.
The Merlot-dominant (90%) Château Valade "Cuvée Renaissance" 2012 was bright with red fruit and slight spice notes. The property has been in the family since 1878, with the current generation Paul and Lorette Valade at the helm for more than 30 years.
With an almost equal proportion of Cabernet Sauvignon and Merlot, the Château Brown 2012 displayed darker red fruit, with a plush texture and firmer tannins. The chateau dates to the medieval period but was named for the Scottish merchant John Lewis Brown, in the late 18th century.
Given its blend of 62% Cabernet Sauvignon and 38% Petit Verdot, the Prieuré des Couleys de Meyney 2010 was the most full-bodied and tannic of the three, with lots of black fruit, herbal, spice and cedar aromas and flavors. Originally built as a convent, the Château de Meyney property dates to 1662, placing it among the oldest in the Médoc.