T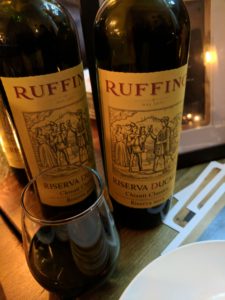 uscan wine producer Ruffino, which celebrates its 140th anniversary this year, marked the occasion with a pizza party at Emily's. The event featured a selection of seasonally-inspired cocktails, produced with Ruffino's Prosecco, as well as a chance to pick one's favorite pairing among the pizzas and wines.
Emily's pizzas are categorized by color: reds (tomato sauce), pinks (vodka sauce), greens (tomatillo sauce) and whites (no sauce) and are self-described as Detroit-Grandma style pies. In this regard, they are square-shaped with thick, crispy crusts. And, more to the point, they are delicious.
Although I am generally gluten-free, I give myself a break on vacations and, having just returned from Cancun, chose to extend my GF reprieve to indulge; it was worth every bite!
Among my preferred pies were the Emily, a sauce-free pizza with pistachio, honey, and truffle Sottocenere cheese and the Madre, topped with tomatillo sauce, mozzarella and chorizo. These two pizzas were specifically paired with the Pinot Grigio and Sparling Rose, but we happily enjoyed them with the Chianti Classico.
Beppe D' A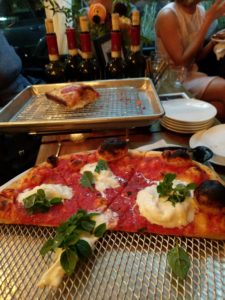 ndrea, global brand ambassador of Ruffino Wines, shared the history of the brand as well as that of another traditional Italian product — Margherita pizza. According to D'Andrea, this (now) classic Neopolitan pizza style was created almost 130 years ago in honor of Queen Margherita, who was dining in Naples at the time. Wanting to serve something special for the Queen, the restaurateur crafted an edible Italian flag — red (tomatoes), white (mozzarella cheese) and green (basil) —  on the spot and thankfully, the Queen enjoyed it very much. Emily's kitchen sent out a sample of this style for us to try as well.
Similarly, Ruffino got its start by being favored by royalty. When the Duke of Aosta visited the winery in 1890 and tasted its wines, he was immediately impressed and placed an order right away. The barrel-aged wine was marked as having been reserved for the Duke (Riserva Ducale) and Ruffino became the official supplier to the Italian royal family. This Chianti Classico Riserva wine was first released commercially in 1927, permitting the masses and not just the monarchy, to buy it. Today, the wine still bears the Riserva Ducale designation and is in the unique situation of having Riserva on the label twice.
I have no tasting notes to share because frankly, I was too busy having a good time, eating pizza fit for a Queen and drinking red wines made for a Duke. But, I have had the Ruffino wines previously and they never disappoint. There is a reason that the winery has been in business for 140 years!