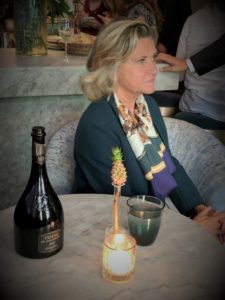 Last week, my friend and Femme! Creator, Bernadette Pleasant, shot and produced a video to promote her amazing movement classes, Femme! This "fusion of sensual movement, dance, meditation, creative visualization and celebration of the feminine form" offers women a safe and sacred place in which to celebrate their bodies and themselves.
During the same week, in another feminine celebration, Carol Duval-Leroy was in New York to launch the re-release of Femme de Champagne 1996. Known as the "Lady of Champagne," Carol has been at the helm of Duval-Leroy since 1991 and is now joined in the family business by her three sons. Duval-Leroy's tête de cuvée (top wine) was named in Carol's honor and was initially produced in 1990 to take advantage of the vintage's unique weather conditions and the (then) newly built winery's smaller tanks.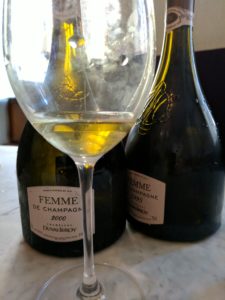 Femme de Champagne was next made in 1995, followed by the spectacular vintage of 1996. The 1996 vintage of Femme de Champagne was first released to rave reviews, garnering high scores from the wine media and prompting the Champagne house to hold back a substantial quantity for additional aging. These bottles were then carefully stored upside down in the caves to avoid any oxygenation. After spending 21 years on the lees (yeast), these wines were recently disgorged (had the lees removed) and are now ready to hit the U.S. market.
The 1996 vintage has repeatedly been hailed as one of the best Champagne vintages and one I have admittedly been partial to because it is also my anniversary year. But, the Femme de Champagne 1996 is worthy of the hype. It was a beautiful, breathtaking wine!
While I did not take formal tasting notes during the celebration, perhaps the most amazing characteristic of these wines (we also tasted the 1990 and 1995) was their youthful freshness. I know that their RD (recently disgorged) status lends itself to this fresh quality, but it was remarkable not to find any hint of age in the glass. There were no oxidative notes, no mushroom aromas; nothing to imply that these wines were as old as they were.
But, they did have spectacular elegance with laser sharp acidity, bright citrus fruit, complex yeast aromas, well-integrated bubbles and long length.
Established in 1859, Duval-Leroy is among the smaller Champagne houses in the Champag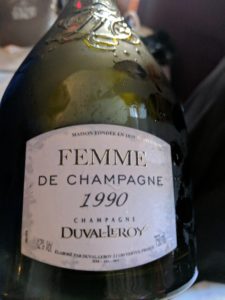 ne region. With only 494 acres under its ownership, Duval-Leroy limits its production to estate grown grapes, which is quite unusual for a region in which the majority of large producers buy grapes from its many small growers.
Yet, despite its size, the House prides itself on its innovation and its number of "firsts" including Carol Duval-Leroy's distinction of being the first and only woman to date to be appointed president of the Association Viticole Champenoise and having the first vat room in the world to use photovoltaic solar panels, a rainwater harvesting system and a green wall for heat and sound insulation. A further hallmark of Duval-Leroy is that its wines are released when ready, even if that means that they are out of sequence.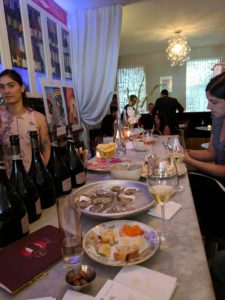 The woman-only event was held at Air's Champagne Bar, which opened earlier this year. The unique venue is owned by Ariel Arce, named one of Wine Enthusiast's 40 under 40 for 2017. In addition to having a deep menu of Champagne and other sparkling wines, Arce is also known for her Parlour Hour (5:00-7:00 PM daily) during which patrons can purchase three glasses of bubbly plus snacks for $30. Wednesday's focus is on female winemakers,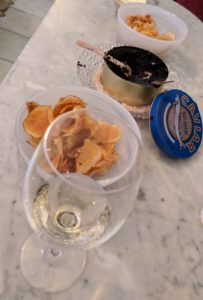 while Sundays offer a twist: serving up "one wine that we should never pour by the glass" along with snacks for the same $30. Not surprisingly, the menu includes an assortment of bubble-friendly food such as the oysters, caviar and charcuterie that were perfectly paired with the Femme de Champagne.
With a limited production, there won't be much Femme de Champagne 1996 to go around, but it is currently availa ble at Morrell Wine for $295 if you wish to buy a bottle for yourself. After all, while Americans tend to save Champagne for a special occasion, Duval-Leroy's export manager touted that the Champenois open a bottle of Champagne in order to create an occasion of the every day.
Certainly, enjoying a glass of Femme de Champagne will elevate any day of the year and we should always celebrate the feminine in all its forms!