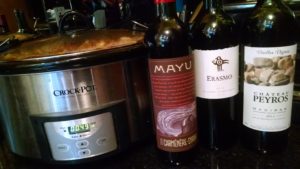 With Labor Day behind us and Columbus Day still several weeks away, we are in the last days of summer as we count down to the Autumnal Equinox. With shorter days, cooler temperatures and busier schedules, dragging out the slow cooker is the perfect way to welcome guests for a relatively easy home-cooked meal.
Accordingly, my husband crafted a New York Beef Chili (from a friend's award-winning chili recipe) for his cycling race team to gather everyone together to talk about this recently completed season and begin planning for next year. Of course, he turned to me for some wine to share with his teammates and I was happy to oblige.
Such a meal cries out for robust reds, the kind I had been avoiding all summer, but am now ready to relish in my glass. I chose two Chilean wines to accompany his one dish dinner, both of which were red blends.
Mayu Carmenere-Syrah 2014, Elqui Valley, Chile, $13.00
Owned by the Olivier family group, Mayu stems from an ancient Inca name for the Milky Way, literally translating as creek of stars. Mauro Olivier Alcayaga was among the pioneers to plant Carmenere and Syrah in the Elqui Valley, first for other ventures and now for his own Mayu project. There are leather, animal, earthy and musk notes on the nose, which give way to bright, ripe red and black fruit, with a hint of iron on the fruity, medium bodied palate.
Erasmo 2010 Reserva de Caliboro, Maule Valley, $20.00
This organic farm is named for a local farmer, Don Erasmo, who shared his wisdom with the current owner and is situated in the oldest wine region of Chile. The wine itself is a dry-farmed blend of 60% Cabernet Sauvignon, 10% Cabernet Franc, 25% Merlot and 5% Syrah from a single vineyard on the ancient estate of la Reserva de Caliboro. Blackberry, dried herbs, slight spice and wood greet the nose and persist on the elegant, yet full-bodied palate.
For good measure, I also opened up a wine from southwest France.
Chateau Peyros, Vieilles Vignes, 2011, Madiran, $16.00
This blend of 80% Tannat and 20% Cabernet Franc comes from an organic vineyard that is home to a herd of 300 sheep. Situated on a property that dates from the 17th century, Peyros means "stony place" in Gascon and was acquired by current owner, Jean Jacques Lesgourgues, in 1999. This wine is dark and brooding with baking spice, black fruit and bramble fruit aromas and flavors and an undercurrent of earth and smoke. The full-bodied palate is dry with medium acidity and tight tannins, needing more time in bottle to soften. Buy now, but hold.
The two Chilean wines are among the nine being featured at Whole Foods Market stores in conjunction with Wines of Chile USA. Through this unique retail partnership, the wines will be available at 300+ Wholes Foods stores throughout the U.S. The specific wines were chosen to represent the diversity of Chilean wines – regionally and varietally – and were vetted by Whole Foods Market global wine experts Doug Bell and Devon Broglie MS.
The full list of Whole Foods Market's featured wines includes:
Odfjell Armador Sauvignon Blanc 2016, Casablanca Valley, Chile
Vina Errazuriz MAX Chardonnay 2015, Aconcagua Costa, Chile
Autoritas Pinot Noir 2014, Valle Central, Chile
Boya Pinot Noir 2014, Leyda Valley (San Antonio Valley), Chile
Criterion Carmenere 2013, Colchagua Valley, Chile
Mayu Carmenere-Syrah 2014, Elqui Valley, Chile
Erasmo Reserva de Caliboro 2010, Maule Valley, Chile
De Martino 2014 Estate Organic Cabernet Sauvignon, Maipo Valley
Casa Silva 2014 Los Lingues Vineyard Cabernet Sauvignon, Colchagua Valley
On a previous occasion, I had the opportunity to taste two other of these wines:
Odfjell Armador Sauvignon Blanc 2016, Casablanca Valley, Chile, $13.00
This winery was established over 25 years ago by Norwegian ship owner Dan Odfjell who fell in love with Chile. The business is presently run by his two sons: Laurence and Dan Jr. With a pronounced nose of grassy notes and tropical fruit, this wine displays ripe citrus and peach fruit on its palate, culminating in a very clean finish.
Boya Pinot Noir 2014, Leyda Valley (San Antonio Valley), Chile, $15.00
Created by the Garcés Silva family, Boya is the Spanish word for "buoy" which makes sense given that the Ledya Valley-based vineyards overlook the Pacific Ocean. This is a very nice Pinot Noir for the price, with notes of earth, cherry, mulberry and dried herbs, along with vibrant acidity on the medium-bodied palate.
Both Chile and Southwest France offer up good quality wines for their respective prices and are generally food friendly options worth seeking out.