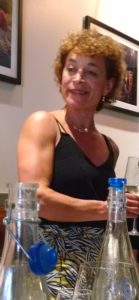 Representing the four generation of her family in the wine business, Morgane Fleury stopped by Racine's to showcase her family's portfolio of Champagnes for the wine press. Champagne Fleury's market visit provided an opportunity for me to become acquainted with this winery, which was new to me, despite its long history in the region
The boutique producer has racked up a lengthy list of noteworthy firsts: the first to graft Pinot Noir vines in the Côte des Bar area in 1894; the first Recolant-Manipulant (RM) in the Aube in 1929; and the first biodynamic producer in 1989 (presently certified by Demeter and Biodyvin). Situated in the village of Courteron, Champagne Fleury's 15 hectares of vineyards are within the southernmost point of the Côte des Bar. Although this area is lesser known than others within Champagne, Fleury is showing that the microclimate and soils are very suitable for producing high quality Champagne.
Building on their ancestors' pioneering spirit, the company is currently run by Jean-Sebastien Fleury in the cellar, Benoit Fleury in the vineyard and Morgane Fleury in Paris, who owns a wine shop in addition to establishing relationships with local restaurants and promoting the brand worldwide.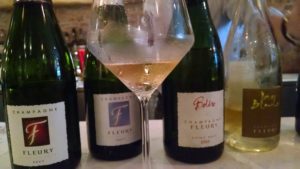 I was most impressed with the Blanc de Noirs Brut NV, which is produced from 100% Pinot Noir, a grape variety that does especially well in this area of Champagne. The wine offers up a pronounced nose of floral notes and bright, red fruit, with a lovely intensity on the palate.
The Notes Blanches Brut Nature was also quite interesting. This 100% Pinot Blanc, which has had some wood contact during the fermentation process, is very clean and bright, with high acidity, yeasty, bready, creamy notes and hints of citrus and floral on the palate.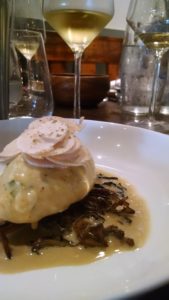 Meanwhile, the Cepages Blancs 2006 Extra Brut, produced with 100% Chardonnay, was weightier with woody, yeasty and brioche aromas and flavors, culminating in long length.
Finally, the 100% Pinot Noir-based Bolero 2005 Extra Brut was essentially sex in a glass with its yeasty, sweaty and earthy aromas and flavors.
Not surprisingly, the Champagnes provided a nice range of food pairing possibilities during the seated lunch.