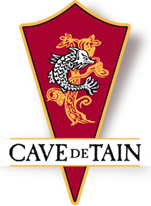 The Rhône Valley is well known as a distinguished wine region, but perhaps less well known is the fact that the region actually lumps together the Northern Rhône and the Southern Rhône. More importantly, there is a big distinction between the two, not exclusively, but especially, in terms of volume. The Northern Rhône represents only 5% of all Rhône Valley production, with all eight of its crus being equal in size to the production of the Southern Rhône's Chateauneuf-du-Pape. But, in spite of its small size, it manages to produce big, bold, beautiful wines.
Within the Northern Rhône, leading producers, such as Jaboulet, Chapoutier, Chave and Delas Freres, have made their mark on the American market, but Cave de Tain is only now turning its full attention to external markets. Established in 1933, the Cave de Tain cooperative currently has 359 members and is ready to hit the ground running now that they have signed with the U.S.-based Hand Picked Selections.
The winery is situated within Tain Hermitage, capital of the Northern Rhone and home to only 6,000 people. They produce wines within five of the crus along with a small production of IGP wines. All of the vineyards are intentionally no more than 15 km from the winery since the winery is Certified Sustainable, which means that everything they do is based on observation rather than according to a set plan. In this regard, they can carefully monitor the vineyards and only do things, such as spraying for mildew, when necessary.
Here, in the birthplace of Syrah, all of the reds they produce are 100% Syrah. Similarly, they have a mono-varietal focus when it comes to whites, championing Marsanne as their signature white grape. Both grapes play respective starring roles in Cave de Tain's IGP Colline Rhodaniennes wines, which they hope will serve as an introduction to the Northern Rhône varieties. The company's further philosophy is to use older and larger barrels, which accounts for the subtler oak influence in the resulting wines.
We tasted through a selection of seven wines beautifully paired with a family-style lunch at Rotisserie Georgette. Many of the wines hailed from 2015, which was a great vintage, one with balanced maturity and acidity, which is relatively rare to have high levels of both. The 2010 vintage was similar in nature, but 2015 is felt to be the better year. Today, the 2015s are drinking well now, but have sufficient fruit, acidity and tannins for aging. Of note, 2015 was a good vintage for both reds and whites. Admittedly, due to climate change, the last truly difficult vintage was 2008.
The IGP wines were very nice expressions of their respective grapes, displaying good fruit character and balance. The Marsanne 2015 (~$12.00) showed some complexity, with salty and nutty notes, along with pear and almond, while the Syrah 2015 (~$12.00) offered up blackberries, bright acidity and soft tannins.
Moving up the range to the Grand Classique wines from Crozes-Hermitage, the increased quality was immediately evident, while the price point remained reasonable. Presenting more noticeable fruit than its IGP counterpart, the Crozes-Hermitage Blanc 2015 was beautifully rich, with aromas of peach and apricot, along with elegance and long length. Similarly, the Crozes-Hermitage Rouge 2015 had lush black fruit notes, with medium+ acidity and only a hint of oak influence.
The Grand Classique Hermitage wines are much pricier, which is to be expected given Hermitage's reputation for long-lived wines of character and strength, but they deliver for the money and are worth the occasional splurge. The Grand Classique Hermitage Blanc 2010 was stunning! Rich and complex, it displayed a pronounced nuttiness, along with baking spices and dried stone fruit. Interestingly, we were advised that Marsanne takes only a few years to develop in bottle, but then will hold that development for some time. The Grand Classique Hermitage Rouge 2011 (~$76.00) is a gorgeous wine with spice, blackberry and dried herbs, silky tannins and lovely richness on the palate.
At the top of the range, the Gambert de Loche Hermitage Rouge 2011 – a plot selection named for the founder of the cooperative – offered more body and power than the straight Hermitage Rouge.
NB: Retail prices are noted when the wine appeared available in the U.S. market as per Wine Searcher. Since these wines are just hitting the U.S. trade now, it will take some time before they become widely available. We were advised that the wines were being priced fairly, yet assertively, so they will represent great value for the quality.