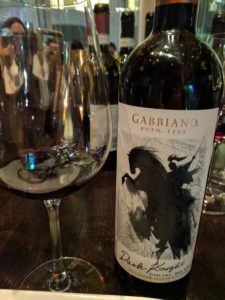 It might sound ominous, but meeting Tuscan winemaker, Federico Cerelli of Castelli di Gabbiano, on a cold winter's night to taste his new wine was actually quite a warm and welcoming experience.
Its vinous heritage spreads back as far as the Etruscans, but Castello di Gabbiano's physical history dates to 1124 when its castle was built in San Casciano Val de Pesa. This medieval fortress was among many that were established to fortify the area between Siena and Florence as the two kingdoms fought for control of a region widely known for its wine and olive oil.
With its castle still standing tall nearly 900 centuries later, it is not surprising that the winery takes such pride in its noble estate and has adopted Il Cavaliere – the knight who protected the castle from invaders – as its mascot.
Firmly ensconced within the Chianti Classico wine region, the estate boasts 360 acres of vineyard, planted predominantly to Sangiovese, supplemented with Merlot and Cabernet Sauvignon and several local varieties such as Colorino and Canaiolo. The castle itself has now been converted into a beautiful hotel with 11 traditional guest rooms and five apartments. Adding to the estate's hospitality, an upscale restaurant featuring local cuisine opened a few years ago.
Although Castello di Gabbiano is presently managed by Treasury Wine Estates, the winery's previous owner was responsible for making Gabbiano's American debut in the early 1980s with its Chianti wine.
The winery's current winemaker, Federico Cerelli, joined Castello di Gabbiano in early 2011. Prior to coming on board, the Tuscan native served as a consultant winemaker to numerous local wineries building a decade of experience. Federico maintains a distinct philosophy when approaching his wines, placing an emphasis on elegance, drinkability and the ability to pair with food over power and polyphenols. Accordingly, the wines spend less time aging in wood and more time in the bottle before release, with the conviction that wines in the past were overly rustic with their tannins and over-extracted.
Moreover, Federico enjoys experimenting with wood and uses a mix of French and Hungarian oak to season his wines. More recently, he conducted some trials with local oak from forests near Florence and has been pleased with the results: more pepper and floral notes. Consequently, he hopes to increase its use in the future.
As the second largest winery in the Chianti Clssico region, Castello di Gabbiano has significant resources to invest in the latest technology and apply it to producing great wines. For example, Federico notes that it is better to pick by machine on time (thanks to sophisticated mechanical harvesters) than to wait and harvest manually, especially with Sangiovese, which could develop rot or mold during a delay. Additionally, he relies on a vibration sorting system to maintain more whole berries and has adopted a more gentle approach to winemaking.
Among its portfolio, Castello di Gabbiano produces a Pinot Grigio with grapes sourced from northeastern Italy. The Promessa Pinot Grigio 2015, IGT delle Venezie (SRP $10.00) sprinkles in a small percentage of Chardonnay to overcome some of the bitterness associated with Pinot Grigio and also adds body and weight to the palate. Yet, it is still fresh with citrus and apple notes, culminating in medium+ length.
The Chianti Classico line-up includes a basic Chianti Classico and a Riserva-level wine as well as the latest addition to the Chianti Classico pyramid – Gran Selezione – with a wine called Bellezza, which was my favorite of the three. Moving up the hierarchy, the wines are aged for longer periods of time, generally with more time in oak, but also time in bottle.
From a cool vintage, the Chianti Classico 2014 (SRP $10.00) was bright and fresh with light tannins, along with an undercurrent of wet leaves and a slight hint of oak. The flagship Riserva 2013 (SRP $25.00) hailed from a warm and dry vintage and displayed darker cherry fruit, firmer tannins as well as woody and leafy notes with long length. The second Gran Selezione vintage is the Bellezza 2012 (SRP $40.00), so called for the beautiful view afforded by the small (less than 20 acres), high elevation vineyard block from which the grapes are sourced. The resulting wine is fuller bodied, with more concentrated fruit and more structure, but is still fresh and lively even though it is five years old.
And, of course, there is the "hero" of our story. The winery's newest offering is its Dark Knight 2015, IGT Toscana (SRP $17.00), featuring its beloved Il Cavaliere on horseback on the striking label. With the belief that traditional Sangiovese is a difficult wine for nascent drinkers, this red blend of Cabernet Sauvignon, Merlot and Sangiovese was crafted as an introductory wine for these newer consumers. Taking a modern approach and style, the wine is partially produced with some carbonic maceration with the aim of creating a soft and easy-drinking wine that can be enjoyed with food or on its own.
While it is clearly targeted at a less experienced wine drinker, it is not a fruit bomb or overly high in residual sugar. Rather, it was still elegant and offered up black fruit, vanilla and a hint of floral on the nose, with light tannins, slight vanilla and spice on the medium+-bodied palate.
We concluded with the Alleanza 2010, another IGT Toscana (SRP $35.00), this time a blend of Merlot and Cabernet Sauvignon. Of all the wines tasted, this had the most noticeable oak, along with lush red and black fruit, intensity and power.