Sprechen Sie Deutsch (Do you speak German)? Looking at the text on German wine labels, it is leichter gesagt als getan (easier said than done), or, more correctly, easier said than understood. And, for that matter, it isn't even very easy to say.
If wine labels are generally intimidating to the uninitiated, German wine labels are among the most intimidating of all – unfamiliar names; lengthy, unpronounceable terms; and just an all around use of a lot of words could scare off even the most avid wine drinker.
But, in truth, German wine labels actually provide the consumer with a wealth of information about the wine in question. You don't need a secret decoder ring, but learning some basic German wine vocabulary will assist you in understanding what you are looking at on the wine store shelf.
To begin, there are two levels of German quality wine – Qualitätswein bestimmter Anbaugebiete(QbA) and Qualitätswein mit Prädikat (QmP).  The first category designates wines that come from one of Germany's 13 wine regions and account for the majority of German wine production. The latter (QmP) are more complicated because, in addition to coming from a particular wine region, they also indicate wines produced from grapes that have achieved certain levels of ripeness at harvest. These are considered to be higher in quality than QbA because Germany's cool climate makes it more challenging to reach full ripeness, thereby placing a premium on riper grapes.
Once one has worked out the two quality levels, they may encounter some confusion with regard to the grape varieties themselves. Spätburgunder? Grauburgunder? Weissburgunder? Sure, they sound exotic, but actually, these are just the German names for Pinot Noir, Pinot Gris and Chardonnay, respectively. Other grapes likely to be seen include Müller-Thurgau (white), Silvaner (white) — particularly prized when it hails from Franken, Portugieser (red) and the more respected Dornfelder (red). Also of note is Lemberger (elsewhere known as Blaufränkisch) which offers red fruit, spice and nice tannin structure. Above all else, there's Riesling; this vaunted white grape accounts for over one-quarter of all German plantings.
Dry or sweet? Although many people associate Germany with sweet wines, the majority of German wines produced today are dry. Admittedly, a lot of the drier style wines never make it to our shores (the Germans keep much of it at home for themselves), but consumers can find dry style German wines on U.S. shelves. Some of these wines are distinctly labeled as being dry – if you know how to decipher the label. The specific words to look for are trocken (dry) and halbtrocken (off-dry).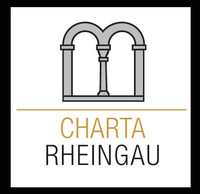 In addition, the label terms "Classic" and "Selection" may also be used to indicate a dry (or high-acid, off-dry) wine.  Similarly, wines bearing the double Romanesque arch of the Charta Association, created in 1983, are dry to off-dry QbA- or prädikat-level Rieslings from the Rheingau region that meet the organization's strict quality regulations.
In general, wines that have no indication of their sweetness level can usually be expected to be somewhat sweet. Another hint is to check the alcohol level since lower alcohol levels (9% abv and lower) generally mean that at least some of the grape's sugar content hasn't been converted into alcohol and, thus, remains in the wine as detectable sweetness.
As with many other wine producing countries, Germany's wine regions can be further broken down into smaller areas – bereiche, grosslagen and einzellagen. A bereich is a regional or district designation, while a grosslage is a group of vineyards and an einzellage is, theoretically, a single vineyard.  Unfortunately, it is these last two territories that cause the most confusion since it is often difficult to ascertain whether the label refers to a grosslage or einzellage.
However, this uncertainty can be overcome by either memorizing a list of the top sites, limiting purchases to wines from well-known/well-respected producers or simply giving up and taking a chance on the bottle in hand, despite its murky label (well, not really).
Thankfully, an additional classification system was launched in 2002 by the Association of German Prädikat Wine Estates (Verband Deutscher Prädikatsweingüter, can boost one's confidence in choosing a wine.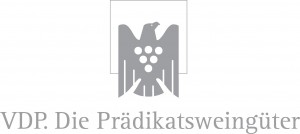 Established in 1910 and abbreviated as VDP, this association represents Germany's leading wine estates, with a dual focus on quality wine production and classified vineyard sites. All of these wines sport the association's eagle logo, making them easily identifiable to the consumer.
In 2012, this classification system was further refined, closely modeled on Burgundy's regional and vineyard hierarchy. Accordingly, the top category, VDP. Grosse Lage (translating as Great Site) is awarded to the best vineyard sites, equivalent to Burgundy's Grand Cru vineyards. Dry wines in this upper echelon are further designated as VDP. Grosses Gewächs "Great Growth" and labeled "Qualitätswein trocken" while naturally sweet wines are labeled with the appropriate traditional Prädikat term.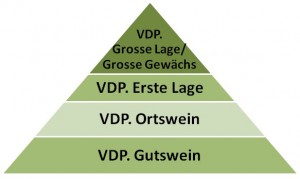 Analogous to Burgundy's Premier Cru vineyards is the VDP. Erste Lage (First Site), while VDP. Ortswein (Classified Site) is akin to Burgundy's Village-level wines. The lowest tier of this system is the VDP. Gutswein (Estate Wine), which is similar to the regional designation in Burgundy (i.e. AOC Bourgogne). Dry wines in these categories are also labeled "Qualitätswein trocken" while the sweet wines retain the Prädikat designation on their labels.
Bearing all of these clues in mind, the careful consumer can more readily choose among the selection of German wines on the shelf of their neighborhood wine retailer and find the bottle that best meets their preferences.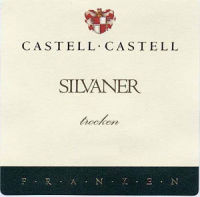 Castell-Castell Silvaner 2012, Franken, Germany, $18.00 
With aromas of pear, wax and white flowers, this dry wine offers medium acidity and medium body on the palate with flavors of almond, wax and pear and medium+ length.
Grafen Neipperg Lemberger
Trocken 2011, Württemberg, Germany, $20.00 (not pictured)
Medium aromas of cinnamon, berry and wood are joined on the (clearly stated –trocken) dry palate with flavors of cranberry, mulberry and a hint of earth in the finish.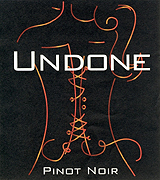 Undone Pinot Noir
2012, Rheinhessen, Germany, $11.00
A Pinot Noir from Germany isn't so surprising these days (Germany is #3 in PN production), but this wine's origin from Rheinhessen (as opposed to Ahr or Baden) makes it somewhat unusual as does its great quality at this price. With cherry, herbal and wet leaves on the nose, this dry wine has lively acidity on the palate. Medium+ length.
Schloss Saarstein Riesling Kabinett 2012, Serrig Schloss Saarsteiner, Mosel, Germany, $25.00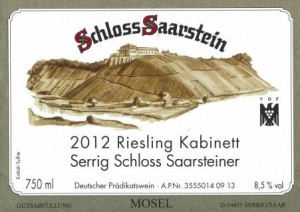 Located within the municipality of Serrig, the Schloss Saarsteiner property, so named for the large castle (schloss) that sits amidst the vines, above the Saar River (a tributary of the Mosel) is an Erste Lage site. The wine offers peach, floral and wet stone aromas on the nose. Its palate is off-dry with high acidity and flavors of lime zest, peach and wet stone, culminating in long length.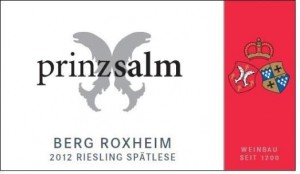 Prinz Salm Roxheimer
Berg Spätlese 2012, Nahe, Germany, $28.00
With an alcohol level of 7.5% abv and a designation of spätlese, there was no question that this wine (from a Grosse Lage site) would have some sweetness. However, its sweetness is beautifully balanced by its high acidity, so it is perceived as off-dry on the palate, with lemon zest, lime, peach, honey and minerality aromas and flavors.
Johannishof Charta Riesling 2012, Rheingau, Germany, $25.00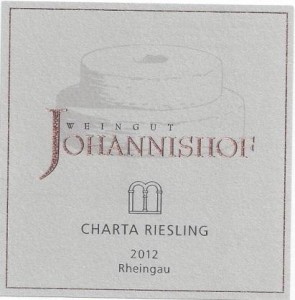 A pronounced nose provides aromas of floral, straw, wet stone and Asian pear. The dry palate displays high acidity with notes of granny smith apple, lime, stone, pith, blossom and minerality. Long Length.
Kesselstatt Josephshöfer Riesling Kabinett 2012, Mosel, Germany, $30.00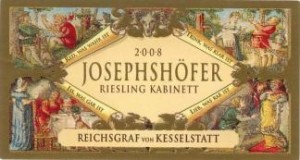 First documented 1,100 years ago, the Josephshöfer Grosse Lage site has been wholly owned by Kesselstatt since 1858. Citrus, floral, apricot and slight honey aromas greet the nose and persist on the dry, but ripe, palate. Long length.