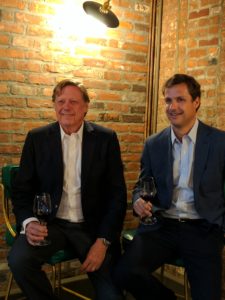 As Jimmy Buffet crooned, "It's those changes in latitudes, changes in attitudes [when] nothing remains quite the same." While he was singing about life in general, Buffet might have been speaking about the differences between Chilean and Argentine wine. OK, not really, but the emphases on latitude and altitude were apparent at a recent tasting of Montes and Kaiken wines. Presided over by Aurelio Montes, Sr. and Aurelio, Montes, Jr., the father and son team shared the fruits of their respective labors as we tasted a collection of their wines from these two countries.
A pioneer in wine, Aurelio Montes, Sr. earned his degree in agronomy and went on to co-found Viña Montes in 1988. This Chilean winery set the bar for Chilean wines and helped introduce them to the world at time when people had never heard of Chile, let alone knew the country produced wine.
This father of five was eager to have his son, Aurelio, Jr., follow in his footsteps and was loathe to leave it to chance. Thus, the two traveled to the Napa Valley when Jr. was only 15 years old. During the trip, he visited UC Davis and met Robert Mondavi and other key figures in the Napa industry, which cemented his interest in wine. Moreover, he encouraged his father to focus exclusively on top quality wines.
Upon their return, Sr. looked to new territories in Chile, finding land in Apalta on which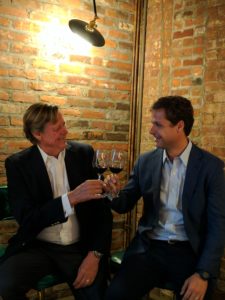 to plant his vineyards and launch the Alpha line of high end wines. Here, he embraced the maritime climate, planting Bordeaux varieties, and concentrating on growing premium grapes and crafting premium wines. This shift proved to be quite successful and the Montes name became well respected in the industry.
However, not content to rest on his laurels, Aurelio, Sr. was lured by the stark contrast of Argentina's vineyards beckoning just over the steep Andes peaks. Its continental climate, unique soils and elevations were equally well suited to grape growing, but with distinctly different challenges than those he faced at home in Chile. Thus, he eventually established Kaiken in 2001, giving him two wonderful worlds in which to produce wine.
Meanwhile, thanks to the success of that first Napa trip, Aurelio, Jr. completed his agronomy studies in 1999 and began building his resumé with stints at Rosemount, Cape Mentelle and Franciscan Estate, before returning to Chile. But, he had to earn his place in the family business, honing his skills at Viña Ventisquero before joining Montes in 2007. He first worked in Apalta and then led the winemaking team at Kaiken from 2011 to 2015. Not surprisingly, Jr. acknowledges that, "Making wine is hard work; we are not magicians."
More simply, he suggested that, "The job of a winemaker is twofold: half of the job is to make wine and the other half is to understand what the consumer wants." In this regard, he has worked in five different countries, understanding what is good, learning from other areas and taking that experience and expertise home with him to make better wine.
In illustration of their combined knowledge and expertise, we tasted two Chardonnays from the two different "neighborhoods." Introducing his cool climate wine, Aurelio, Sr. spoke about playing with proximity to the Pacific Ocean, thereby moving along the same latitude to change the character of the resulting grapes. His Chardonnay was very fresh with bright acidity and predominantly citrus notes.
Similarly, Aurelio, Jr. described his manipulation with the height of his vineyards above sea level to slow down ripening and retain acidity, ultimately producing high altitude Chardonnay. While still quite balanced, his Chardonnay was lower in acidity and displayed riper fruit and slightly more oak.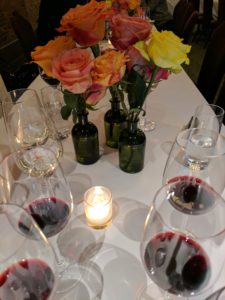 We then focused our attention on Cabernet Sauvignon with the Chilean version being leaner and more elegant whereas the Argentine Cab was fruitier with a richer, rounder style that was more muscular with riper tannins. While Cabernet Sauvignon is not usually associated with Argentina, Aurelio, Jr. argues that the grape can do well there; it simply hasn't been planted in the right places. He suggested that as an industry, Argentine producers need to do a better job of identifying the best terroirs and planting vines, but also acknowledged that Argentina's emphasis on quality wine only came about in the past 15 years.
Turning the tables, we next tasted Malbec, which is much more linked to Argentina than to Chile. Aurelio, Sr. jokingly explained that he was jealous of the success that Argentina has had with this grape and decided to produce his own version at home. His Malbec was fresh and lean, with less spice and intensity than the Argentine version. Yet, the Kaiken Ultra Malbec was still an elegant wine with ripe black and blue fruit and herbal notes, thanks to the extreme terroir of his 1500 m vineyard that Jr. calls "wild black horse of the mountain."
With their long tenure in wine, the two winemakers are not without their desire to experiment. For Sr., it was a Rhone-style blend of Carignan, Grenache and Mourvèdre (Outer Limits CGM); for Jr., a varietal Cabernet Franc, which he described as being more feminine compared to the "macho wines" Argentina is known for.
Their aspirational wines include the Montes Alpha M, which was Sr.'s attempt to craft a Bordeaux blend as good as one from Bordeaux. By the accolades given in the room, it was clear that he has succeeded with this sophisticated and complex blend. Likewise, the Kaiken Mai is a beautiful Malbec sourced from a heritage vineyard planted in 1910 that has been saved from the encroaching condo development in the Mendoza area. Although 97% of this vineyard is planted to Malbec, a handful of other grapes such as Semillon, Criolla, Cabernet Sauvignon and Cabernet Franc are still mixed in among the vines.
Finally, we closed with a mini-vertical of Taita, a visionary wine named for a term of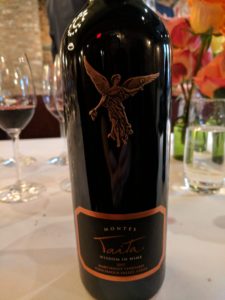 endearment used for a beloved father, denoting respect and devotion. Dry-farmed on a vineyard with calcium-rich soil (thanks to the detritus from a previous glacier), the wine is primarily made up of Cabernet Sauvignon and is aged for a long period of time before release. My favorite was the 2007, which was still quite structured, but displaying some development on its tenth anniversary.
But, in the end, despite discussions of latitude and altitude, it is all about the wines you like. A common note made during the tasting was how each wine was beautifully made in its own right, but would have greater or lesser appeal depending upon one's palate preferences. Such thoughts underscore Sr.'s statement that, "You get more human than technical about wine as you get older."
Plus, as Jimmy Buffet also reminded us in his tune, "With all of our running and all of our cunning, If we couldn't laugh, we would all go insane."
Thankfully, both gentlemen readily laugh. Aurelio, Sr. shared an anecdote about that fateful trip to Napa during which Aurelio, Jr. proudly purchased an inexpensive pair of shorts that he proceeded to wear throughout the week, only to discover at the end that they were actually a pair of underwear. Apparently, Chileans only wear briefs; it must be a longitudinal thing.
List of Wines Tasted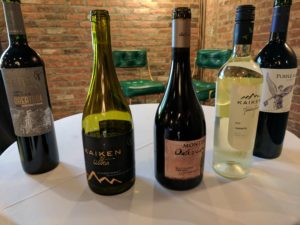 Montes Alpha Chardonnay 2014, Aconcagua Costa, Chile, $20.00
Kaiken Ultra Chardonnay 2014, Mendoza, Argentina, $20.00
Montes Alpha Cabernet Sauvignon 2014, Colchagua Valley, Chile, $20.00
Kaiken Ultra Cabernet Sauvignon 2014, Mendoza, Argentina, $20.00
Montes Alpha Malbec 2014, Colchagua Valley, Chile, $20.00
Kaiken Ultra Malbec 2014, Mendoza, Argentina, $20.00
Montes Outer Limits CGM 2015, Colchagua Valley, Chile, $25.00
Kaiken Obertura Cabernet Franc 2014, Mendoza, Argentina, $35.00
Montes Alpha M 2012, Colchagua Valley, Chile, $98.00
Kaiken Mai Malbec 2013, Mendoza, Argentina, $70.00
Montes Taita Cabernet Sauvignon 2007, Colchagua Valley, Chile, $249.00
Montes Taita Cabernet Sauvignon 2009, Colchagua Valley, Chile, $249.00
Montes Taita Cabernet Sauvignon 2010, Colchagua Valley, Chile, $249.00