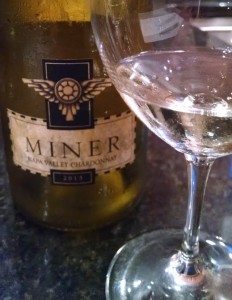 With their name proudly displayed on every bottle of wine they produce, the Miner family has made a name for themselves in Napa Valley wine. Founder Dave Miner initially launched his career in the software industry, following in the footsteps of his uncle, Robert Miner, who was among the co-founders of Oracle Corporation.
Dave continued to pursue his uncle's passions when he took over as President of Oakville Ranch Vineyards, which Robert had established in 1989. While Oakville Ranch continues to remain in the hands of Robert's widow, Mary Miner, Dave went on to found his own winery, Miner Family Winery in 1996, after meeting his future wife, Emily, who served as Tasting Room Manager at Oakville.
Ten years later, Dave and Emily's efforts were duly rewarded when Miner Family Winery was honored as a Top 100 "Winery of the Year" by Wine & Spirits Magazine.
The Miner Family wines were initially crafted at a custom crush facility, but, by 1997, the pair had hired Gary Brookman on as winemaker and spent the following two years buying a building, excavating caves and releasing their first wine. In 2008, the winery was able to become energy-independent, running exclusively on self-generated solar power.
Interestingly, while they have spent considerable time and effort focused on their facility, the fruit for their wines is generally sourced from other people's vineyards, some of which, like Hyde, Stagecoach and Garys' Vineyard, have become extremely well known.
A wide range of wines are produced, including those from Bordeaux, Burgundy and Rhone varieties. In a fitting tribute to uncle Robert, the winery's flagship Bordeaux-style blend, Oracle, was launched in 2004. Today, Miner Family Winery wines continue to earn critical acclaim and have been served at several White House dinners. Yet, the wines remain reasonably priced and accessible.
Miner Family Winery Chardonnay 2013, Napa Valley (CA), US, $30.00
As a high quality, well-made wine, this is an oaked Chardonnay for the haters out there. Aromas of apples, spice and pear greet the nose and persist on the dry palate; overall, it is really enjoyable with complexity and elegance.
Miner Family Winery Wild Yeast Chardonnay 2011, Napa Valley (CA), US, $50.00 Produced with only indigenous yeast cultures, this wine offers up yeasty, nutty characteristics on both the nose and palate. Despite spending 16 months in 70% new French barrels, it is well balanced with integrated oak, showing slight development and culminating in long length.
Miner Family Winery Garys' Vineyard Pinot Noir 2012, Santa Lucia Highlands (CA), US, $60.00
Beautiful aromas of floral, cherries and a hint of herbs are displayed on the nose while rich, concentrated, ripe cherry flavors are joined by wet leaves and a kiss of oak on the palate.
Miner Family Winery Stagecoach Vineyard Cabernet Sauvignon 2012, Napa Valley (CA), US, $75.00
From the Krupp Family's famed Stagecoach Vineyard, this wine is redolent of red and black fruits, coupled with spice notes.  The full-bodied palate delivers firm tannins, with rich blackberry and spice along with long length.