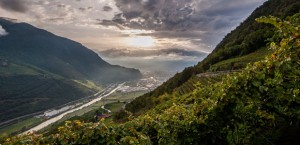 My colleague and friend, Tim Gaiser, was in New York in late April to sing the praises of Alto Adige, accompanied by several of the region's winemakers. And, singing its praises is quite apropos. At a previous seminar on the region, Cornerstone Communication's CEO Marsha Palanci explained that, "This is the only part of Italy where you can hear yodeling in one window and arias in another." Not surprisingly, in looking at regional photos, you would half expect Julie Andrews to suddenly appear and belt out songs from the Sound of Music.
Nestled between Italy to the south and Switzerland and Austria to the north, Alto Adige is the northernmost region of Italy. The region was under Austrian rule from the defeat of Napolean until 1919, hence the yodeling. And, to this day, both German and Italian are the official languages. With the Dolomites to the East and the Alps to the north, Alto Adige is sheltered from the cold forces of the North. These mountain ranges also form a rain shadow, which limits the area's overall rainfall, the result of which is 300 sunny days per year.
The vast valley floors are littered with apple orchard after apple orchard, which accounts for the region's claim as the largest European producer of apples. Meanwhile, the area's steep slopes (with an average slope of 50 to 60 degrees, similar to that found in the Mosel or Wachau) are given over to white grapes while the lower, rolling hills are planted to reds. The high elevation of these vineyards provides good sunlight, which promotes ripening, and a significant diurnal shift (temperature variation from day to night can fluctuate as much as 40 degrees F), which retains high acid levels in the grapes.
Within the region, grape production spreads out from central Bolzano in a Y-shaped configuration, bearing a striking resemblance (in Tim's eyes) to the flux capacitor from Back to the Future. The yin-yang of past and present spills over to the grapes themselves. At nearly 20% of all plantings, Schiava is the most grown variety in the region, with its first documented mention dating to the 1600s. However, this ancient grape has been associated with Italy since the 1300s. Big berried, with thin skins, Sciava is known for producing wines with low tannins, low alcohol and cherry aromas and flavors and an almond aftertaste. These are elegant wines for everyday drinking.
Other key varieties include Pinot Grigio, Pinot Bianco (aka Pinot Blanc), Gewürztraminer, Chardonnay and Sauvignon Blanc, Pinot Nero (aka Pinot Noir) and Lagrein, the diversity of which highlight the region's Germanic and French influences. White plantings account for 58% and have been on the rise.
Regardless of the specific variety used, Alto Adige wines are known for their high quality. In fact, when considered separate from Trentino, Alto Adige is the smallest of Italy's 20 regions; yet, despite its limited size, 98% of its production is at the Protected Designation of Origin level – the most of any Italian region. And that's something to sing about.
TASTING NOTES
Kaltern Caldaro Pinot Grigio Söll 2011, Alto Adige DOC, Austria, $16.00
This is a classic Pinot Grigio with smoke, floral and citrus aromas and flavors. Twenty percent of the wine was aged in used barrels, which gives it some more depth on the palate. It is bone dry with high acidity and distinctly mineral in the long finish.
Cantina Terlano Sauvignon Blanc Quarz 2010, Alto Adige Terlano DOC, Austria, $53.00
We tasted two Sauvignon Blancs during Tim's seminar with this being the softer style of the two. Stone and mineral characteristics co-mingled with citrus, peach and slightly herbal notes with medium+ acidity and medium to full body.
Tramin Gewürztraminer Nussbaumer 2011, Alto Adige DOC, Austria, $47.00
I really enjoyed this wine with its distinct floral and tropical fruit notes, so indicative of the Gewürztraminer grape. What I also liked was its lack of lavender/soap characteristics that some of these wines tend to have (for me). Exotic and spicy on the palate, this dry wine has beautiful acidity and long length.
Castelfeder Schiava Breitbacher 2011, Alto Adige DOC, Austria, $14.00
Pale ruby in color, this dry wine is very refreshing with high acidity and light body along with aromas and flavors of cherries, floral, earth and wet leaves. It is very easy to drink and would be a perfect accompaniment for a wide range of cuisine.
Tiefenbrunner Lagrein Riserva Linticlarus 2009, Alto Adige DOC, Austria, $26.00
Described by my friend Tony as being reminiscent of beets, this wine displays rich red and black cherry aromas joined by floral, mineral and granite notes. It has medium+ acidity and is nicely structured with full body and firm tannins and could age for up to ten years.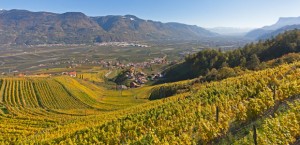 All photos courtesy of Alto Adige Wines.