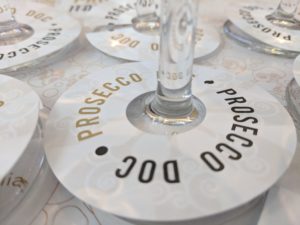 One of my biggest (wine) pet peeves, is when people use the word Champagne as a generic term for sparkling wine. But, while all Champagne is sparkling wine, only those bottles of bubbly that come from the Champagne region in France are entitled to that protected term.
Another well-known sparkler is Prosecco and, as my friend Dan lately noted, Prosecco has become a safe word. Admittedly, he wasn't referring to the bedroom, but rather, to the bar, where Prosecco's familiarity offers an easy way to order an effervescent option amidst the hustle and bustle of an overwhelming wine list.
Yet, despite its long history – mention of Prosecco dates as far back as Roman times – this Venetian sparkling wine hasn't always been as popular as it is today. But, it is precisely this newfound fame that was almost its undoing.
In fact, given its broad name recognition, Prosecco had become a victim of its own success, with fraudulent products flooding the market and its name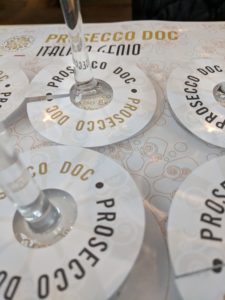 appropriated much like Champagne as a catch-all for a glass or bottle of bubbles. It was this proliferation of non-Prosecco Prosecco that prompted the consortium to radically revise its rules back in 2009.
Chief among these changes was the introduction of Glera as the name of the grape formerly referred to as Prosecco and the designation of a delimited area as the Prosecco territory: a swath of land that spans nine provinces within two Italian wine regions (Veneto and Friuli), formally codifying the historic and existing production zones and the production procedures themselves. Accordingly, Prosecco DOC is now a protected geographic indication (PGI) and wannabe wines are forbidden from affixing the term Prosecco to their labels. Additionally, a second designation, Prosecco Superiore DOCG was simultaneously created (See Promoting Prosecco, Parlare Prosecco Superiore and Slowing Down in Asolo). These new regulations have helped to protect Prosecco from copycats, but vigilance by the consortium is still required.
The continued growth in demand (and sales) for Prosecco has been met with a steady swell in supply from just under 1.5 million hectoliters in 2011 to just over 3.5 million hectoliters in 2016, with a current volume of over 400 million bottles annually. Three-quarters of these bottles find their way outside of Italy, namely the UK and the U.S.
As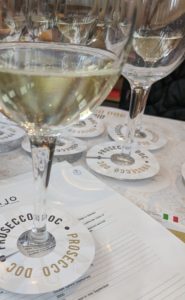 a fresh, fruit-driven sparkler, Prosecco gets its aromatic character from the Glera grape, which must make up 85% of the wine and the use of the Charmat, instead of the Traditional, Method of sparkling wine production. Charmat production relies exclusively on stainless steel and omits the lengthy ageing on the lees that Champagne and other similar wines undergo. In addition to preserving fresh and fragrant aromas, this process results in lower costs and speedier sparkles.
Not surprising, Prosecco's pleasant fruity and floral aromas, low alcohol, lively acidity and persistent effervescence account for its wide appeal. Yet, despite its increased popularity, Prosecco should not be dismissed as merely a cheap and cheerful sparkler. Yes, these are relatively inexpensive ($15-20) compared with their costly ($40 and up) counterparts: Champagne, Franciacorta (page 17) and luxury Cava. But, they still offer complexity and balance on the nose and palate.
In fact, I was reminded of this diversity at a recent comparative tasting of ten Proseccos. While there was a common wine style of peach, pear and/or apple aromas among the selection, they differed in intensity, acidity and sweetness levels.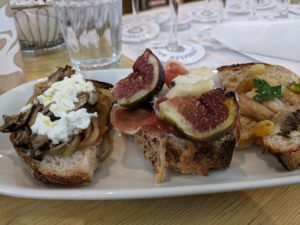 Admittedly, all of the wines showed well, but I did have a few favorites of the line-up which included: La Jara Prosecco di Treviso Frizzante, Perlage Sgajo Extra Dry Prosecco di Treviso, La Marca Prosecco, Bianca Vigna Brut Prosecco, Astoria Extra Dry Prosecco di Treviso, and Villa Sandi Il Fresco Prosecco di Treviso (tasting notes below).
With its crowd-pleasing characteristics, Prosecco is a perfect option for the holiday season, which can easily work as an aperitif, a food-friendly pairing at the table and as a toast to health, happiness and prosperity!
Just don't call it Champagne. 😉
TASTING NOTES
La Jara NV, Prosecco di Treviso DOC Frizzante, Veneto, Italy
While most Prosecco wines are fully sparkling, a small fraction is produced in a lightly fizzy (aka frizzante) style as is this one. Fresh aromas of peach and honeysuckle greet the nose. The dry palate displays bright acidity and a lighter body, with flavors of lemon curd and white flowers. This is a very fresh and pleasant wine with plenty of acidity to pair well with food. Medium+ length.
Perlage Sgajo Extra Dry NV, Prosecco di Treviso DOC, Veneto, Italy
This Vegan wine is a bit shy on the nose, but its dry palate offers up ripe citrus and floral notes, along with medium+ acidity, nice, creamy mousse and long length with a slight fruitiness lingering in the finish coupled with some minerality and salinity. Good complexity.
La Marca NV, Prosecco, Veneto, Italy
Pronounced pear aromas with some peach and floral notes on the nose give way to a dry, yet fruity palate with flavors of honey, honeysuckle and pear plus a hint of lime. There is a lovely richness on the palate, with a creamy mousse and medium+ length.
Bianca Vigna Brut NV Prosecco, Veneto, Italy
This wine is very floral on the nose with an interesting richness and complexity on the palate reminiscent of Riesling – displaying an oily/petrol character – joined by pear and apple flavors and culminating in long length.
Astoria Extra Dry NV, Prosecco di Treviso DOC, Veneto, Italy
Aromas of pear and apple dominate the nose while the dry palate features apple, citrus and slight minerality, along with medium+ acidity, a very clean finish and medium+ length.
Villa Sandi Il Fresco NV, Prosecco di Treviso DOC, Veneto, Italy
This wine shows floral and peach aromas, with a slightly off-dry palate that is round and creamy, balanced by medium+ acidity. Its ripe peach and floral flavors are joined by honey in the finish, culminating in long length.