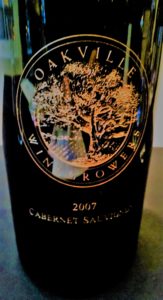 As the well-worn joke advises, there is only way to get to Carnegie Hall – practice, practice, practice! Taking the stage at this prestigious concert hall is truly the culmination of many years of dedication and commitment to one's craft and often the pinnacle of one's musical career.
Thus, the choice of location for the Oakville Winegrowers association's recent trade and press tasting was apropos. With a roster that reads like a "Who's Who" of the Napa Valley, names like Far Niente, Opus One, Robert Mondavi Winery and Screaming Eagle, the association's members have similarly devoted significant time and effort to producing some of the world's greatest wines. And, certainly numerous analogies could be drawn between a many-layered symphony and a beautifully, complex wine.
Nestled between the Mayacamas Mountains and the Vaca Range, Napa Valley's Oakville AVA (American Viticultural Area) was established in 1993. Shortly thereafter, its resident wineries and vineyards banded together to create the Oakville Winegrowers association.
Named for the dense groves of oak trees, which previously grew in the area, the town of Oakville was once home to a steam train stop, but is now known for its Cabernet Sauvignon. To showcase the qualities of these wines, an annual trade and press event is held each spring in Oakville. However, this November they took the show on the road, with nineteen of the 54 winery members on hand to taste their Cabernet Sauvignon wines at the Carnegie Hall-based event: A Taste of Oakville.
Some highlights of the tasting include:
Hoopes Vineyards
Starting with ten acres in 1983, Spencer Hoopes eventually decided to stop selling his grapes and make his own wine. Today, he works in partnership with his daughter Lindsay Hoopes. The 2013 ($75.00) offers up rich black fruit, with ripe, yet firm, tannins. The 2003 is much softer, with overt herbal complexity.
Groth Vineyards & Winery
Owned by Dennis and Judy Groth, Groth Vineyards & Winery was established in 1982. Their 2013 Cabernet ($57.00) offers up bright fruit with good tannins and acidity. It's 2013 Reserve ($130.00) counterpart is oakier and more tannic, needing more time in the cellar, while the 2006 Reserve Cab is drinking well now, with plush texture and luscious black fruit.
Heitz Cellar
First produced in 1966, the iconic Martha's Vineyard Cabernet Sauvignon was the first label to sport a vineyard designation in the Napa Valley. Founded by Joe and Alice Heitz, Heitz Cellar continues to carry out this legacy with the third generation of the family now actively involved in the winery. The 2010 ($225.00) offered up bright acidity and freshness, but was still quite tight, while the 2009 ($225.00) was much lusher, rounder and herbaceous.
Paradigm Winery
After a successful career in real estate, California native Ren Harris and his wife, Marilyn (whose Italian grandparents moved to the Napa Valley in 1890), decided to found Paradigm Winery, taking on Heidi Barrett as their winemaker from the start. While I liked the 2012 Cab ($80.00), I was even more impressed with the 2005, which was beautifully resolved, with good fruit, acidity and complexity.