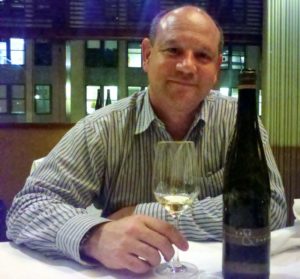 In other New Zealand news (see previous post), Hennie & Celia Bosman have returned to the U.S. market with their True & Daring Riesling.
Recently, my friend Cheri texted me a photo with the question: Did you bring us this wine? When I looked at the photo, I recognized the True & Daring label (I had given her the wine as a gift several months earlier).
Well, apparently she and her husband had finally gotten around to opening it with their friends and the next text from her, after I confirmed that it was indeed from me was: "We are with Michael and Magdalena and we are freaking out with how good it is! I mean it blew everyone away. Stunning."
The following day, I shared this story via email with Hennie, who noted that it must have been cosmically ordained since he and Celia had just been talking about me (and their previous visit to New York) the day before!
Hennie further advised that they had recently conducted a vertical tasting of their Riesling from 2015 (still in tank) back to 2004, which underscored how much they enjoy older Rieslings. He added that, "It is so difficult to judge when wines have reached their peak but we've come to the conclusion that the changes in older Riesling are what make the varietal so unique. I don't think older, secondary characteristics are to everyone's tastes but we both love the extra layers that come with time."
If you are among those who enjoy aged Rieslings, I strongly recommend that you check out their wines, now available direct to consumer via Vinoshipper.