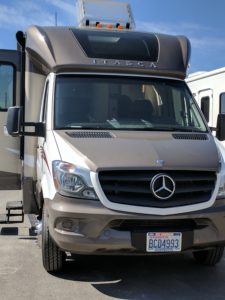 Arriving in Seattle on an unusually clear day, we could see the majestic Mount Rainier through the airplane window, which we took as a good omen of the trip to come – our first foray into Central Washington and our maiden voyage in an RV.
Although the impetus for this visit to the Pacific Northwest was a two-day music festival at The Gorge Amphitheater, as wine lovers we could not resist the siren call of the local vinous culture and were excited about exploring this region along with immersing ourselves into the music.
We loaded up the vehicle with our possessions and hit the road, essentially heading due east. Our route took us through the Cascade Mountain range, which offers up beautiful views and is also responsible for keeping most moisture to the west. Consequently, Washington State's eastern areas are sunny and dry (and well-suited to irrigated agriculture), while Seattle is steeped in foggy, wet weather.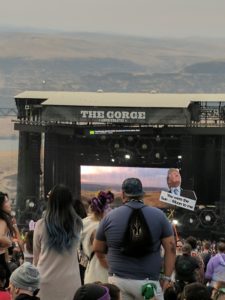 Our final destination was in George, WA (someone had a sense of humor), but we found a welcoming oasis along Interstate 90 in Ellensburg. This small town (Population: 19,786) is home to Central Washington University and several wineries. We selected Brix Wine Bar as our early dinner option. Owned by Elevage Wine Co/Raised by Wolves, the restaurant lists several wines by the glass (or bottle), but doesn't provide a tasting option. Surprisingly, they do have gluten-free pizza on the menu, which was quite delicious. We ordered one glass of Malbec and one of Cabernet Sauvignon, with a unanimous preference for the latter.
Thus, we added a bottle of the Cab Sav to our tab to enjoy later, before heading around the corner to Gard Vintners. Its Ellensburg tasting room is open late on Friday nights (4:00-9:00 PM) with the winery's full range available for tastings as well as by the glass and by the bottle. Live music was a welcome treat as we sampled several different wines, under the tutelage of Riley, our tasting guide that evening. Founded in 2006, this family winery has garnered high scores from the wine media and it was easy to see why. We were wowed by the Roussanne, Vaucluse (a Rhone-style red blend of Syrah and Viognier) and their Provencal-style rosé and added these to our growing collection.
Before we headed out, Riley recommended visits to: Cave B Winery, Beaumont Cellars and Jones of Washington, all of which are in Quincy, WA and situated within the Ancient Lakes AVA.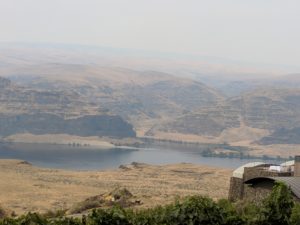 Created in 2012, the Ancient Lakes AVA's geology is the result of being carved out by ancient ice age floods, leaving behind 35 namesake lakes. It encompasses 1,600 planted acres with Riesling and Chardonnay as the most planted varieties due to the relatively northern latitude and cooler weather compared to other areas within Columbia Valley.
As a state, Washington ranks as the second largest premium producer of wine in the U.S. Grapes were planted as early as 1825, but today's vineyards were more recently established during the 1970s. Currently, there are 900 wineries, spread out over 14 AVAs, with the majority (75%) of production centered on Cabernet Sauvignon, Riesling, Chardonnay, Merlot and Syrah. However, diversity does still exist with more than 40 different grapes grown within the state.
Beyond the Ancient Lakes AVA, the wider wine touring region is known as the Cascade Valley and North Central, which is situated between Seattle and Spokane. Within this area, there are 34 wineries or tasting rooms on the Cascade Valley & North Central map in Washington State Wine's magazine, with another 21 listed in nearby Leavenworth and 7 in Wenatchee, providing tourists with plenty of places to taste.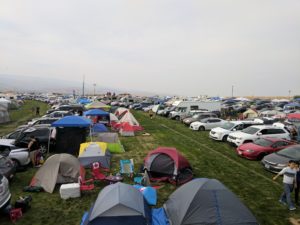 After departing Gard Vintners, we arrived at The Gorge, queuing up behind a long line of fellow RVs. As we made our way, we were both welcomed and warned to adhere to the campground rules. First and foremost, we were admonished to have a fkin' good time! In truth, the rules do forbid weapons, but, thankfully, alcohol is permissible (at least for the show we attended). Once in place in our assigned campsite, we unpacked our bags before setting off to explore the venue, then it was time for bed.
The next morning, well-fortified with a hearty breakfast of eggs, bacon and toast, we walked the two miles to Cave B Winery (Riley's other suggestions were too far for a walk and getting the RV out of camp was just too difficult a proposition). Originally founded as Champs de Brionne by Dr. (a neurosurgeon) and Mrs. Bryan in 1980, Cave B Winery's vast estate boasts 140 acres of vines comprised of 17 different varieties; orchards; a spa; a restaurant with stunning views of the Columbia River; and a myriad of lodging options, including yurts and cave rooms.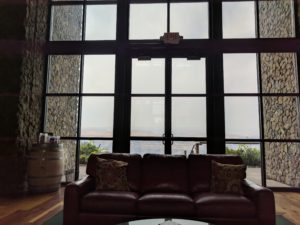 All of Cave B's wines are produced with estate-grown fruit and a $10 tasting fee will get you a sample of 3 whites and 3 reds. While I liked all six wines, I was especially enamored with the Tempranillo. Among the whites, their off-dry Riesling stood out. Overall, this region and its wines were quite unfamiliar to me before our arrival, but I was impressed with what we tasted.
During Champs de Brionne's early days, a natural bowl on the property was discovered to have near-perfect acoustics and the idea of a music venue was born as a way to draw people to the winery "in the middle of nowhere." Before long, the popularity of these summer music began to grow, transforming the original concept from a small theater into the grander The Gorge Amphitheater, accompanied by the build out of a much larger stage and capacity for 20,000+ participants.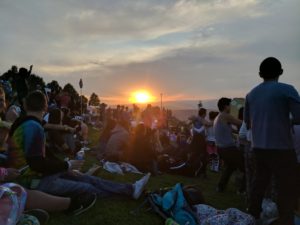 By 1993, the Bryans divested themselves of The Gorge Amphitheater and its campgrounds, but retained the vineyards and additional acreage. During this period, they continued to grow grapes, which they sold to other wine producers. But, in 2000, the couple was ready to re-enter winemaking with the creation of Cave B Winery, a smaller, premium winery. They added the inn and restaurant in 2005.
Given this history, it was fitting to have tasted at Cave B before heading back to our campsite for the main event: ABGT250.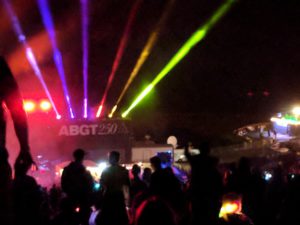 DJs and musicians, Above & Beyond, comprise three London-based guys (Jono Grant, Tony McGuinness, and Paavo Siljamäki) who started making music together in 1999. They have cultivated a rabid following that spans the globe and inculcated a special ethos among them. They have also launched record labels Anjunabeats and Anjunadeep, giving a start to other EDM artists. Fans assert that their concerts are life-changing experiences after attending just a single one, so it is no surprise that their events are well attended.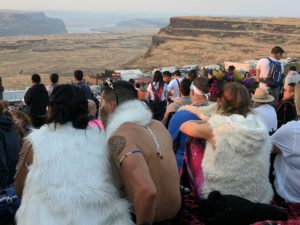 Named for their podcast series, Above & Beyond Group Therapy (ABGT), their ABGT live events draw fans from around the globe. The group began doing live shows on the occasion of the 50th podcast (ABGT50), a tradition that has carried forward each year (coincident with the next 50th show). The first was held in London, followed by New York, Sydney, Amsterdam and now Washington State. Rumors have it that ABGT300 will be in Asia.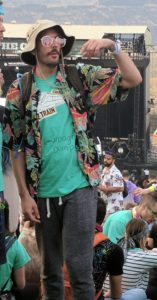 The festival itself kicked off with a free screening of Above & Beyond's live filming of a recent performance on Friday night as a thank you to those who arrived early, but the main event took place on Saturday evening with a special set by Above & Beyond. The line-up included Luttrell, Yotto, Oliver Smith, Genix & Sunny Lax, a reprise from the headliners at 11:00 PM, accompanied by fireworks and glowing digital bracelets (from sponsor TMobile), before concluding with Seven Lions & Jason Ross.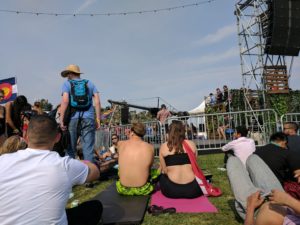 Sunday's daytime set was more mellow, with Above & Beyond's music as the backdrop for a morning yoga practice and the use of the venue's smaller stage. Highlights included Moon Boots, Eli & Fur, Jody Wisternoff & James Grant, 16 Bit Lolitas, and a joint return to the stage by Yotto and Luttrell at the end. A brief rain shower on Sunday evening did not seem to put a damper on anyone's spirits, with music continuing long into the night, thanks to "pop-up" concerts embedded in the food court area and the campgrounds.
We were up early Monday morning ready to return to civilization, but would certainly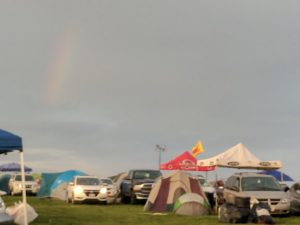 consider the trip a success. Admittedly, it was an interesting combination of hobbies, but this meeting of mountains, music and Merlot was a perfect balance for us, as we navigated new adventures and divergent musical tastes. And, I didn't hate the RV; it was definitely much more comfortable and luxurious that a tent would have been.