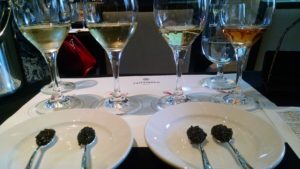 At its The Art of Celebrating the Holidays event, Tattinger's corresponding event booklet proclaimed that, "Champagne is always a good idea." It's hard to disagree, especially given that the event also featured a smorgasbord of raw oysters, chilled shrimp and… caviar.
The picture perfect evening, held on the Hotel Eventi's South Veranda, showcased a lovely line-up of Tattinger's Champagnes, many of which were matched with a specific caviar from Calvisius.
Welcoming us at the beginning of the seminar portion of the event, Vitalie Taittinger called the marriage of Champagne and caviar "A pure pairing."
Although the event's emphasis was on the palate, it was interesting to note the similarities in these two products – both of which require long aging processes and an attention to quality and detail.
As we began to taste through the pairings, John Knierim, National Sales Manager for Calvisius USA, directed us to place the caviar on the back of our hand to enjoy it without the flavor or distraction of the spoon and then crush the eggs on the roof of the mouth to get the full sensation.
An Italian-based company, Calvisius started its foray into farm-raised caviar with the importation of six fish from UC Davis as part of the University's plan to repopulate the earth with sturgeon. Not surprisingly given its heritage, Calvisius has earned Friends of the Sea certification and follows sustainable fishing practices.
Among some of the fun facts gleaned during the seminar:
Sturgeons are older than dinosaurs.
The different styles of caviar can be attributed to sturgeon variety as well as egg size.
The front half of the egg sac differs from the back half in that the front portion has a much higher fat content.
TASTING NOTES
Champagne Taittinger Brut La Française NV, $60.00
Beautiful aromas of yeast and apple peel with long length.
→Calvisius Caviar Tradition Prestige: From white sturgeon females aged 7 to 22 years, this caviar takes 11 years to produce; salty and buttery, delicate, saline/marine.
Champagne Taittinger Prelude Grands Crus NV, $95.00
An intense nose of brioche and nuts with a fuller mouthfeel than the Brut La Française.
→Calvisius Caviar Oscietra Classic: Nuttier and less salty than Tradition Prestige.
Champagne Taittinger Comtes de Champagne Blanc de Blancs 2006, $199.00
This vintage wine displays lovely citrus and toast aromas and flavors.
→Calvisius Caviar Siberian: Produced from a Russian species of sturgeon; sticky texture with slightly salty notes; bold; an intense, yet enjoyable, combination.
Champagne Taittinger Comtes de Champagne Rosé 2006, $262.00
Also a vintage wine, this offers up berries and yeast, with a hint of peach on the delicate palate.
→Calvisius Caviar Oscietra Royal: Differs from the Oscietra Classic since this features eggs from the front 10-20% of the egg sac; very rich and salty.
Not paired with caviar, but also available for tasting that evening were the Prestige Rosé NV ($84.00), Nocturne NV ($82.00) and the newly launched Nocturne Rosé NV ($84.00), due out this holiday season. The Nocturne range are Sec Champagnes with a slight sweetness (17.5 g/l of dosage) that add a hint of sweetness, but are still well balanced.
To purchase Calvisius caviar, see Foody Direct's website.