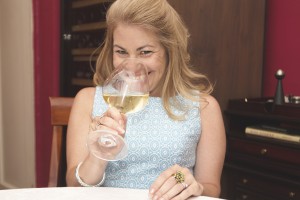 Tracy Ellen Kamens adores wine and loves to teach. So much so that when the idea to combine her passion for teaching with her love of wine presented itself, she jumped at the opportunity and quit her pesky day job. As founder and owner of her own wine education company, she is truly living la vita del vino, teaching, consulting and writing about wine for consumers and professionals.
Marrying her 15+ year experience in academia with her formal wine certifications, Tracy has built a solid foundation of wine knowledge that includes the Certified Wine Educator credential from the Society of Wine Educators, the Wine & Spirits Education Trust's Diploma of Wine & Spirits (with Merit) and the title of International Bordeaux Instructor from L'Ecole du Vin de Bordeaux. She completed the Napa Valley Vintners' Wine Educators Academy, Wine Australia USA AusWISE program, and was accredited by the CIVC and IVDP as a Wine Location Specialist.
In addition to teaching classes and education skills through her company, Tracy is on faculty at the International Wine Center and New York University and is a frequent presenter at international conferences. Tracy has also taught at Cornell University and Baruch College and has successfully completed the Institute for Teaching and Learning's Academy for Academic Leadership and is a WSET Certified Educator for the Foundation, Intermediate and Advanced Levels. 
Adding to her expertise in education and professional development, Tracy trained in stand-up comedy, bringing a sense of humor and when crafting classes and events that educate as well as entertain.
Tracy previously served as a full-time education consultant for the Society of Wine Educators and continues to work on projects with this prestigious organization. Other recent clients have included: Wine & Spirit Education Trust, Consorzio Chianti Classico, Balzac Communications, Prosecco Superiore, Speechmark, Four Seasons Restaurant, It Was A Good Year tasting group and the East Hampton-based Park Place Wines. She also spent time at Deutsch Family Wine & Spirits in their public relations department.
A board member of the Wine Media Guild, Tracy has written for both print and online publications including Wine Enthusiast, Long Island Wine Press, Times Review and Big Blend magazine. She is a contributing writer for Wine Portfolio, the online arm of the CNBC World-based television pro gram, and the NY Wine Shopping columnist for Examiner.com.  As Chief Education Officer for Grand Cru Classes, she authored a monthly educational newsletter, Grand Cru Grapevine for eight years and publishes the It's A Winederful Life website. Additionally, Tracy has served as an editorial consultant for Columbia University Press.
As a Certified Wine Judge, Tracy has judged several wine competitions including the Finger Lakes International Wine & Spirits Competition and is called upon to judge and referee other events as well.
Tracy holds a Doctor of Education degree from the University of Pennsylvania and a B.S. degree from Cornell University.
A self-professed wine geek, but certainly not a wine snob, Tracy considers herself to be an equal opportunity drinker, ferreting out wonderful wines at all price points. However, she does draw the line at anything out of a jug.