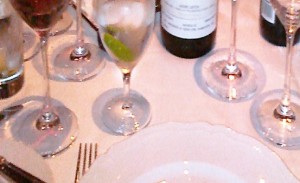 I woke up on a Monday morning in March with a reasonable agenda — an Italian wine tasting followed by a portfolio tasting. Thus, once I dragged myself out of bed (Mondays are the worst and rainy Mondays are even more horrible), I presumed that I would attend the two events, head home and get some work done in the afternoon (but, we all know about the best laid plans…).
I left our apartment at 10:00 AM to ensure a prompt arrival at the International Culinary Center (formerly known as the French Culinary Institute), which resulted in my being the first to arrive. The weather caused many attendees to be late and necessitated a late start to the event. However, after the delay, the event hit the ground running. It was a small, but dedicated group there to learn from both Adolfo Folonari of Ruffino and Cesare Casella of Salumeria Rosi on the theme of terroir.
Adolfo shared a brief history of Ruffino, noting that the company has been family owned for over 130 years, having been founded by two cousins. Adolfo's family acquired the company in 1913, continuing the founders' legacy and now maintains seven estates in the Tuscany region.  He then presented four wines — three of which were Chianti appellations and one Brunello di Montalcino. The wines were very good and showed the diversity within the Ruffino portfolio from the fresh and fruity Ruffino Chianti Superiore DOCG 2008 ($12.99 SRP) to the more complex Ruffino Riserva Ducale Chianti Classico DOCG 2006 ($24.99 SRP) and the modern Ruffino Santedame Chianti Classico Riserva DOCG 2006 ($33.00 SRP).
Participants then had an opportunity to taste the wines again, this time paired with salumi (cured meats), presented by Cesare, who wore a red chef's coat, with a sprig of rosemary taking the place of a pocket-square. The pairings were well-received, but of greater interest to me, was learning about the effect of terroir on this type of cuisine. For example, Cesare explained that in Alto Adige, the climate is too cold to salt cure the meat and consequently, they use a cold smoke instead. Similarly, in Calabria, smoking is used because it is too hot to use salt curing. In addition, the breed of pig also differs from region to region, affecting the final product.
We then moved from the formal presentation to the luncheon where guests enjoyed three additional salumi and four other Ruffino wines. We were particularly impressed with the Ruffino Lumina Pinot Grigio Venezia Giulia IGT 2009 ($9.99 SRP), which had vibrant acidity and good fruit concentration, from Ruffino's property in Collio (Alto Adige). After the salumi were cleared, the menu included beans and tuna as well as short ribs with mushroom risotto, followed by vanilla panna cotta. We were seated at round tables and played a sort of musical chairs, with each table getting a chance to chat with Adolfo and Cesare for one course of the meal, as they made their way around the room.
During lunch, I received a phone call from the PR Coordinator at W.J. Deutsch, letting me know about an event that was taking place as she spoke. It sounded interesting, plus I had yet to get to the venue, sd26, so I switched gears and headed over to meet with Stefano Massa of Villa Massa.
I arrived at sd26 and was warmly greeted by Barbara Scalera, but, as I had been unable to find the restroom before departing ICC, I explained that I needed to first go to the Ladies' Room before she and Stephano could have my undivided attention. The damp weather had wreaked havoc on my hair, but fortunately, I didn't scare my hosts. I did my best to make myself presentable and was then led to a private dining room upstairs.
I was seated next to Stefano who promptly launched into a story about his journey into Limoncello. He noted that he and his brother, Sergio, were pioneers in crafting quality Limoncello of Sorrento. Stefano's family had been producing Limoncello at home for family consumption, the recipe for which had been passed down for generations. Their guests really enjoyed their Limoncello and Stefano and Sergio saw an opportunity to produce the liqueur on a commercial basis. Most importantly, they are committed to maintaining the terroir and consequently only use natural ingredients, most notably the Sorrento Oval Lemon, which has had its own Protected Geographical Indication (PGI) since 2000.
About three-quarters of the way into his monologue, food was served, but the first order of business was to taste the Limoncello. Stefano first served it to me cold and then at room temperature. I was advised to first smell the liqueur before taking some onto my tongue and slurping in some air, in a similar fashion as one tastes wine. The fresh lemon aromas were obvious and even more so with the room temperature specimen.
Risotto was the dish of the day, making a second appearance, this time with scallops that had been marinated in the Villa Massa Limoncello. The second course was veal testina, which I didn't particularly enjoy (the recipe calls for 1 veal head), but the dessert course was lovely. The Italian pastry, Baba, had been prepared with the Limoncello in place of the more traditional rum and was accompanied by a refreshing Limoncello sorbet. I also liked the use of the Limoncello in two cocktails I was served — the first being a blend of Limoncello and tonic water (I actually really like tonic water, so this was a nice "twist" for me). The second cocktail was a modified Mimosa, with Limoncello standing in for orange juice, resulting in a less sweet version of this popular brunch drink.
At a time when it seems that every spirit producer (and some wine producers) is trying to show the versatility of its product by using it as an ingredient, in cocktails or both, I found the Villa Massa Limoncello to be one of the more successful in this arena.
Having now eaten two lunches in a single day, I thanked my hosts and departed the restaurant. Unfortunately, it was now 4:30 PM and I would not have time to make it to the Dreyfus Ashby portfolio tasting as it ended at 5:00 PM and it would take at least that much time to travel to Ardesia Wine Bar, where it was being held. As I said, the best laid plans…, but of course, it was a great (if not fattening) day of tasting.