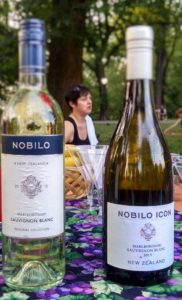 While Riesling and rosé are highly touted for the summer season, Sauvignon Blanc is equally well-suited for sipping this time of year. This citrus-scented grape variety is cultivated worldwide, resulting in a broad range of wine styles from which to choose.
However, among the most well-known areas associated with this grape is New Zealand and, in particular, the region of Marlborough. New Zealand producer Nobilo brings two Sauvignon Blancs to the table this season: its Regional Collection and Icon. Icon is the company's flagship wine, having been established by the Nobilo family in 1943.
The grapes for Icon presently come from the Castle Cliffs Vineyard, planted in 2002 in the Awatere Valley. Conversely, while the grapes for the Regional Collection wine are primarily sourced from Awatere, they are supplemented with those from the Wairau, Southern and Waihopai valleys within the region and then blended together to create a more consistent wine each year.
A side by side tasting permitted a comparison of the two:
Nobilo Regional Collection Sauvignon Blanc 2015, Marlborough, NZ, $10.00
This wine is very fruity with bright, tropical fruit predominating the nose and palate. Although it has the same acidity level as the Icon wine, the perception is that it is lower in acidity on the palate due to its higher level of sweetness. Light and refreshing; perfect for an aperitif and light fare.
Nobilo Icon Sauvignon Blanc 2015, Marlborough, NZ, $18.00
The Icon has a leaner profile than the Regional Collection, displaying much more citrus aromas and flavors, along with a slightly grassy note. It is drier with more acidity, permitting it to pair more easily with a wider array of cuisine.
Although Sauvignon Blanc is less closely connected with Spain, this variety is slowly, but surely, finding a home here as well. Pago los Balancines, a winery within the Spanish region of Extramadura, about 200 km north of Seville, produces several wines with this grape. Its wines fall under the Ribera de Guadiana DO.
Pago los Balancines, Balancines Blanco Sobre Lias 2015, Ribera de Guadiana, Spain
This entry-level wine is a blend of Sauvignon Blanc and Viura and offers up a bright and fresh wine with citrus, tropical fruit and melon notes on the round palate.
Pago los Balancines, Alunado Sauvignon Blanc 2013 The Bootleg Wines vol. 0, Ribera de Guadiana, Spain
This full-bodied wine has clearly been oaked, with its citrus and pear aromas and flavors wrapped in oak and vanilla.