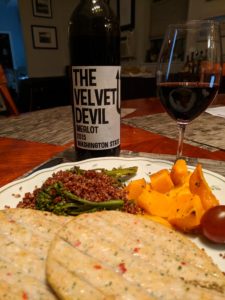 As Madeline Puckette of Wine Folly notes, national and international wine holidays are actually quite unofficial, but they are certainly a great excuse to drink wine and focus on a specific grape variety or wine category.
Consequently, International Merlot Day, which Puckette traces back to 2011, has a designated date of November 7 and is as good a reason as any to drink more Merlot, particularly if this grape isn't in your usual repertoire!
No longer widely maligned, Merlot has found renewed favor, which it richly deserves and is among the most popular red varieties in the U.S. This great grape originally hails from France and is wonderful on its own or as part of a blend (especially the wines from Bordeaux's Right Bank). Generally, these wines offer up red fruits, coffee and herbal notes, along with good acidity and soft tannins, but the wines will vary depending upon where the grapes are grown.
Merlot adapts well to many climates and has been transported from its ancestral home to almost every wine region across the globe. Within the U.S., the variety does well on Long Island and in Washington State and in California. Worldwide, there are an estimated 660,000 acres of Merlot planted, so there is definitely no shortage of Merlots to try.
To help you get started, here's one option worth checking out:
Charles Smith The Velvet Devil Merlot 2015, Washington State, U.S., $12.99 (SRP)
With an intense nose showing plum, coffee and meatiness, this wine is dry with very ripe fruit character, medium+ body, medium acidity and present tannins. Flavors of plum, fresh herbs and dried herbs dominate the palate, along with a hint of earth and spice. These latter notes add to the wine's complexity and give it a fall-weather feel, which may be why it paired so well with roasted butternut squash.
If you still have friends in the anti-Merlot camp, it might be time to find some new friends or you could simply tell them, the devil made me do it.