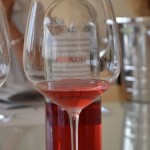 The heat is on (some might call it sultry), but there's no need to get all hot and bothered. Although there's no prohibition against drinking rosé during the winter months (admittedly ordering rosé in the middle of a snow storm may raise some eyebrows), summer is certainly a perfect time for turning to rose-colored glasses.
Not quite white and definitely not crimson, these wines are somewhere in between, but offer a wide range of styles. With a grape's color pigments contained in its skin and not in the pulp, rosé wines are produced primarily from red grapes, but with much more limited contact between the skins and grape juice (think tie-dyeing). Longer macerations and more deeply pigmented grapes will result in wines with deeper, more intense shades of pink (and frequently more body and flavor intensity), while shorter skin contact and paler grape varieties create lighter-bodied rosés with just a blush of color.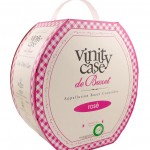 Purse your lips and get ready to enjoy these wonderfully refreshing wines, broadly available at your neighborhood wine shop this time of year. Astor Wines has not just one, but two special sections of rosés in the store – a more general selection of rosés and another limited to those priced at $10.00 and under. A few of their wines are listed as organic. Aside from the usual suspects, an unusually shaped, box wine hailing from southwest France is offered in a "Vinity Case de Buzet." This Bordeaux-style blend of Cabernet Franc, Cabernet Sauvignon and Merlot, priced at $25.00, is the equivalent of four bottles of wine, but is easily transported to the party.
Uptown, Sherry-Lehmann kicks off summer with Rosé Fridays. Starting June 22, 2012 and running for the next eleven weeks, the store will pour a selection of rosés from 3:00-5:00 pm each Friday afternoon (505 Park Avenue @ 59th Street, New York, NY 10022).
If you can't unleash your inner goddess at least you can unleash your inner wine lover. In any shade, these wines are definitely delicious!